Newsletter: Essential California: A continuing crisis at the border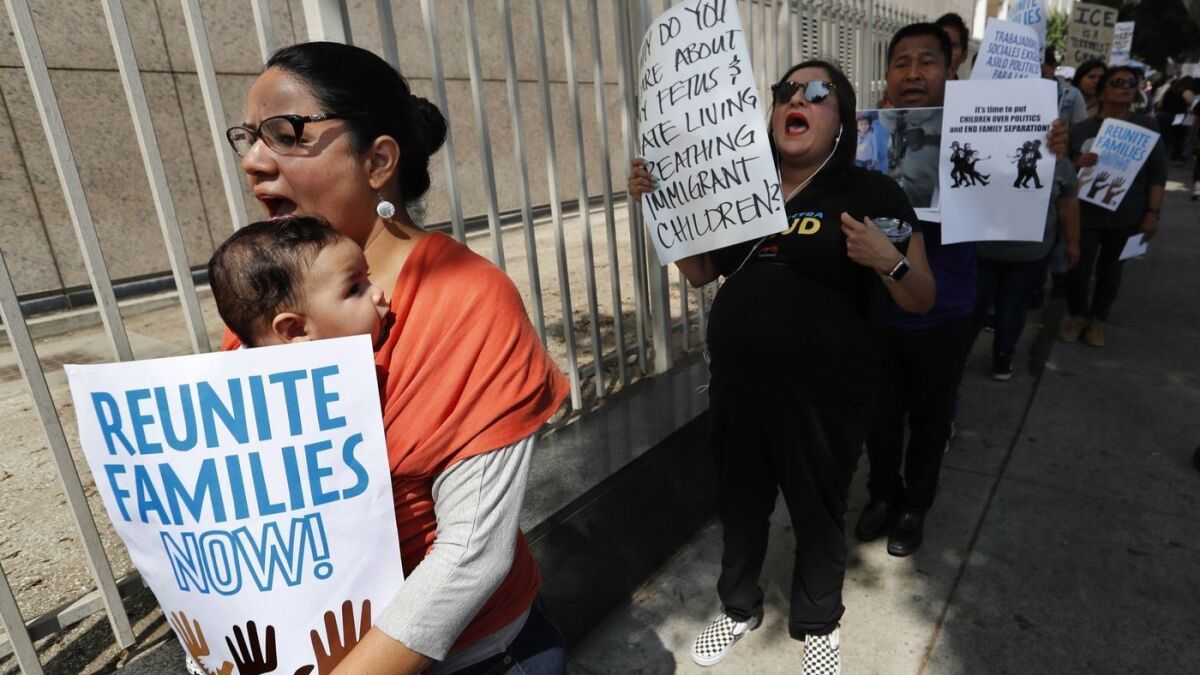 Good morning, and welcome to the Essential California newsletter. It's Friday, June 22, and here's what's happening across California:
TOP STORIES
After President Trump claimed he had acted to keep migrant families together, the fate of more than 2,300 children held in custody separate from their parents and that of future asylum-seeking families remained uncertain. The confusion ensured the president's self-inflicted political and humanitarian crisis would continue as government officials, attorneys and immigration advocates scrambled to understand and implement the revised policy. Los Angeles Times
-- What family separation looks like: A Guatemalan man is deported, while his 6-year-old daughter remains behind in New York City. Los Angeles Times
-- Nearly 100 children separated from migrant parents at the southern U.S. border in recent weeks under Trump's "zero tolerance" policy have reached the Los Angeles region, according to local immigrant rights organizations. Los Angeles Times
-- Los Angeles Mayor Eric Garcetti and a bipartisan group of mayors protested Thursday outside a Texas holding facility for migrant teens, calling on the Trump administration to reunite families forcibly separated after crossing illegally into the United States. Los Angeles Times
A walk in others' shoes
For a day, a Los Angeles Times business reporter was one of the millions of Americans without a bank account. It was humbling, James Rufus Koren writes. "I was participating in a sort of financial scavenger hunt that aims to replicate how life works for the millions of Americans — about a quarter of all households — who either don't have bank accounts or still rely on storefront check cashers, payday lenders and prepaid debit cards to manage their money." Los Angeles Times
'She had a lot to say'
The gorilla Koko, whose ability to communicate with humans and aptitude with American Sign Language helped show the world the emotional depth and intelligence of animals, died in her sleep Tuesday morning, according to the Gorilla Foundation, the Northern California nonprofit that oversaw her care. She was 46. Los Angeles Times
Get the Essential California newsletter »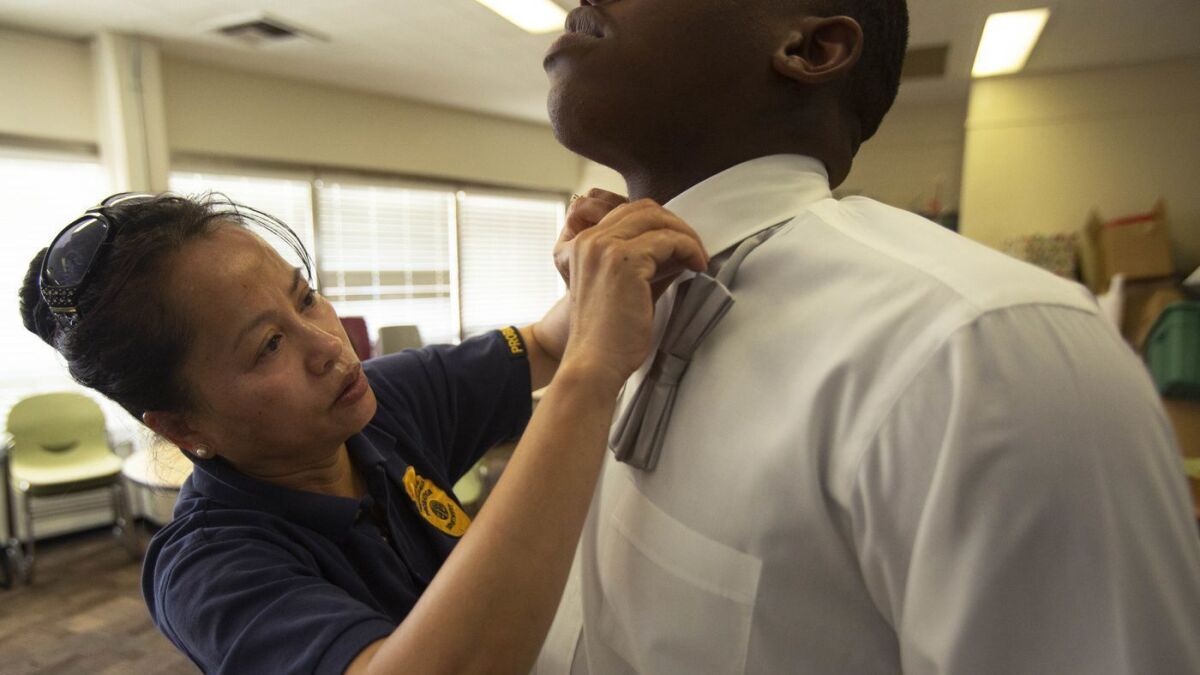 L.A. STORIES
What prom looks like in juvenile detention: Contraband hairpins have to be returned at the end of the night. Los Angeles Times
A big achievement: Its design has been scorned, but L.A. Live has been crucial to downtown's resurgence. Los Angeles Times
Out in the desert: The suspicious death of a 10-year-old boy has triggered an investigation by homicide detectives and the removal of seven children from a Lancaster home. Los Angeles Times
IMMIGRATION AND THE BORDER
Stalemate in D.C.: With a crisis over family separations still simmering on the southwest border, the House on Thursday voted down a conservative immigration bill that would have provided nearly $25 billion for a border wall, made steep cuts to legal immigration programs, and provided temporary legal status for young people brought into the country as children. Los Angeles Times
History lesson: "The history of the statute that can make it a felony to illegally enter the country involves some dark corners of U.S. history." ProPublica
POLITICS AND GOVERNMENT
Inconsistent: University of California campuses at Berkeley, Los Angeles and Davis did not consistently discipline faculty who were subject to multiple sexual harassment complaints, according to a state audit released Thursday. Los Angeles Times
Heading to the ballot? Californians would be asked in a November ballot measure whether to end the biannual practice of moving their clocks ahead and back to comply with the Daylight Saving Time Act, under a bill the Assembly approved Thursday and sent to Gov. Jerry Brown for consideration. Los Angeles Times
Build your own California: If you were to remake the Golden State, where would you draw the lines? Los Angeles Times
CRIME AND COURTS
In court: A Riverside County judge ruled Thursday that the parents of 13 siblings found living as captives in Perris must stand trial on dozens of felony charges related to allegations that they tortured and abused their children. Los Angeles Times
Convicted: A Los Angeles jury on Wednesday convicted a graphic novelist of the 2016 torture and murder of his fiancee — a grisly slaying that prosecutors say was patterned after a book he worked on years earlier. Los Angeles Times
Impact: The Los Angeles County Sheriff's Department is investigating allegations of false statements and excessive force in a shooting by a deputy. LAist
"The Trunk Murderess": The forgotten tale of California's first black widow killer. SF Gate
THE ENVIRONMENT
Policy changes: It just got a whole lot harder for reporters to talk to federal scientists with the U.S. Geological Survey. Los Angeles Times
Drudged: "It's not about the facts: The irrational fight over climate change explained in one cartoon." KQED
Who did it? "The necropsy results are in for the dead great white shark found along a beach in Central California over the weekend, but there are more questions than answers as Fish and Wildlife officials have opened up a criminal investigation." ABC7
CALIFORNIA CULTURE
Food critic Jonathan Gold looks over the 2018 World's 50 Best Restaurants list and names some notable omissions. Los Angeles Times
Cool story: Rapper Sirah is leading a movement to better understand mental health in the music community. Los Angeles Times
Amazing first-person account: "Black babies die at twice the rate of white babies. My family is part of this statistic." LAist
What is Johnny up to? "Multimillion-dollar lawsuits, a haze of booze and hash, a marriage gone very wrong and a lifestyle he can't afford — inside the trials of Johnny Depp." Rolling Stone
Unfortunate: After years of struggling, the Pasadena Museum of California Art will close this fall. Los Angeles Times
CALIFORNIA ALMANAC
Los Angeles area: Partly cloudy, 80, Friday. Partly cloudy, 78, Saturday. San Diego: Partly cloudy, 74, Friday. Partly cloudy, 70, Saturday. San Francisco area: Sunny, 72, Friday and Saturday. Sacramento: Sunny, 104, Friday. Sunny, 105, Saturday. More weather is here.
AND FINALLY
Today's California memory comes from Corinne Schnur:
"In the very early 1950s, our newly blended family moved from Oak Park, Ill., to Southern California. My father was career Navy, serving in the Pacific during WWII and, postwar, stationed in Japan for a time. I remember my new mom taking my new sister and me to greet Daddy and his returning ship in Coronado. We were wearing new white winter coats and played our accordions for him. We lived in Concord for a little while before moving to Garden Grove after my father retired from active duty. Presents he brought with him from Japan included matching long-handled bicycles for me and my sister, and for mom, two sets of Noritake china and many yards of raw silk."
If you have a memory or story about the Golden State, share it with us. Send us an email to let us know what you love or fondly remember about our state. (Please keep your story to 100 words.)
Please let us know what we can do to make this newsletter more useful to you. Send comments, complaints and ideas to Benjamin Oreskes and Shelby Grad. Also follow them on Twitter @boreskes and @shelbygrad.