Newsletter: Essential California: The drug war implications of Mexico going to the polls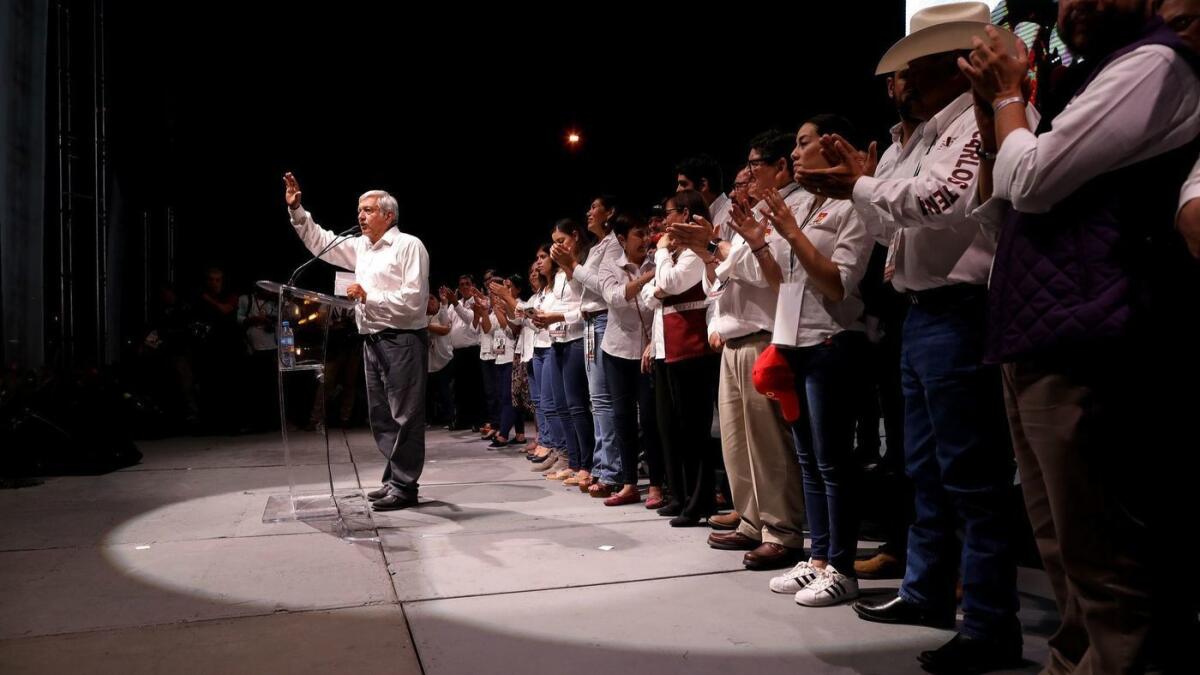 Good morning, and welcome to the Essential California newsletter. It is Saturday, June 30. Here's what you don't want to miss this weekend:
TOP STORIES
The man expected to be Mexico's next president is considering a radical new approach in the country's long-running war on the drug trade: amnesty. Andres Manuel Lopez Obrador, who has a wide lead ahead of Sunday's presidential election, has said that if he wins he may push for a law allowing some nonviolent criminals to walk free. "I will not rule out any option" to achieve peace, he said at a recent debate. Forgiveness for even low-level workers in the country's multibillion-dollar drug industry would mark a dramatic shift from the militaristic approach that Mexico has long employed in its attempt to curb trafficking. The United States, which works closely with Mexican law enforcement in its fight against drug cartels, is weary of a softening of Mexico's security policies. Los Angeles Times
On the ballot
A crosscurrent of deadlines governing November's election and the legislative process led to a chaotic week of policymaking in Sacramento, as lawmakers hurriedly acted Thursday to expand consumer privacy rights and limit local soda taxes rather than see interest groups take both issues to the fall ballot. A third proposal, asking taxpayers to subsidize lead paint cleanup projects, was withdrawn by paint companies in exchange for lawmakers scrapping a slate of bills designed to impose new rules on the industry. Los Angeles Times
Plus: Just in case you were confused, California cities and counties won't be allowed to tax soda for the next 12 years after Gov. Jerry Brown signed fast-moving legislation Thursday. Los Angeles Times
Hollywood reaches out
As Hollywood grapples with persistent criticism over its lack of diversity, major studios are experimenting with new ways to recruit students from underserved communities. Warner Bros. this year tested two new programs to encourage middle and high school students from 16 schools across L.A. to consider careers in the film business. In partnership with nonprofit groups such as Ghetto Film School, the classes teach the basics of filmmaking and storytelling, such as how to make compelling characters and use visuals to advance a plot. Los Angeles Times
AROUND CALIFORNIA
Second arrest made: The mother of Anthony Avalos was arrested Friday and charged with murder in the death of the 10-year-old boy, who authorities believe was the victim of child abuse. Barron's boyfriend, Kareem Leiva, 32, was arrested earlier this week. Los Angeles Times
Campus shooting: A Cal Poly Pomona security officer was killed Friday in a violent altercation that ended when police fatally shot the attacker. Los Angeles Times
Case closed: Nearly three weeks after immigration agents arrested a lawful permanent resident outside his Arleta home, his case has been closed and he was released from custody. Los Angeles Times
Where to house 'em: Los Angeles lawmakers pressed forward Friday with a plan to set up emergency shelters for homeless people across the city, voting unanimously to start assessing possible sites in Venice, Hollywood, Koreatown, Harvard Heights and the Westside. Los Angeles Times
Plus: Dispelling myths about California's homeless. Politifact
Out and about: Without once mentioning President Trump by name, former President Obama drew sharp contrast between his eight years in office and the current administration while at a fundraiser in Beverly Hills. Los Angeles Times
By the border: Even before the Trump administration's "zero tolerance" policy went into effect in May, parents who crossed the border illegally ended up deported without the children they came with, according to a new report. San Diego Union-Tribune
On probation: The Medical Board of California this week ordered that Dr. Bob Sears, an Orange County pediatrician and leading vaccine skeptic, be put on probation for 35 months. Los Angeles Times
As goes California …: The state's new privacy law sets the stage for national debate. Axios
History lesson: Russian interference in California is older than the state. San Francisco Chronicle
And the world holds its breath and waits: LeBron James' agent, Rich Paul, has informed the Cavaliers that James will not exercise his $35.6-million option for next season. As a result, James will become an unrestricted free agent at 9:01 p.m. Pacific time Saturday. Los Angeles Times
Teaching tool: The LAPD is hoping a new video policy can turn dangerous clashes into teachable moments. Los Angeles Times
Watch: "The California arena that boasts some of the best food in the NBA." Eater
Get the Essential California newsletter »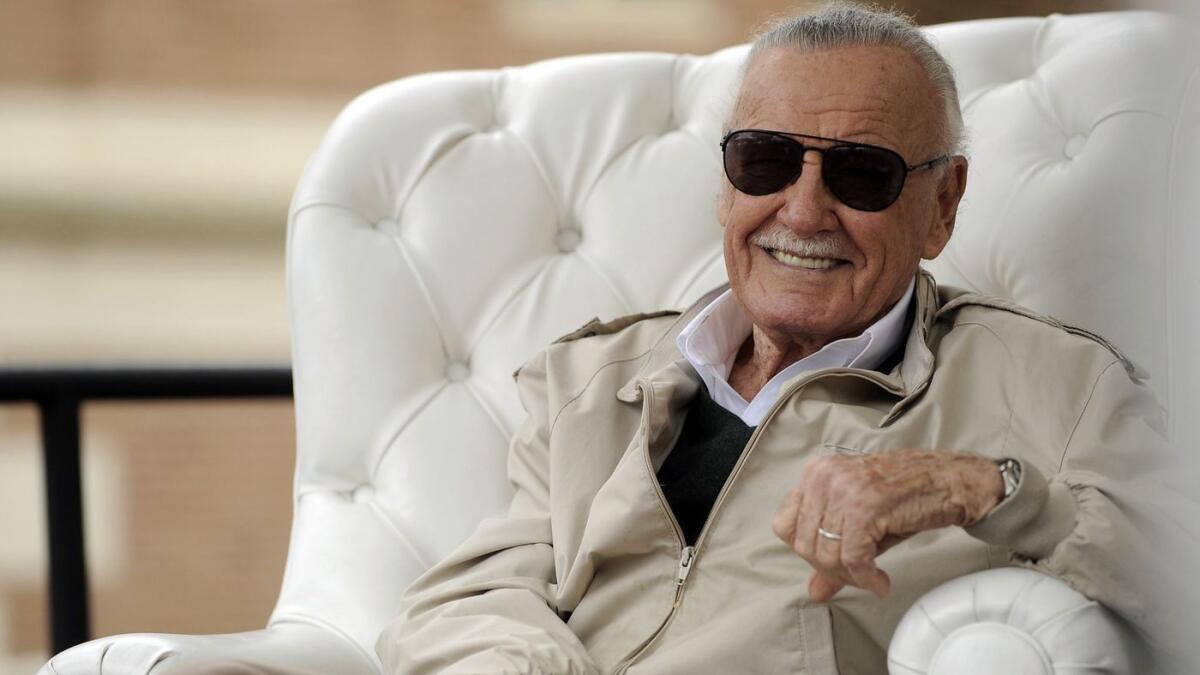 THIS WEEK'S MOST POPULAR STORIES IN ESSENTIAL CALIFORNIA
1. "Permit Patty" resigns from her cannabis firm amid a backlash from fellow entrepreneurs. San Francisco Chronicle
2. This one issue could make splitting California into three states virtually impossible. Sacramento Bee
3. Don't dig deep holes in the sand at the beach — they can turn into traps. Los Angeles Daily News
4. Motel revivalism: How hipster hoteliers created a new roadside attraction. Curbed LA
5. A man was fatally shot at Malibu Creek State Park while camping with his daughters. Los Angeles Times
ICYMI, HERE ARE THIS WEEK'S GREAT READS
Sad story: If the life of Stan Lee were turned into a superhero movie, it would be difficult to tell the good guys from the bad. A battle over the Marvel Comics legend's legacy is underway, featuring a cast of characters whose competing agendas make the plot of "Avengers: Infinity War" look simple by comparison. A man who says he is Lee's manager and caretaker was arrested this month in Los Angeles on suspicion of filing a false police report and is being investigated over alleged elder abuse, according to court filings. A court has placed Lee, 95, under the temporary guardianship of an attorney, who has received a restraining order against the manager. Los Angeles Times
Frog news: Born in a zoo, released into the San Gabriels, a rare Los Angeles frog bounces back. Los Angeles Times
Post-SCOTUS decision: "As president of Local 2076 of the American Federation of State, County and Municipal Employees, with 1,450 members, Diana Corral is one of hundreds of public-sector union leaders on the warpath across California to counter the effect of Wednesday's U.S. Supreme Court decision, Janus v. AFSCME." Orange County Register
No time for silence: Mikael Wood looks at how young artists in 2018 are dealing with politics and crafting new protest music. Los Angeles Times
The state of our rent being too damn high: "Is rent control working and should we have more or less of it?" KQED
Plus, the California housing crisis podcast: Why landlords and tenants couldn't make a deal on rent control. Los Angeles Times
Great profile: The internet has turned on Jonathan Franzen, his book sales are down and the TV adaptation of his last novel has stalled. But the acclaimed author who now lives in Santa Cruz wants you to know one thing: He's not even angry. New York Times Magazine
Please let us know what we can do to make this newsletter more useful to you. Send comments, complaints and ideas to Benjamin Oreskes and Shelby Grad. Also follow them on Twitter @boreskes and @shelbygrad.
Get our Essential Politics newsletter
The latest news, analysis and insights from our politics team.
You may occasionally receive promotional content from the Los Angeles Times.