Newsletter: Essential California: Wildfires rage in a record heat wave
Good morning, and welcome to the Essential California newsletter. It is Saturday, July 7. Here's what you don't want to miss this weekend:
TOP STORIES
The worst of this week's heat wave hit Southern California on Friday, sparking several brush fires that burned numerous homes in San Diego and Santa Barbara counties. Powerful sundowner winds on the Santa Barbara County coast helped fuel the Holiday fire, which burned several homes in the hills above Goleta and threatened many others. Meanwhile, a fast-moving fire in the San Bernardino National Forest prompted authorities to tell Forest Falls residents to flee their homes. The most serious of the fires burned along Interstate 8 near Alpine. Los Angeles Times
— Many parts of Southern California recorded new high-temperature marks for the date Friday, with a few spots reaching the hottest readings ever recorded. Los Angeles Times
— Southern California's heat wave has been putting a strain on the power grid. Los Angeles Times
— Here are some tips to survive the heat. Los Angeles Times
Water, water everywhere
For its litany of problems, it's been hard to kill the tiny Sativa-Los Angeles County Water District. It has survived scandals involving financial instability, nepotism, poor maintenance and mismanagement. Then in the last year, brown, smelly water started coming out of the taps — giving authorities what they believe is their best chance to close the water district once and for all. But it won't be easy. The first challenge is economic: Sativa delivers inexpensive water to 1,600 homes in Compton and Willowbrook, and finding a replacement has been hard. The second is legal: Laws intended to thwart government overreach make it difficult to shut down a district — even one as troubled as Sativa. Los Angeles Times
AROUND CALIFORNIA
In court: The federal government, under orders from a San Diego federal judge to reunite families who have been separated at the border, is asking for more time. Los Angeles Times
Fascinating story: How California's farm labor shortage made friends of old rivals. Los Angeles Times
Rising from the dead: An outpatient clinic will replace the shuttered Pacific Alliance Medical Center in Chinatown, marking the second time a group led by Chinese doctors has rescued the historic hospital property from closure. Los Angeles Times
Shaking it up: Just over a week after becoming chief of the Los Angeles Police Department, Michel Moore has appointed his new command staff, opting for stability over major change. Robert Arcos, one of three finalists for the chief job, will head the department's patrol operations. Los Angeles Times
Plus: Authorities said they are seeing more gangs turn to homemade guns as it becomes more difficult to acquire real ones. Los Angeles Times
On the campaign trail: "Insurers, doctors and nurses are spending millions on lobbying and donations to lawmakers' campaigns in the current legislative session, battling over costly large-scale changes as they await Gov. Jerry Brown's successor." Sacramento Bee
On the campaign trail, Part 2: After representing California for a quarter of a century, Sen. Dianne Feinstein for the second time this year faces the prospect of failing to land the endorsement of California Democrats. Los Angeles Times
In the Bay Area: The Republican candidate running to unseat the congressman who represents much of Contra Costa County is a Holocaust denier whose campaign website contains anti-Semitic and racist writings. San Francisco Chronicle
Smoke up: A look at legal weed by the numbers in Los Angeles. L.A. Taco
Crazy pursuit: The driver of a mortuary van with a body inside pursued a hit-and-run pickup driver about eight miles into downtown San Diego, where the pickup crashed into other vehicles and knocked down a light pole, authorities said Friday. Los Angeles Times
New leader: The Huntington Library, Art Collections, and Botanical Gardens announced that it has appointed Karen R. Lawrence, former president of Sarah Lawrence College, to become the San Marino museum's ninth leader beginning Sept. 1. Los Angeles Times
Get the Essential California newsletter »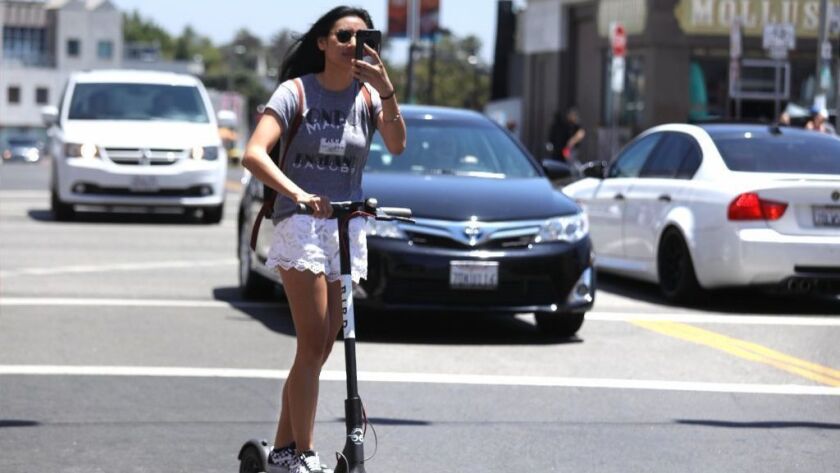 THIS WEEK'S MOST POPULAR STORIES IN ESSENTIAL CALIFORNIA
1. A Confederate flag raises eyebrows in Palos Verdes Estates. The Daily Breeze
2. How Magic Johnson's late-night meeting sealed the Lakers' deal for LeBron James. Los Angeles Times
3. Where will LeBron James' son play high school basketball? The field starts to narrow. Los Angeles Daily News
4. San Francisco tourism officials and, apparently, visitors want the same thing: cleaner streets. San Francisco Chronicle
5. A margarita-loving bear has a "grand old time" taking a dip in an Altadena hot tub. Los Angeles Times
ICYMI, HERE ARE THIS WEEK'S GREAT READS
Those dang Birds: "When Bird electric scooters began showing up around Santa Monica and Venice last fall, they really tickled me," writes columnist Robin Abcarian. "The concept was so liberating: unlock the scooter with your phone, then zoom off, ditching it wherever you fancy. But then I crashed." Los Angeles Times
Amazing story: "Seventeen years before the Stonewall Riots, Dale Jennings proclaimed to a California court that he was a homosexual. It was the first glimmer of a civil rights revolution. This is the story of an unsung, and reluctant, hero." The Atavist
The big picture: How control of Congress could swing on a fight to repeal California's gas tax. New York Times
Please let us know what we can do to make this newsletter more useful to you. Send comments, complaints and ideas to Benjamin Oreskes and Shelby Grad. Also follow them on Twitter @boreskes and @shelbygrad.
---