Newsletter: Essential California: The uneven road to housing for the homeless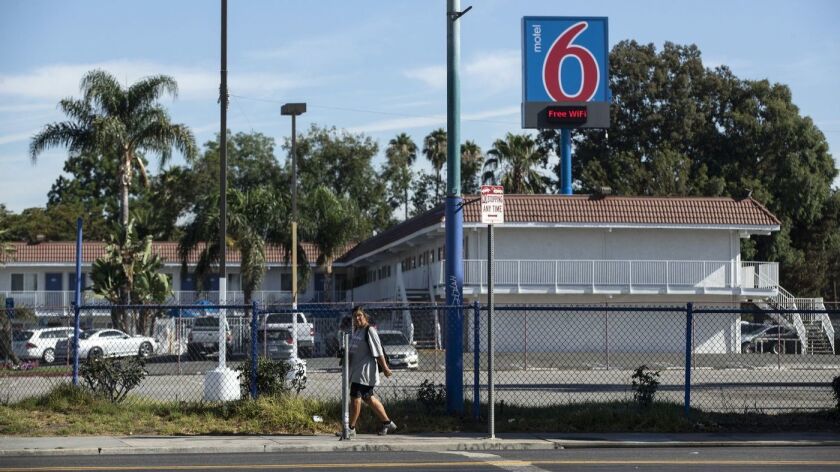 Good morning, and welcome to the Essential California newsletter. It's Tuesday, Sept. 4, and here's what's happening across California:
TOP STORIES
When Los Angeles City Council members vowed to back a minimum number of new homeless housing units in each of their districts, it was clear hitting those numbers was going to be easier in some parts of L.A. than in others. Months later, some council districts have neared or breezed past the number, while a handful remain far from that target. Councilmen Gil Cedillo, Jose Huizar and Curren Price, who represent districts covering downtown, parts of the Eastside and South L.A., have already exceeded the goal. Los Angeles Times
-- A dramatic photo essay on L.A. landmarks and the homeless. Where do you take visitors in Los Angeles? Wherever you go, you're almost sure to encounter homeless people. They are fixtures at almost every landmark, part of the landscape that defines the urban expanse. Los Angeles Times
-- Dealing with the issue of homeless encampments and the brush fire danger. Los Angeles Times
-- The struggle of having a job and being homeless. One of the hardest parts: Can you tell your boss? LAist
-- San Francisco is trying a new way to track its homeless population. San Francisco Chronicle
Water wars
A Trump administration directive to boost water deliveries to Central Valley agriculture is more show than substance, according to legal experts who say there is little the Interior Department can do on its own to send more irrigation supplies to valley growers. Los Angeles Times
Turning headlines into legislation
After the #MeToo wave crashed upon the Capitol's granite steps last fall, the issue of sexual harassment seeped into nearly every corner of California's legislative landscape. It loomed over day-to-day business as lawmakers grappled with salacious accusations about their colleagues and soul-searching about their own behavior. It forced an examination of how the Legislature handled internal complaints. And it inspired bills that tackled harassment in Hollywood, Silicon Valley and the workplace at large. Los Angeles Times
Get the Essential California newsletter »
L.A. STORIES
Bugs, ugh: Have you experienced an unusual number of mosquito bites this summer? Have they landed mostly below the knee and especially around your ankles? And did the six-legged perpetrator fly off unnoticed, like a mosquito ninja, after feasting on your blood? If the answer to all these questions is yes, then your neighborhood is probably infested with an invasive mosquito that is moving rapidly across Southern California, driving residents and vector control specialists crazy. Los Angeles Times
Air out of the tires: Pasadena's exit from the countywide bike-share program is a blow for L.A. Metro, as officials struggle to compete against privately funded systems that provide bikes for free and allow users to leave bikes anywhere. Los Angeles Times
Instagram-friendly: A once-notorious Hollywood strip mall is getting a hipster makeover. LAist
Great outdoors: Yoga enthusiasts have joined surfers, swimmers, bikers and sun bathers on the beaches of Santa Monica. ABC 7
The room where it happens: Inside the Rams' quarterbacks room. Los Angeles Times
CRIME AND COURTS
Public's help sought: Eight people were shot in what San Bernardino police described as a "gun battle" at an apartment complex in a gang-ravaged stretch of Lynwood Drive. With few witnesses willing to tell police what happened, "We need good people who were there to come forward and give us a little tidbit of information so we can build a case," San Bernardino police Capt. Richard Lawhead said. Los Angeles Times
Grim discovery: The body of one of four people missing since Saturday when two boats crashed head-on and sank in the Colorado River was pulled from the water Monday as the search for the others continued. Los Angeles Times
Shooting update: A San Diego County sheriff's deputy shot a man Sunday after he pulled a gun and fired several shots when he was told he couldn't get a ticket to a sold-out Ice Cube concert at the Del Mar Fairgrounds, authorities said. Los Angeles Times
Paint fight: A California court ruling could have big implications for paint and advertising. Wall Street Journal
POLITICS AND GOVERNMENT
Infernal backdrop: California's megafires tell one story, President Trump's climate change policies another. The New Yorker
Tall order: Can California really get to 100% clean power by 2045? San Francisco Chronicle
Most telling: Two funerals — John McCain's and Aretha Franklin's — tell us something profound about the times we live in, columnist Robin Abcarian writes. Los Angeles Times
Tweet, tweet: How Jack Dorsey has become the political sheriff of Twitter. Wall Street Journal
Never mind: The In-n-Out boycott? The Democrat who posed the idea walks it back. Sacramento Bee
CALIFORNIA CULTURE
Follow the money: CashCall founder John Paul Reddam has a history of successful wagers on his horses and his companies. Despite setbacks, he's found a way to remain a player in the high-interest lending business. Los Angeles Times
On second thought, who needs money? The San Francisco zine movement is about as anti-tech culture as you can get. As one publisher says: "If you do this for capitalistic reasons, you're not very bright:" San Francisco Chronicle
Long, strange trip: Nearly a half-century later, a lost Orson Wells film has its premiere. New York Times
No pun intended: Pot is increasingly on the menu at high-end California resorts. New York Times
Buh-bye: Rosanne Barr says she is done with California, at least for a while. Los Angeles Times
CALIFORNIA ALMANAC
Los Angeles area: Sunny, 80, Tuesday. Sunny, 78, Wednesday. San Diego: Partly cloudy, 77, Tuesday. Mostly sunny, 76, Wednesday. San Francisco area: Mostly sunny, 66, Tuesday. Sunny, 66, Wednesday. San Jose: Sunny, 83, Tuesday. Sunny, 82, Wednesday. Sacramento: Sunny, 92, Tuesday. Sunny, 90, Wednesday. More weather is here.
AND FINALLY
Today's California memory comes from David Vossbrink:
"After a year in South Florida as a community organizer for VISTA in 1973, I returned to the Bay Area on a cross-country bicycle trip. Rolling through the San Gorgonio Pass into Redlands after two months of pedaling through swamps and deserts, I was embraced by the soft and uniquely California scent of eucalyptus and dry grass in the autumn. I was home, even if I was still 400 miles away from Oakland. Four decades later I still remember that epiphany of how deeply California is embedded in my senses."
If you have a memory or story about the Golden State, share it with us. Send us an email to let us know what you love or fondly remember about our state. (Please keep your story to 100 words.)
Please let us know what we can do to make this newsletter more useful to you. Send comments, complaints and ideas to Benjamin Oreskes and Shelby Grad. Also follow them on Twitter @boreskes and @shelbygrad.
---