Newsletter: Essential California: Inside the push to list quake-vulnerable buildings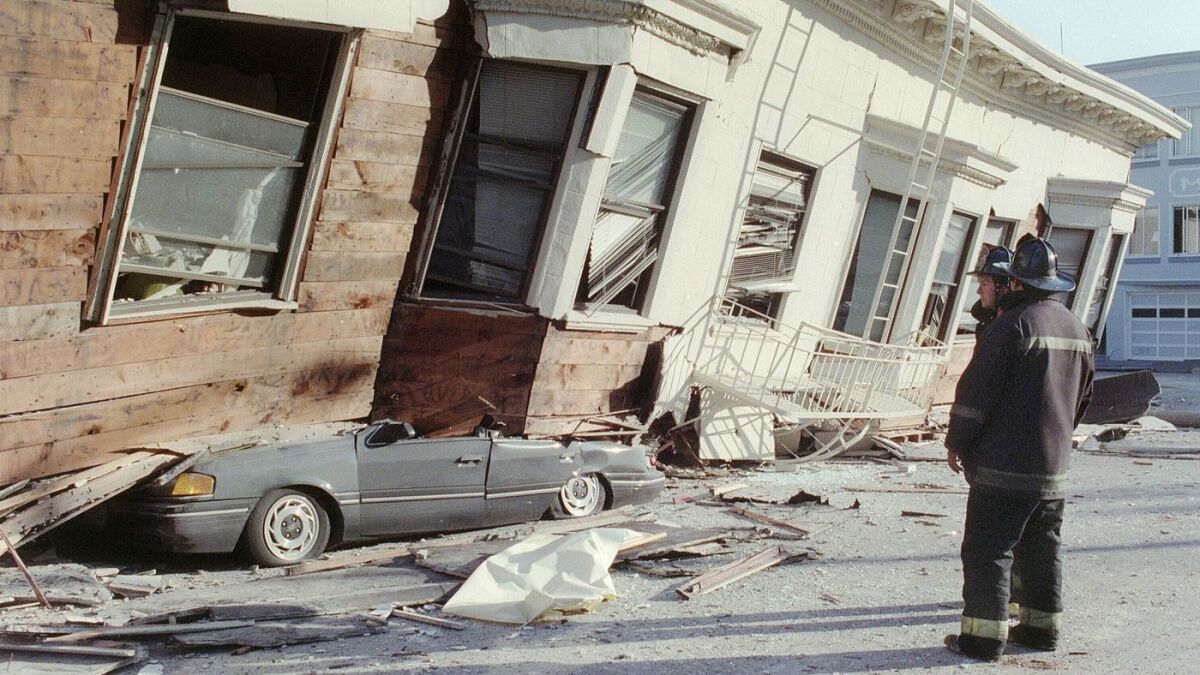 Good morning, and welcome to the Essential California newsletter. It's Thursday, Sept. 13, and here's what's happening across California:
TOP STORIES
Should Californians be told if they building where they live or work is vulnerable to a collapse in a major quake? Gov. Jerry Brown will decide soon whether to do just that in what would be a major advance in efforts over the last decade to identify seismically vulnerable buildings in California. Los Angeles and other cities have generated lists of buildings that face the greatest risk of collapse. Some cities have ordered owners to retrofit those buildings to make them more secure. But many others have done nothing. But what do you do if you learn your building is on the list? Los Angeles Times
— Does the mighty Matilija Dam pose a risk of damage in a quake? There is debate over the alarming conclusions of a grand jury report. Ventura County Star
— Who bears the risk for quake damage? Depends on whom you ask. New York Times
Tales from the climate summit
It's San Francisco, so of course the climate summit has a foodie element. At Zero Foodprint week, restaurants will try to raise climate consciousness with special menus and spread the gospel of low-carbon-footprint dining. But the climate-friendly food movement extends well beyond epicurean treats. It's taking center stage as California's climate change summit begins in the city. Los Angeles Times
— There's little consensus that state and local measures and corporate pledges to curb emissions can make up for a lack of federal action on climate change. Los Angeles Times
— What to expect from the summit. Los Angeles Times
Quiet resistance
Immigrant-rights groups are building networks of volunteers willing to house asylum seekers as they are bonded out of immigrant detention centers. Los Angeles Times
Get the Essential California newsletter »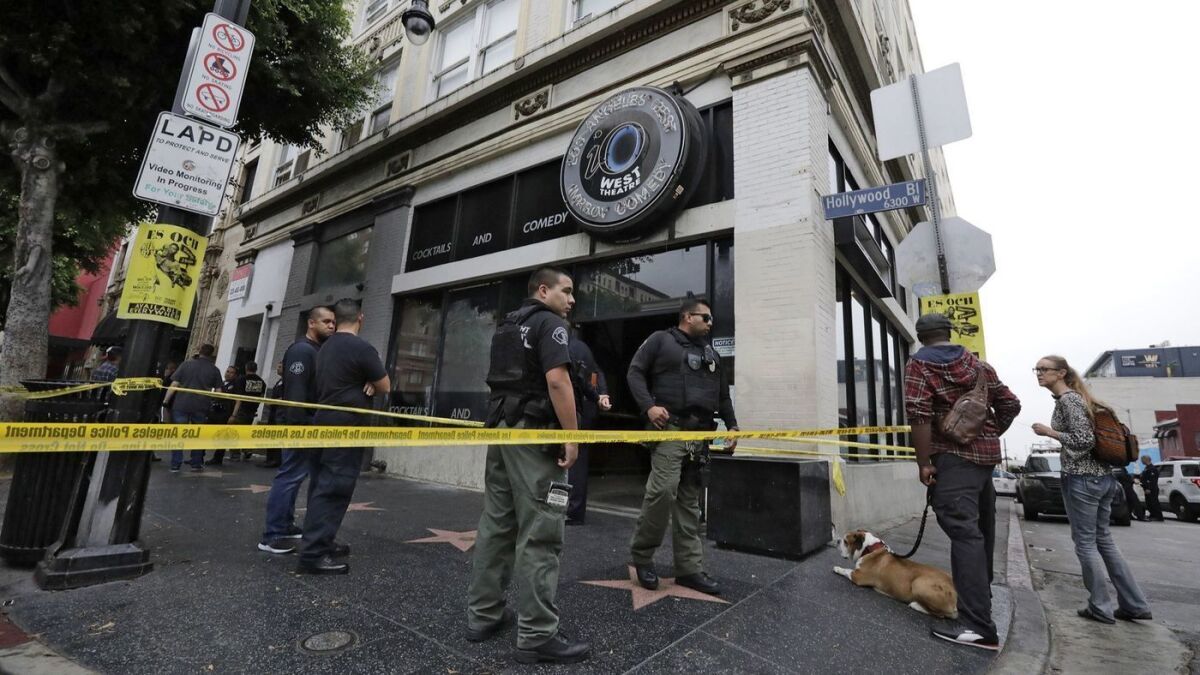 L.A. STORIES
Shocking discovery: Just steps from the tourists taking selfies at the famed corner of Hollywood and Vine, a different Tinseltown scene was unfolding inside an old commercial building that was converted into illegal housing for artists. The conditions were similar to those at the Ghost Ship, an Oakland warehouse-turned-artists' residence that caught fire in 2016, killing 36 people. That building also had been powered by makeshift wiring and filled with debris. Los Angeles Times
Ten years later: How the deadly Metrolink crash in Chatsworth changed rail in Southern California. Los Angeles Daily News
Our old home: A campaign by preservationists to garner monument status for three buildings the Los Angeles Times occupied for decades will have the support of city staff when the Cultural Heritage Commission meets next week to consider the issue. Los Angeles Times
Eat it up: How coffee cake became one of the LAUSD's most successful graduates. LAist
POLITICS AND GOVERNMENT
Debate over debate: With less than two months until election day, California's two gubernatorial contenders remain locked in a standoff over whether they'll meet to discuss the issues facing the state. Los Angeles Times
History lesson: Carpetbagger allegations have long been a part of the California political cycle. Sacramento Bee
Golden Boy: Oscar de la Hoya for president? "It's real … that's the beauty of our nation." Los Angeles Times
He said what? An Inland Empire school board member is in hot water for saying: "It wasn't Hitler that was bad, it was the people who followed the laws and the agenda." San Bernardino Sun
Do you vape, bro? Responding to an "epidemic of nicotine addiction" among American youths, the FDA announced a comprehensive crackdown on e-cigarette manufacturers, directing the industry's giants to draw up detailed plans for halting sales to minors and threatening to pull a wide range of products from the market. Los Angeles Times
Not good: Why California's poverty rate remains so alarming. Sacramento Bee
Gun show on hold: The family-owned company that has operated gun shows at the Del Mar Fairgrounds for nearly 30 years failed to overcome growing public concern about gun violence nationwide and questions about its owners' legal troubles. San Diego Union-Tribune
CRIME AND COURTS
In Bakersfield: A gunman killed five people in back-to-back shootings Wednesday evening before turning the gun on himself when he was confronted by a deputy, authorities said. Los Angeles Times
CALIFORNIA CULTURE
Who knew? How black napkins became a status symbol of swank dining, perhaps with some roots in Newport Beach. The New Yorker
Mystery solved: Have you seen all those "NO ICE" signs around Southern California? Meet the artists who created them. L.A. Taco
Revealed: Details of the Trump "Black-ish" episode that was shelved. Was it censorship by ABC? The Hollywood Reporter
Tech talk: At Google, the company is insisting "Googleyness" is not a dog whistle for agism. Mercury News
Stores closing: In San Francisco, some companies can't find workers. And that labor shortage is having major repercussions. San Francisco Chronicle
iPhone update: Apple is going bigger, again. The Verge
CALIFORNIA ALMANAC
Los Angeles area: sunny, 82, Thursday; sunny, 85, Friday. San Diego: sunny, 79, Thursday; sunny, 80, Friday. San Francisco area: sunny, 64, Thursday; partly cloudy, 64, Friday. San Jose: partly cloudy, 74, Thursday; partly cloudy, 75, Friday. Sacramento: mostly cloudy, 78, Thursday; mostly sunny, 80, Friday. More weather is here.
AND FINALLY
Today's California memory comes from Shelby McNamara:
"I have lived in the Inland Empire for all 26 years of my life (except for college), and one story about California specifically has stuck out in my mind. For my cousin's bachelorette party a couple of years ago, we rented a house right on Venice Beach. There was a little balcony I was sitting outside with my cousin's soon-to-be sister-in-law from Greensville, S.C. We were watching all of the characters walking around Venice, and a man walked by in bright green scrubs. The soon-to-be sister-in-law turned to me and said, 'Wow, those are awesome scrubs, California doctors are way cooler than in South Carolina!' I had to explain to her that he wasn't a certified doctor, but worked for the office of Mary Jane. It took her about a minute, and then she realized what I meant and couldn't believe that profession existed. I can only imagine what she went home and told her friends and family when she got home after that weekend in Venice Beach."
If you have a memory or story about the Golden State, share it with us. Send us an email to let us know what you love or fondly remember about our state. (Please keep your story to 100 words.)
Please let us know what we can do to make this newsletter more useful to you. Send comments, complaints and ideas to Benjamin Oreskes and Shelby Grad. Also follow them on Twitter @boreskes and @shelbygrad.
The stories shaping California
Get up to speed with our Essential California newsletter, sent six days a week.
You may occasionally receive promotional content from the Los Angeles Times.