Newsletter: Essential California: At Hollister Ranch, homeowners enjoy private beaches and big tax breaks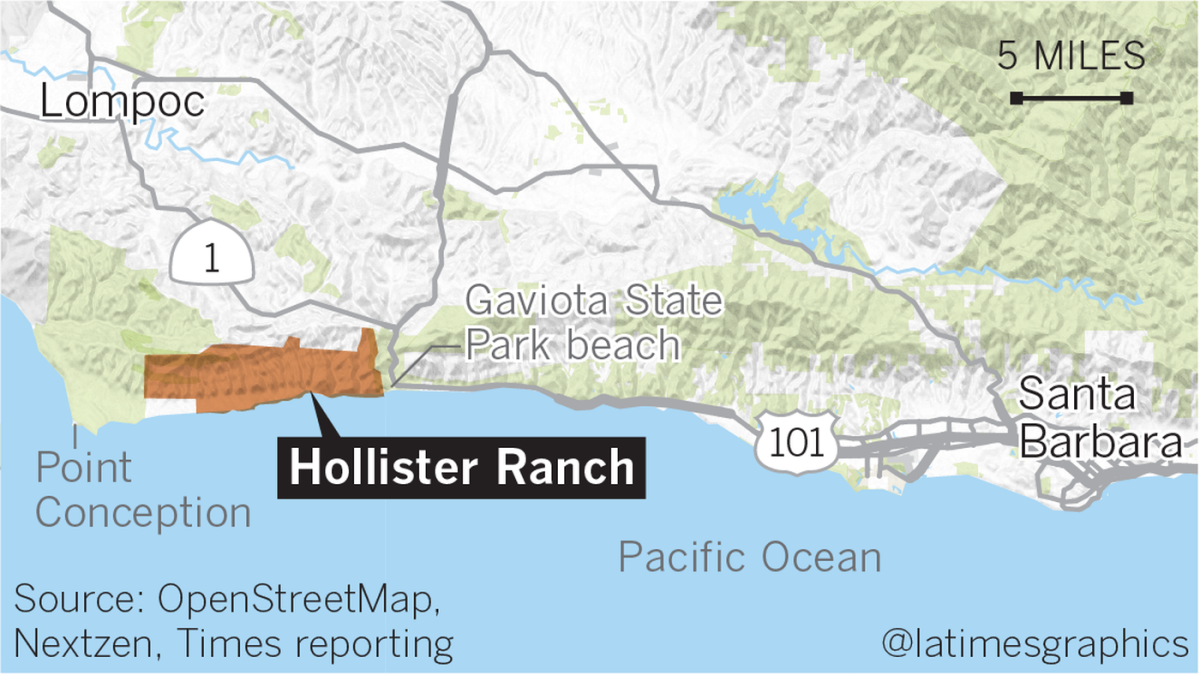 Good morning, and welcome to the Essential California newsletter. It's Monday, Oct. 22, and here's what's happening across California:
TOP STORIES
Residents of the exclusive Central Coast property known as Hollister Ranch have fought for years to keep the public off its pristine beaches, turning to lawyers, gates and guards. It turns out the landowners — including celebrities and wealthy business moguls — get huge property tax breaks for living on what's designated as an agricultural preserve. Collectively, the breaks added up to about $2 million this year, according to a Times analysis. Oscar-winning film director James Cameron enjoyed a $28,000 property tax break last year. CVS heiress Sidne Long got a $22,000 break. Patagonia founder Yvon Chouinard saw $13,000 in savings, and singer Jackson Browne got a $3,000 break. Los Angeles Times
Burning up cash
Overtime costs at the Los Angeles County Fire Department surged 36% in the last five years, placing some firefighters among the highest-compensated workers in local government. The increase comes as the department grapples with staffing shortages and several seasons of extreme wildfires. Yet some county officials and outside experts question whether fire commanders are properly managing their $1-billion payroll. Los Angeles Times
To build or not to build
There is wide agreement that the fundamental issue underlying the state's housing crisis is that there are not enough homes for everyone who wants to live here. The problem, a new poll says, is that the public doesn't believe it. A USC Dornsife/Los Angeles Times survey found that just 13% of eligible California voters believe that too little home building is a primary contributor to the state's affordability issues. Los Angeles Times
Plus: A San Francisco housing battle that is dividing the tech world. New York Times
Get the Essential California newsletter »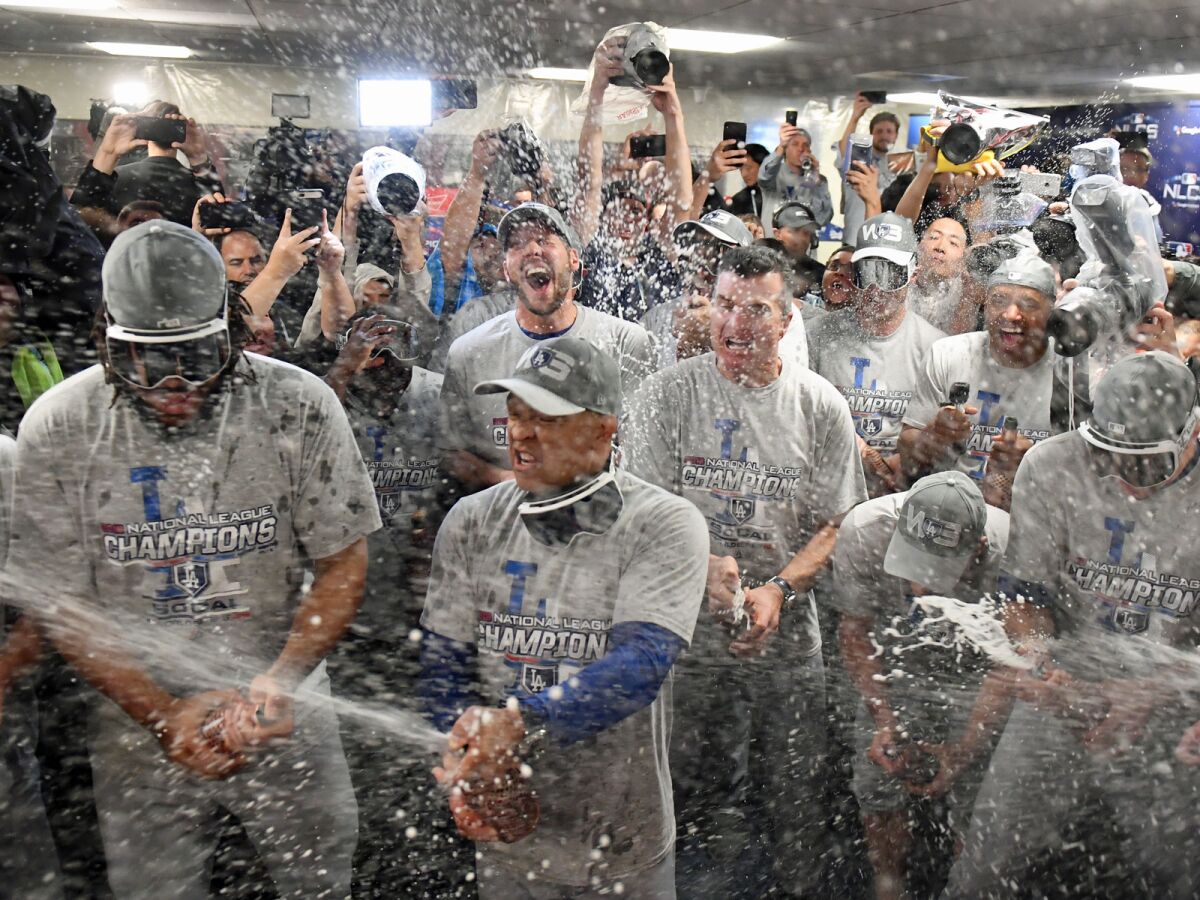 L.A. STORIES
Paid protesters! Crowds on Demand hires paid protesters. Now, a wealthy Czech investor is suing the company and alleging extortion, saying it was hired to force him to pay $23 million to an Eastern European nemesis. Los Angeles Times
Aww: The story of L.A.'s most misunderstood building. Los Angeles Magazine
Watch out: Why biking in L.A. is so dangerous, even on streets the city has tried to make safer. LAist
Don't blow it: Now, the Dodgers need to avoid the nightmare that was 2017. Los Angeles Times
"The Fisticuffs on Figueroa": LeBron James' first game in L.A. with the Lakers ended with some fireworks and suspensions. Los Angeles Times
"It hurts": Saying goodbye to the Ladera Heights Starbucks, which became a symbol for so many things. USA Today
CRIME AND COURTS
In Anaheim: Is family malice at the heart of this deportation case? Orange County Register
An exorcist, a whisper: How the San Jose priest abuse scandal unraveled. Mercury News
POLITICS AND GOVERNMENT
A little help, please? L.A. leaders want the city's tech firms to help solve problems. Can they do better than Silicon Valley? Wall Street Journal
On the rise: A whopping 24 people of Vietnamese descent are running for office in Orange County; their campaign signs dominate street corners in Little Saigon. In this part of the traditionally Republican county, it is open to debate whether a much-touted Democratic "blue wave" will sweep through the midterm election. Los Angeles Times
Conflict of interest? How pay-to-play balloting has flourished in California. Cal Matters
Education matters: History has found few statewide races more sleepy than the campaigns for superintendent of public instruction, perhaps because the job is thin on duties that aren't tangled in the web of control over K-12 schools. And yet, this year's race is a $40-million blockbuster that is more costly than for any California office aside from governor. Los Angeles Times
Perspective: Does California's anti-Trump politics have its limits? Wall Street Journal
THE ENVIRONMENT
Yikes: Rising temperatures are threatening California's hummingbird population. Desert Sun
One year later: "I view life now with an undercurrent of grief that will never go away." A reminder the disaster never really ends in fire-ravaged Santa Rosa. Press Democrat
CALIFORNIA CULTURE
Going underground: Elon Musk announced Sunday that the first tunnel of a proposed underground transportation network across Los Angeles County will open Dec. 10. Los Angeles Times
Milestone: A cultural moment for San Francisco: The Gay Men's Chorus sings at a church where it was banned three decades ago. San Francisco Chronicle
Old stamping ground: How a dusty corner of the Westside in the 1990s inspired Jonah Hill, and resulted in a movie. "If you feel like an outsider, sometimes that can make you harsh or angry. And I think skating is for an angry group of outsiders — slamming on the floor, saying mean things to one another — but ultimately really, really deeply loving one another." Los Angeles Times
70 "fun facts": Perhaps more than you need to know about In-N-Out. Los Angeles Daily News
Meet Martine Gutierrez: The California-born Latinx artist who uses, well, fruit, to describe colonialism in fashion. The New Yorker
CALIFORNIA ALMANAC
Los Angeles area: Partly cloudy, 77, Monday. Sunny, 79, Tuesday. San Diego: Partly cloudy, 72, Monday. Partly cloudy, 73, Tuesday. San Francisco area: Partly cloudy, 60, Monday. Partly cloudy, 61, Tuesday. San Jose: Partly cloudy, 70, Monday. Partly cloudy, 69, Tuesday. Sacramento: Sunny, 80, Monday. Mostly sunny, 74, Tuesday. More weather is here.
AND FINALLY
This week's birthdays for those who made a mark in California: TV personality Kim Kardashian (Oct. 21, 1980), singer "Weird" Al Yankovic (Oct. 23, 1959), Rep. Brad Sherman (Oct. 24, 1954), singer Katy Perry (Oct. 25, 1984).
If you have a memory or story about the Golden State, share it with us. Send us an email to let us know what you love or fondly remember about our state. (Please keep your story to 100 words.)
Please let us know what we can do to make this newsletter more useful to you. Send comments, complaints and ideas to Benjamin Oreskes and Shelby Grad. Also follow them on Twitter @boreskes and @shelbygrad.
The stories shaping California
Get up to speed with our Essential California newsletter, sent six days a week.
You may occasionally receive promotional content from the Los Angeles Times.