Newsletter: Essential California: Behind the fire lines, behind the lens
Good morning, and welcome to the Essential California newsletter. It's Friday, Nov. 16, and here's what's happening across California:
TOP STORIES
I once followed Genaro Molina into a bathroom to document a homeless person taking his first shower in months, and chased chaotic far-right protests in Berkeley with Wally Skalij.
Both are not just skilled photographers. They're great journalists, and the avalanche of news this week has shown why the two — along with many other Times photographers — are the best in the business.
They take on a challenge that I think few understand: how to produce an iconic image that sums up a news event in one frame. In our digital world, these images can capture the imagination and go viral — traveling across the world and showing readers the raw consequences of what these fires do to real people.
Last year, Marcus Yam accomplished this with a shot of palm trees during the Thomas fire. This week, it was Molina's photo of a firefighter with a chainsaw and Skalij's lonely owl stranded on Zuma Beach. (Up north, freelancer Noah Berger and Getty staff photographer Justin Sullivan have done incredible work as well).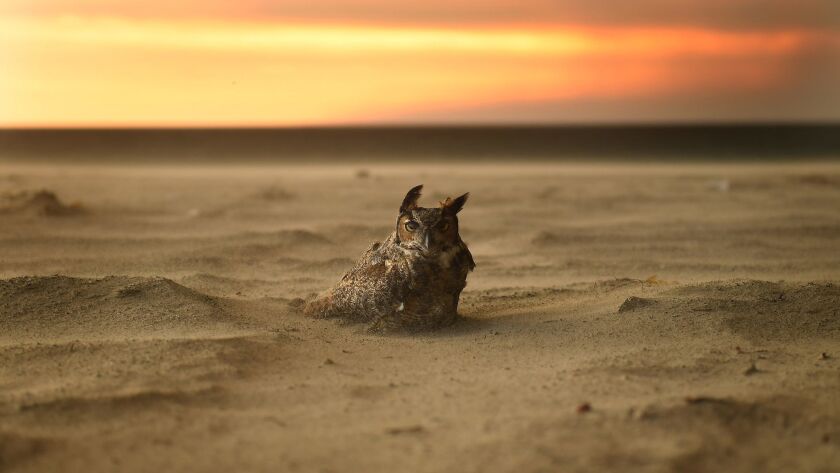 Wally's week started in Thousand Oaks covering the shooting at the Borderline Bar and Grill. He had just come off a grueling stretch crisscrossing the country as the Dodgers marched to the World Series. On Thursday, he worked overnight documenting firefighters saving homes in Oak Park. He took a nap from 5 to 7 a.m. Friday in his car in the parking lot of an AutoZone.
Then he headed toward Malibu.
"I don't need every single house on fire," he told me. "So I wanted to pull back and get more of a sense of a scene."
When he reached Zuma Beach, it was bedlam and almost like Noah's Ark, he said.
There were alpacas tied to a lifeguard stand — and an owl sitting alone, about 30 feet away.
"When I saw that owl, it looked at me," he told me. "It's weird to say, but we had a moment. It was so strange and so eerie, I just started taking photos. We connected eyes. I could feel the wind blowing and how scared it was. There was just this ominous feel."
Get the Essential California newsletter »
Genaro began his Friday documenting the long line of people evacuating on Pacific Coast Highway from Malibu.
He summed up best how photographers roll: "I'm just trying to get to the center of activity — the core of the event — and the only way to get that is to follow the flames and get as close as you can."
By nightfall, he was just north of Paradise Cove on a street with firefighters attempting to save some structures. He made sure to park his car facing toward Pacific Coast Highway, in case he needed to make a quick escape. The street was filled with flames, and then a firetruck began heading in his direction with its brights on.
"I was trying to make sense of this guy walking toward the firetruck," he told me.
"Once he blocked the headlights, his silhouette was defined, and the edges were clear and you could see his form and that he was carrying a chainsaw. At the time, this image really captured how foreboding the environment was."
More work from The Times photo staff: Los Angeles Times
FIRE, FIRE, EVERYWHERE
As unreal as the losses are, a grim reality was setting in for Paradise residents. Thousands are now homeless with no town to go back to. The legions of Paradise evacuees are swelling shelters and a makeshift tent city in Chico. And so many loved ones and neighbors are still missing. Los Angeles Times
— For many residents of the Sierra foothills, small, woodsy spots like Paradise, Magalia and tiny Concow were a refuge from the world. They came to retire, to get away from the city, to change their lives. California's worst fire preyed on those who could not run. People sick in bed, those listening for updates on the radio. They were frantic to save their pets, put necessities in their cars and drive off. Many didn't make it. Los Angeles Times
— A stunning graphic shows Paradise wiped out by fire. Los Angeles Times
— Tracking the path of the fire. New York Times
— Adding to the tension, an officer fatally shot a man in a Paradise evacuation zone. Chico Enterprise-Record
— An unrelenting job for the coroner. "I've been here 19 years, and we haven't had anything even close to this." Sacramento Bee
— For police, patrolling Paradise is surreal. "There's really no one to watch over." San Francisco Chronicle
— For the girls' basketball team at Paradise High, one step toward recovery. Los Angeles Times
— The politics of President Trump's visit to California on Saturday. Los Angeles Times
— As deadly fires continue to rage in Northern and Southern California, millions of people outside the burn zones are exposed to dangerous smoke. Health professionals and firefighters are fitted for the right mask, but the general public is not. Los Angeles Times
— Maybe go to Lake Tahoe for the air. San Francisco Chronicle
— More bad news for Pacific Gas & Electric as regulators look into not only whether it started the Paradise fire but its corporate governance. Wall Street Journal
— The menagerie of animals chased out of Malibu by the fire is doing OK. Los Angeles Times
L.A. STORIES
On notice: Los Angeles County's inspector general said Thursday that a Sheriff's Department team that pulled over thousands of innocent Latino motorists on the 5 Freeway in search of drugs violated the constitutional rights of drivers, and he questioned the reason for the unit's existence. Los Angeles Times
Riding the blue wave: More bad news for the California GOP: Democrat Katie Porter has ousted GOP Rep. Mimi Walters in Orange County, and the updated vote count Thursday by the Orange County registrar of voters had Democratic House candidate Gil Cisneros pulling 941 votes ahead of Republican Young Kim in an adjacent congressional district. Los Angeles Times
Where's Jose? A week after FBI agents raided his home and offices, Los Angeles City Councilman Jose Huizar has been removed from all of his committee assignments, including chairman of the powerful panel that reviews the city's biggest development projects. Los Angeles Times
CRIME AND COURTS
Saying goodbye: An emotional farewell to Ventura County Sheriff's Sgt. Ron Helus, the lawman killed trying to stop the carnage at the Borderline bar. Los Angeles Times
Plus: A retiring sheriff describes horror in his final days. Los Angeles Times
Case "cleared": When a rape case is closed but not solved. ProPublica
CALIFORNIA CULTURE
In Silicon Valley: Facebook is in crisis mode after a New York Times report about its tactics when dealing with the Russian interference in the 2016 election. Will Mark Zuckerberg and Sheryl Sandberg survive? New York Times
Street art: Turning some of L.A.'s best-known movie marquees into guerrilla art for the #MeToo movement. LAist
Put a bow on it: A holiday guide to Disneyland. Hint: Go at night. Orange County Register
Coming attraction: Apple is getting into the full-length movie business. Wall Street Journal
CALIFORNIA ALMANAC
Los Angeles area: partly cloudy, 73, Friday; partly cloudy, 70, Saturday. San Diego: sunny, 71, Friday; partly cloudy, 68, Saturday. San Francisco area: sunny, 66, Friday; partly cloudy, 58, Saturday. San Jose: sunny, 70, Friday; partly cloudy, 66, Saturday. Sacramento: sunny, 69, Friday; sunny, 68, Saturday. More weather is here.
AND FINALLY
Today's California memory comes from Leslie O'Malley:
"Growing up in Marin County was truly magical. It was a safe state then, and children were allowed to explore! I remember putting pennies on the train tracks and going back the next day to find them flattened, picking blackberries that grew by the tracks and later eating the pies my mother would make, taking the small ferry to Angel Island and playing all day, taking the ferry into the city and riding the cable cars to Chinatown, then exploring. The best memory was of seeing Blackie, the horse that lived in the field as you entered Tiburon — it meant I was almost home."
If you have a memory or story about the Golden State, share it with us. Send us an email to let us know what you love or fondly remember about our state. (Please keep your story to 100 words.)
Please let us know what we can do to make this newsletter more useful to you. Send comments, complaints and ideas to Benjamin Oreskes and Shelby Grad. Also follow them on Twitter @boreskes and @shelbygrad.
---