Newsletter: Essential California: What will the migrants in Tijuana do next?
Good morning, and welcome to the Essential California newsletter. It's Tuesday, Nov. 27, and here's what's happening across California:
TOP STORIES
For thousands of Central Americans packed into a sports complex in Tijuana that's crowded with tents and smells strongly of sewage, the journey has only gotten harder. After a clash at the border Sunday, United States authorities said 69 migrants who had managed to cross could face criminal charges. On the Mexican side, authorities said they arrested 39 migrants and are deporting 98 others linked to the fracas. For many who have made the 2,700-mile trek to Tijuana from Central America, the unrest at the border and the political backlash that followed has added another layer of fear and anxiety to an already agonizing situation. "I'm not trying to jump the wall," said Dennis Martinez, a 34-year-old Honduran seeking asylum in the United States. "Many of us aren't. Why should we be punished for what a few have done?" Los Angeles Times
Plus: U.S. Customs and Border Protection Commissioner Kevin McAleenan praised agents' response, including the use of tear gas, during clashes on Sunday at the San Ysidro border crossing, saying their actions avoided serious injuries on both sides and "effectively managed a potentially dangerous situation." Los Angeles Times
On the ground: Repelled by tear gas and confusion, many migrants leave the caravan to return home. Los Angeles Times
And: Is this the "inevitable consequence of Trump's immigration policies"? BuzzFeed
More shock waves from the election
Challenger Alex Villanueva will replace Jim McDonnell as Los Angeles County sheriff, marking a stunning election upset over a seat that hasn't seen an incumbent lose in more than 100 years. McDonnell conceded the race on Monday, saying in a statement he would arrange for an orderly transition. Los Angeles Times
More blue wave? Democrat TJ Cox slipped past Republican incumbent David Valadao on Monday to take the lead in the country's sole remaining undecided congressional race, positioning Democrats to pick up their seventh House seat in California and 40th nationwide. Los Angeles Times
Plus: "Can the news for Republicans in California get any worse?" The Weekly Standard
Hidden in the suburbs
"Beyond the tree-shaded comforts of suburban living, miles from the 20,000-square-foot mansions, the hilltop castles, the Rain Bird-sucking lawns, the $40,000 private schools, the gated glory and the daily symphony of leaf blowers, L.A. residents by the thousands live in motels, vehicles, shelters, shared homes and 400-square-foot garages." Read the next installment in columnist Steve Lopez and columnist Francine Orr's series about L.A. children trapped in poverty. Los Angeles Times
Plus: Read more of Lopez's work here. Los Angeles Times
Get the Essential California newsletter »
L.A. STORIES
Why? Authorities are trying to determine the motivations and background of a 32-year-old Seattle man who is suspected of trying to run down two men outside a Jewish synagogue in West Los Angeles last week in an attack that police have described as a hate crime. Los Angeles Times
Amazing! InSight's 300-million-mile journey from Vandenberg Air Force Base in California to Elysium Planitia on Mars has ended with a safe landing, NASA says. Los Angeles Times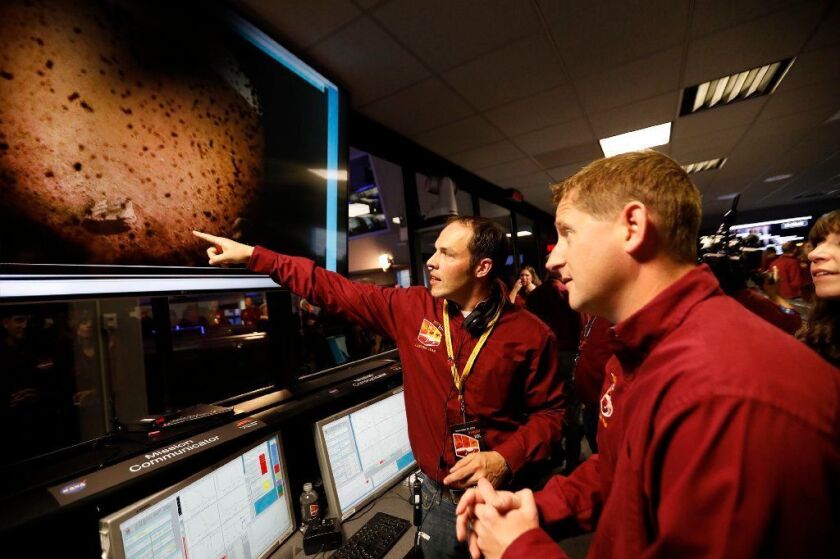 Good news for L.A. buyers? The number of homes on the market is way up. Curbed LA
New book out: "Dear Los Angeles," a look at the city through the centuries, as glimpsed by Kerouac, De Beauvoir, Waugh and others. New York Times
THE ENVIRONMENT
"Survivor's guilt": As the national spotlight has turned to Butte County and its unfathomable plight after the Camp fire, most attention and supportive resources have been funneled to those now without homes. Yet the relative few whose houses were not reduced to ash are confronting their own trauma. When they survey the devastation that surrounds them, it is easy to dismiss it. It is difficult to discuss their struggles openly without feeling insensitive. Los Angeles Times
Plus: How California's effort to prevent wildfires reflects a national crisis on climate change. The New Yorker
IMMIGRATION AND THE BORDER
In New York City: Under extreme security, a former member of the Sinaloa Cartel testified against El Chapo. Los Angeles Times
About the family separations: "A '60 Minutes' investigation has found the separations that dominated headlines this summer began earlier and were greater in number than the Trump administration admits." CBS News
A death in custody: "A transgender woman who died in Immigration and Customs Enforcement custody after being held in a privately operated detention center was likely physically abused there, according an autopsy report released Monday, and died after several days of severe, untreated dehydration." Daily Beast
POLITICS AND GOVERNMENT
Gearing up for Congress: "It didn't take long for Katie Porter to collide with the reality of serving in Congress as a single mother of three." POLITICO
Plus: Rep.-elect Gil Cisneros said Monday that he had joined the letter circulated last week by Democratic rebels declaring they would not support Rep. Nancy Pelosi in this week's caucus nominating election or in a planned Jan. 3 floor vote to decide the House speakership. Washington Post
CRIME AND COURTS
Big case: The U.S. Supreme Court heard a potentially significant antitrust case to decide whether Apple can be sued for using its monopoly power over its iPhones to profit from the sale of apps. Los Angeles Times
Overturned: The California Supreme Court decided unanimously to overturn the murder conviction of a Los Angeles man who became mentally unstable during his trial. Los Angeles Times
CALIFORNIA CULTURE
On the tube: It hooked readers and podcast listeners, but can "Dirty John" seduce TV viewers? Los Angeles Times
Yum: This tiny taqueria is serving mole tacos out of a market in Little Tokyo. Los Angeles Times
Looking back: Harvey Milk's message resonates, 40 years after his assassination. CALmatters
Galactic shakeup: The Los Angeles Galaxy declined to pick up contract options on eight players, including captain Ashley Cole and Baggio Husidic. Los Angeles Times
Rough going: "Facebook's Sheryl Sandberg is tainted by crisis after crisis." Bloomberg
Great story: A 93-year-old San Francisco native reflects on how the city has changed — and hasn't. SFGate
"Yeah, I'm not for everyone": Lena Dunham comes to terms with herself. New York Magazine
CALIFORNIA ALMANAC
Los Angeles area: Partly cloudy, 74, Tuesday. Showers, 67, Wednesday. San Diego: Partly cloudy, 72, Tuesday. Partly cloudy, 68, Wednesday. San Francisco area: Showers, 59, Tuesday and Wednesday. San Jose: Showers, 62, Tuesday and Wednesday. Sacramento: Showers, 56, Tuesday. Showers, 57, Wednesday. More weather is here.
AND FINALLY
Today's California memory comes from Gerald Potterton:
"I was visiting a friend on the Paramount set of a mid-'70s movie based on a legendary Hollywood producer like Irving Thalberg. I shall never forget walking behind the movie's actual producer as he slowly drove his golf cart at the end of the day's shooting toward the great iron gates of the studio, through which I could see the sunset. I've always wished I'd had a camera on hand that day, because he was Sam Spiegel, and on the back of his cart there was a little sign that read, 'The Last Tycoon.' Like Thalberg I guess, Sam was the real McCoy too."
If you have a memory or story about the Golden State, share it with us. Send us an email to let us know what you love or fondly remember about our state. (Please keep your story to 100 words.)
Please let us know what we can do to make this newsletter more useful to you. Send comments, complaints and ideas to Benjamin Oreskes and Shelby Grad. Also follow them on Twitter @boreskes and @shelbygrad.
---