Newsletter: Essential California: Two nuns, known for their casino trips, are accused of stealing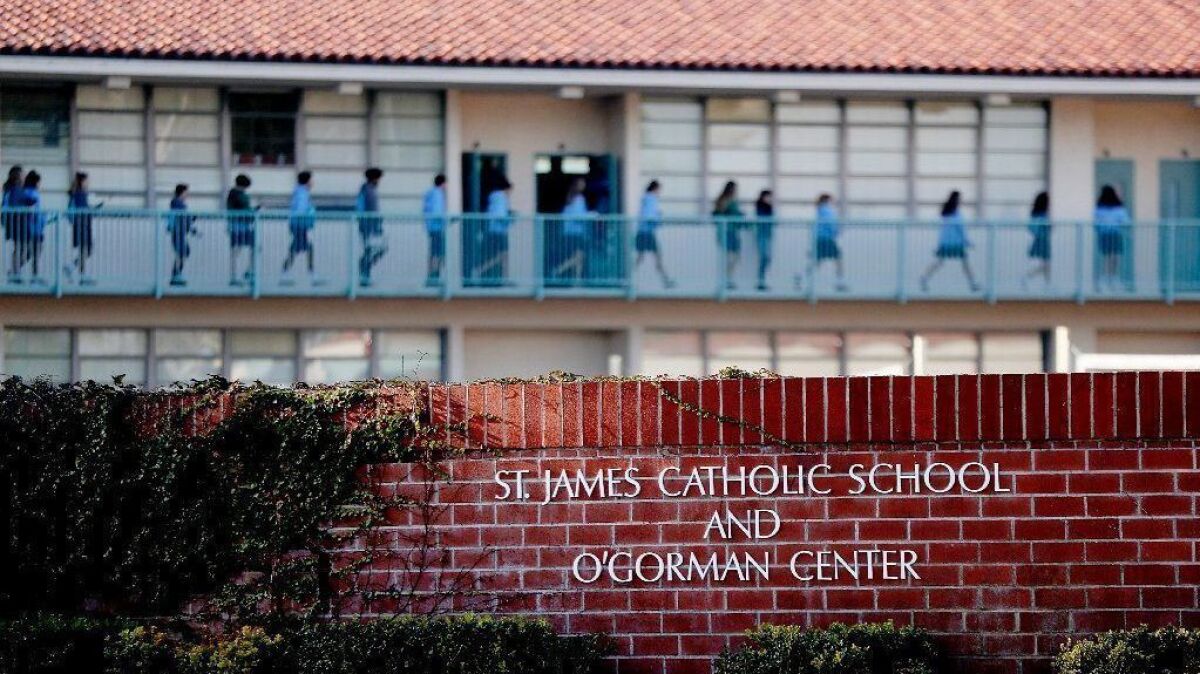 Good morning, and welcome to the Essential California newsletter. It's Thursday, Dec. 13, and here's what's happening across California:
TOP STORIES
Parents whose children attended St. James Catholic School in Torrance long believed that the school was financially strapped. Textbooks were two decades old. There wasn't enough money for new basketball uniforms. When parents would ask, year after year, for an awning to shade their children's outdoor lunch area, the principal, Sister Mary Margaret Kreuper, would respond, "How do you expect to pay for it?" Now parents are furious as they learn more about the highflying lives of two nuns who have been accused of stealing $500,000 from the school and using the money on trips to Las Vegas and Lake Tahoe. Some in the community are also mad because the church initially declined to press charges. Los Angeles Times
The 2020 tango begins
Eric Garcetti doesn't carry the star power of political celebrities like Sens. Kamala Harris and Cory Booker when he heads out of state to test the waters of a presidential run, but he does have something else to offer: the financial firepower of Hollywood. Late-night host Jimmy Kimmel, Dreamworks cofounder Jeffrey Katzenberg and others in the entertainment industry helped fuel a political action committee that the Los Angeles mayor used to boost the midterm treasuries of Democrats in states that hold key presidential primaries — and his own political fortunes along the way. The $100,000 that Garcetti's committee sent to each of 11 state parties has earned him a lot of well-placed new friends outside Southern California. Los Angeles Times
A food fight is finished at USC
In a big victory for USC's interim president, the board of trustees backed her plan to oust the business school dean over his handling of harassment complaints. Some trustees had openly criticized her move. But after Wanda Austin presented her findings to the board behind closed doors, they are said to have "overwhelmingly" backed her decision. Los Angeles Times
Get the Essential California newsletter »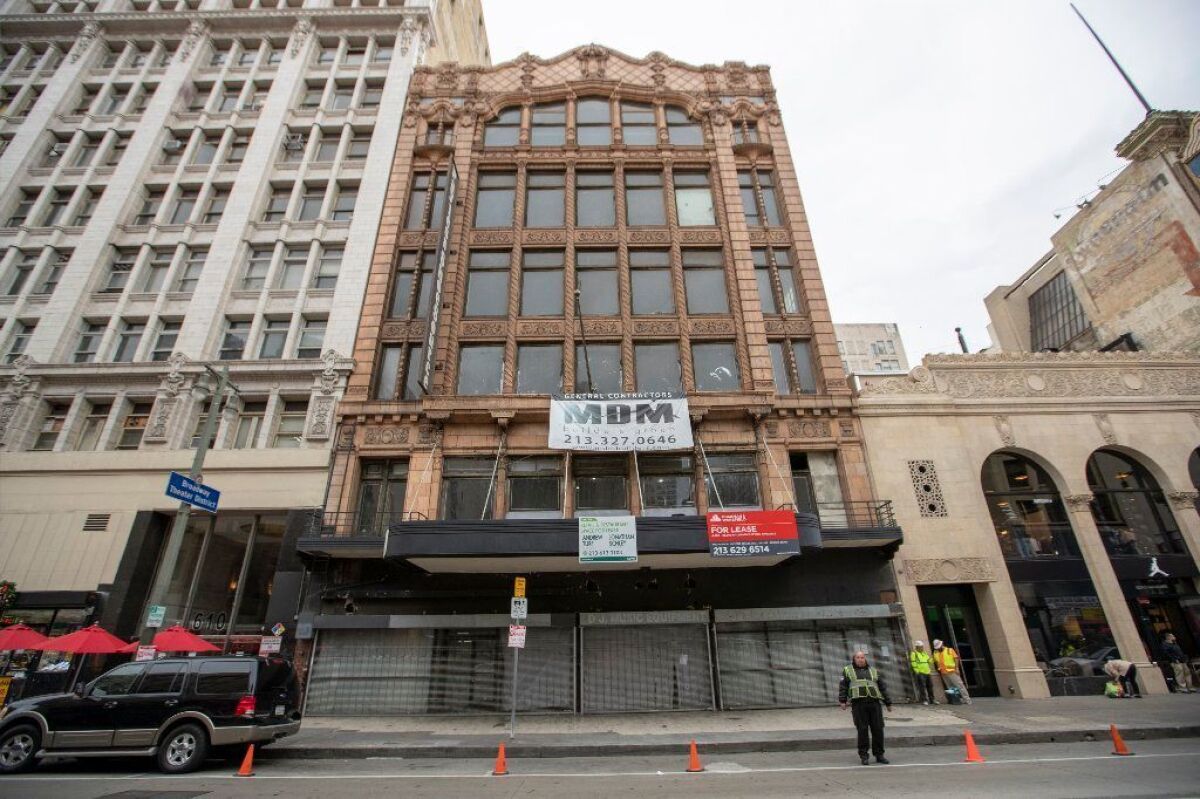 L.A. STORIES
Sign of the times: The historic home of clothier Desmond's is ready for its comeback on Broadway — as office space. Los Angeles Times
Actors honoring actors: After the Screen Actors Guild Award nominations, "A Star Is Born" takes a not-so-shallow lead in awards season as the cast of "Roma" is shut out. Los Angeles Times
Right around the corner: Behind "Fast Fashion" brands are underpaid garment workers like Yeni Dewi, who says she earns less than $5 an hour making garments in the Fashion District. L.A. Taco
Big payout: The Los Angeles Times' former publisher and editor, Davan Maharaj, reportedly received a $2.5-million settlement, but he denies the payout stemmed from a secret recording of his former boss. Los Angeles Times
IMMIGRATION AND THE BORDER
More marches in Tijuana: "Two groups of Central American migrants made separate marches on the U.S. Consulate in Tijuana Tuesday, demanding that they be processed through the asylum system more quickly and in greater numbers, that deportations be halted and that President Trump either let them into the country or pay them $50,000 each to go home." San Diego Union-Tribune
Walking it back: "The Trump administration is no longer considering using California military bases to house unaccompanied migrant children, officials told Democratic Sen. Dianne Feinstein's office on Wednesday." Sacramento Bee
Fear and worry in the O.C.: "The Trump administration is resuming its efforts to deport certain protected Vietnamese immigrants who have lived in the United States for decades — many of them having fled the country during the Vietnam War." The Atlantic
POLITICS AND GOVERNMENT
RIP: William Newsom, a retired state appellate court justice and father of Gov.-elect Gavin Newsom, died Wednesday morning at his home in San Francisco. He was 84. Los Angeles Times
Security alert: "The private shipyards in San Diego responsible for protecting Navy warships have not been following security protocols meant to protect those billion-dollar assets, and the Navy was alerted to the lapses more than two years ago, an inewsource investigation has found." Inewsource
The big picture: "There's a wave of new prosecutors. And they mean justice." New York Times
CRIME AND COURTS
Big changes afoot: California's chief justice says bail overhaul will continue with or without a landmark new state law abolishing money bail. Los Angeles Times
Settlement from the city: Los Angeles will pay $300,000 in damages and legal fees to a former City Council aide after a Superior Court judge found he had been wrongfully arrested, an incident that drew media attention and led up to his firing. Los Angeles Times
Following the money: Los Angeles is revamping its system for handing out public money to city candidates, making it simpler and more generous. The City Council voted Wednesday to approve the new rules, touting that they would increase the power of ordinary people making small donations. Los Angeles Times
Ghost Ship revisited: "Max Harris did chores and collected rent at the artists' warehouse where he lived. Now he faces trial for the deaths at a concert there — including some of his close friends." New York Times Magazine
THE ENVIRONMENT
Some perspective: A visual representation of Malibu's wildfire history. Los Angeles Times
Up up and uh-oh: How commercial space travel might make air travel more of a hassle. Washington Post
CALIFORNIA CULTURE
Podcast: Why aren't more NBA fans taking notice of Tobias Harris and the Clippers? Los Angeles Times
Review: "Mary Poppins Returns," and she really shouldn't have. Los Angeles Times
Yuck: A museum of "disgusting" food provokes, but fails to enlighten. Los Angeles Times
What's up with that? Where is Twitter founder Jack Dorsey's charitable foundation? San Francisco Chronicle
Some, uh, history: Inside the horrors of Howard Hughes' Hollywood sexcapades. New York Post
Keeping the faith: What Southern California's Virgin of Guadalupe shrines say about faith and public space. Curbed LA
CALIFORNIA ALMANAC
Los Angeles area: sunny, 74, Thursday; partly cloudy, 69, Friday. San Diego: sunny, 72, Thursday; partly cloudy, 70, Friday. San Francisco area: sunny, 59, Thursday; showers, 58, Friday. San Jose: sunny, 63, Thursday; partly cloudy, 61, Friday. Sacramento: sunny, 59, Thursday; rainy, 59, Friday. More weather is here.
AND FINALLY
Today's California memory comes from Carlos Mestas:
"When I was a kid growing up in Boyle Heights in the late 1950s, my friends and I would walk or ride our bikes to downtown Los Angeles. What wonderful memories of a bustling area with department stores like the May Co. and the Broadway. A sure destination was always Clifton's Cafeteria, where we would walk in and marvel at the amazing interior design. On Sundays, men and women would walk in and out of these and many other stores and restaurants, dressed to the 'nines.' Great memories of a great downtown, in the City of Angels."
If you have a memory or story about the Golden State, share it with us. Send us an email to let us know what you love or fondly remember about our state. (Please keep your story to 100 words.)
Please let us know what we can do to make this newsletter more useful to you. Send comments, complaints and ideas to Benjamin Oreskes and Shelby Grad. Also follow them on Twitter @boreskes and @shelbygrad.
---