Newsletter: Essential California: An L.A. councilman promoted a charity. Should he have disclosed the donors?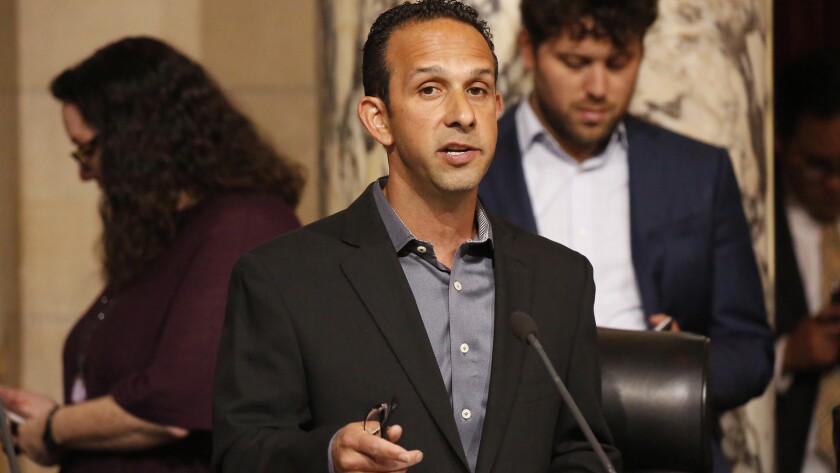 Good morning, and welcome to the Essential California newsletter. It's Monday, Feb. 18, and here's what's happening across California:
TOP STORIES
When the North Valley Family YMCA invited donors to its annual fundraising dinner, it was the smiling face of then-Los Angeles City Councilman Mitchell Englander that appeared on the invitations. Fundraising invites in recent years identified Englander as the chairman of the group's Booster Club Dinner and featured photos of him surrounded by children. In 2017, the San Fernando Valley councilman, who stepped down last year, went an extra step, signing a letter to potential donors — one with an image of City Hall — encouraging them to contribute to the event. At least 27 donors with business before City Hall gave to the charity in the last two years, providing sponsorships of up to $10,000, according to event materials reviewed by The Times. They included lobbying firms, city contractors, real estate companies and at least one billboard firm. Los Angeles Times
Drama in West Hollywood
For many, it seemed West Hollywood was the town that #MeToo forgot. But now, amid new allegations of sexual harassment against the city's Mayor John Duran by members of the Gay Men's Chorus of Los Angeles, some West Hollywood residents and politicians are saying enough is enough, times have changed. Three of the city's five council members have called on Duran to resign, saying he has become a distraction. Los Angeles Times
Questions of Inglewood's Mayor
Plans for a new L.A. Clippers arena in Inglewood have sparked a contentious legal battle between the owners of the famed Forum entertainment venue and top city leaders. The dispute, which played a central role in the city's recent mayoral election, has triggered accusations of fraud, harassment and dirty dealings. Now, it has become personal. Lawyers for the Forum's owners — who are fighting the Clippers arena proposal — have asked in court proceedings whether Inglewood Mayor James T. Butts was in a romantic relationship with a highly paid aide. Los Angeles Times
Get the Essential California newsletter »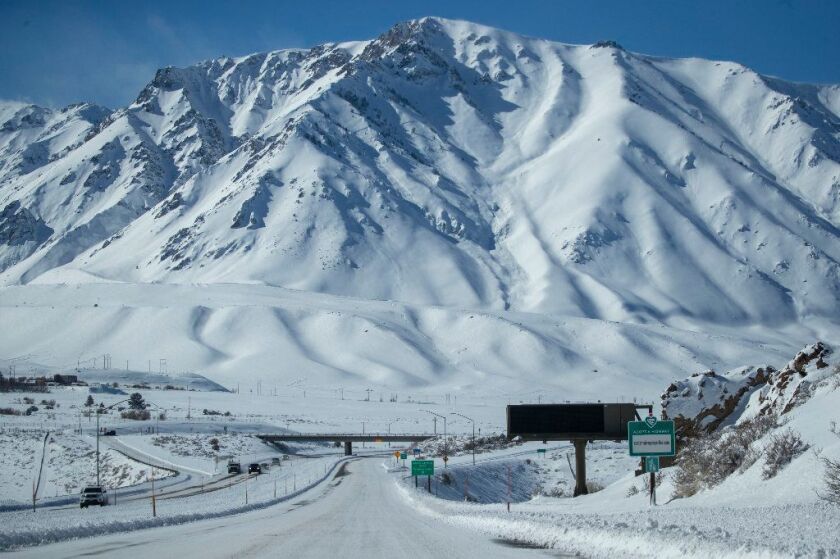 L.A. STORIES
Another wet week: L.A. sunshine will be short-lived. Here come showers and snow, forecasters say. Los Angeles Times
Not how it was supposed to be: A loan program was set up to boost energy efficiency. Instead, it's being used to build 'granny flats'. Los Angeles Times
History lesson: Long before City Hall rats, L.A. struggled with the rise of typhus. Los Angeles Times
Fascinating story: L.A. has great weather, yet more homeless die of the cold here than in New York. Los Angeles Times
IMMIGRATION AND THE BORDER
Where we stand: "With Trump's tough deterrents, many asylum seekers on the border are giving up." The New York Times
POLITICS AND GOVERNMENT
On Newsom's watch: As Trump and his wall push Mexico away, California aims to pull it closer. Los Angeles Times
The plan: "Kamala Harris is building a wall around California. The Democratic senator has been activating her forces on the home front since launching her White House bid last month — cornering some of the state's most prolific donors, locking down big endorsements and homing in on a statewide blueprint to rack up early delegates." Politico
Thinking it through: Is Gavin Newsom right to slow down California's high-speed train? The New Yorker
CRIME AND COURTS
SMH: A federal agency is suing former Orange County Register owners Aaron Kushner and Eric Spitz over their handling of Freedom Communication's pension program, alleging the executives made "ill-advised, speculative investments" that resulted in the loss of tens of millions of dollars. Los Angeles Times
What a tale: In May 1938, future Supreme Court Justice Earl Warren's dad was murdered. 80 years later, someone might have figured out who the killer is. Bakersfield Californian
Never forget him: "A side street west of the Fruitvale BART Station in Oakland will soon take the name of Oscar Grant, the man killed on the platform by a transit police officer more than a decade ago." San Francisco Chronicle
THE ENVIRONMENT
Hoot hoot: This LAX-adjacent ghost town is now 'priceless coastal real estate' for rare owls. Los Angeles Times
CALIFORNIA CULTURE
Baseball is back! Farhan Zaidi is reshaping the Giants' future to resemble its recent past. Los Angeles Times
Plus: The Oakland Athletics' ballpark proposal encounters choppy waters. San Francisco Chronicle
The long commute: The hunt for cheaper housing is changing what it means to be in the "Bay Area." The Mercury News
Some horror stories: The heavy snow in the Sierra made it really hard to get to mountains this holiday weekend. Sacramento Bee
Coming out of retirement, again: "Landon Donovan makes his indoor soccer debut with the San Diego Sockers. ESPN
Interesting story: "Stanford has established itself as the epicenter of computer science, and a farm system for the tech giants. Following major scandals at Facebook, Google, and others, how is the university coming to grips with a world in which many of its students' dream jobs are now vilified?" The Ringer
CALIFORNIA ALMANAC
Los Angeles area: Sunny, 61, Monday and Tuesday. San Diego: Sunny, 57, Monday. Sunny, 59, Tuesday. San Francisco area: Sunny, 56, Monday. Partly cloudy, 54, Tuesday. San Jose: Sunny, 56, Monday. Partly cloudy, 56, Tuesday. Sacramento: Sunny, 56, Monday. Partly cloudy, 55, Tuesday. More weather is here.
AND FINALLY
This week's birthdays for those who made a mark in California: Rep. Jared Huffman (Feb. 18, 1964), Dr. Dre (Feb. 18, 1965) and writer Amy Tan (Feb. 19, 1952).
If you have a memory or story about the Golden State, share it with us. Send us an email to let us know what you love or fondly remember about our state. (Please keep your story to 100 words.)
Please let us know what we can do to make this newsletter more useful to you. Send comments, complaints and ideas to Benjamin Oreskes and Shelby Grad. Also follow them on Twitter @boreskes and @shelbygrad.
---