Newsletter: Essential California: The EPA embraces a scientist claiming some pollution is good for you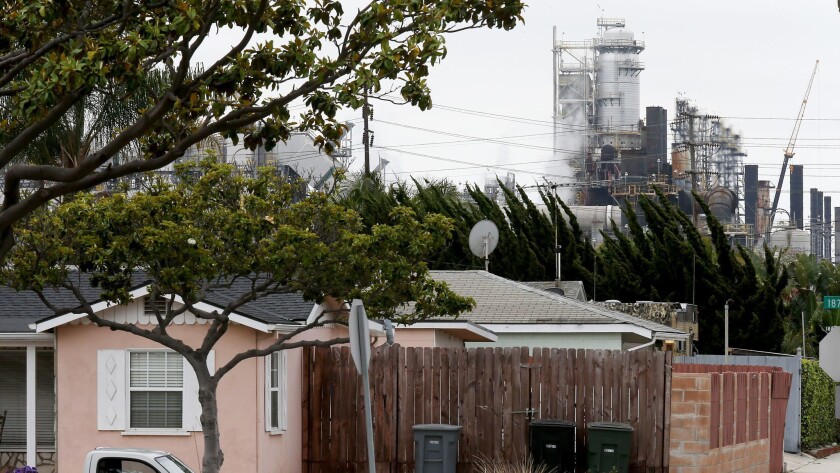 Good morning, and welcome to the Essential California newsletter. It's Wednesday, Feb. 20, and here's what's happening across California:
TOP STORIES
Research claiming that low-dose exposure to toxic chemicals is good for humans could help shape Environmental Protection Agency policy. This disputed science came from a toxicologist named Ed Calabrese, who had been snubbed for decades by mainstream public health scientists because of his controversial research and theories. That it's being considered as part of the EPA's policy signifies a major shift the agency has taken under the Trump administration. More than any other before it, this White House has actively sought out advice from industry lobbyists and the scientists they commission in setting pollution rules. Denouncing the Obama-era EPA as an agency beholden to environmental extremists, the administration has not only dismissed mainstream science but embraced widely discredited alternatives that critics say are not consistent with the agency's focus on improving public and environmental health. Los Angeles Times
Wild times at an Oak Glen farm
James Riley saw drama come down on his Oak Glen farm after someone uncovered his tweets, which some people found to be racist, misogynistic and homophobic. In the foothills of the San Bernardino Mountains, about 80 miles from downtown L.A., the 59-year-old Riley and his employees grow fruit and vegetables through most of the year. But their main crop is living history: musical theater, educational workshops and historical reenactments of everything from the Gold Rush era to the Civil War — all centered on a mock 1770s-era New England town that Riley designed. Now he's engaging in a legal battle. Los Angeles Times
A brawl for police records
A Los Angeles judge dealt a blow Tuesday to law enforcement unions trying to limit the scope of a landmark transparency law, ruling that records from shootings, use of force and some misconduct by police officers in California are public even if they occurred before the new law took effect this year. The decision marks a provisional victory for open-government groups and media organizations that intervened in a case brought by the Los Angeles Police Protective League, which sought to keep records of older incidents confidential. Los Angeles Times
Get the Essential California newsletter »
L.A. STORIES
RIP: Don Newcombe, the intimidating right-handed pitcher who was the first player in major league history to have won the rookie of the year, Most Valuable Player and Cy Young awards, died Tuesday. He was 92. Los Angeles Times
Plaschke's view: Newcombe's toughness helped him overcome hate and become a legend. Los Angeles Times
Sad: Longtime KNBC-TV Channel 4 consumer reporter David Horowitz has died at age 81, his wife told the station Monday. City News Service
Big change: The Time's Up organization has accepted the resignation of its president, Lisa Borders, it announced in a statement issued via social media. Los Angeles Times
Watch! "When he heard Chicano culture had spread to Japan, this child of Los Angeles wanted to see it for himself." New York Times
IMMIGRATION AND THE BORDER
At a family cemetery: The border fence threatens a family burial ground — and a slice of African American history. Los Angeles Times
Wild tale: "How California laws meant to integrate immigrants can open a backdoor for ICE." Voice of San Diego
Humanitarian crisis: 30,000 Venezuelans cross into this Colombian town each day. Now it's the scene of an escalating aid showdown. Los Angeles Times
POLITICS AND GOVERNMENT
Payback? The fate of California's high-speed rail project was cast into further doubt Tuesday when the U.S. Department of Transportation announced plans to cancel $929 million in grant funds, a move that some viewed as political payback. Los Angeles Times
Joining the fight: The Los Angeles City Council voted to go to court to challenge President Trump's declaration of a national emergency along the U.S.-Mexico border, either on its own or in conjunction with other government agencies. Los Angeles Times
Naughty, naughty: A former candidate for Los Angeles City Council and his treasurer have been fined more than $38,000 for using laundered donations to get taxpayer money and misspending such dollars on personal expenses. Los Angeles Times
Fudged numbers? Gov. Gavin Newsom's prediction of a record tax windfall for California's budget might hinge on whether the 2018 federal tax overhaul has simply left high-income earners with little incentive to pay their state taxes early. Los Angeles Times
The state of Sacramento: "Saying the death of Stephon Clark last year ripped open old wounds in the city, Sacramento Mayor Darrell Steinberg on Tuesday said he will push to invest $200 million in Sacramento's lower-income neighborhoods in the coming years in an attempt to avoid other such tragic events." Sacramento Bee
CRIME AND COURTS
Drip, drip: "Corporate managers accused of directing an extensive fraud in the cleanup of S.F.'s toxic shipyard led similar projects at nearby Treasure Island — work that apparently has never been rechecked." San Francisco Chronicle
Overlooked: "While almost all of the more than 3,000 counties in the U.S. have established specialized courts for drug addicts and the mentally ill, veterans courts have languished because of a lack of financial support, reliance on volunteer judges and low usage." The Marshall Project
THE ENVIRONMENT
That wet winter! California has already received an 18 trillion gallon soaking this month — enough water to fill 27 million Olympic-sized pools — and the state's wild winter isn't over yet. Los Angeles Times
Plus: Southern California went from very wet to very cold Tuesday morning. Los Angeles Times
New on the scene: What you need to know about the Clean Power Alliance, SoCal's newest electric company. Los Angeles Times
CALIFORNIA CULTURE
Warming up: L.A. Phil's 2019-20 season has social justice, gender parity and a little Sondheim. Los Angeles Times
Nice work if you can get it: Google reaped millions in tax breaks as it secretly expanded its real estate footprint across the U.S. Washington Post
On the move: L.A.'s historic Bob Baker Marionette Theater is moving to Highland Park. Los Angeles Times
Big money signing: Manny Machado, who was a Dodger last season, and the San Diego Padres have agreed to a record-breaking $300-million deal. Los Angeles Times
Who knew!? The secret to why a Tesla costs so much (Hint: batteries). Wall Street Journal
Big winner: "The best dog in the world (aside from yours, of course) is right here in Southern California." LAist
CALIFORNIA ALMANAC
Los Angeles area: Partly cloudy, 57, Wednesday and Thursday. San Diego: Showers, 58, Wednesday. Rainy, 55, Thursday. San Francisco area: Partly cloudy, 53, Wednesday. Sunny, 57, Thursday. San Jose: Partly cloudy, 54, Wednesday. Sunny, 56, Thursday. Sacramento: Partly cloudy, 54, Wednesday. Cloudy, 57, Thursday. More weather is here.
AND FINALLY
Today's California memory comes from Marge Holley:
"In the early 1970s, we regularly spent time at the Salton Sea. Bombay marina in Niland was a popular vacation spot. My family had two trailers on the water's edge, and at night the sound of the waves lapping gently up under the trailers was so relaxing as we fell asleep. 1971 was the last time I remember being there. Imagine my surprise when I saw 'Abandoned America' showing the devastation and ruin of the Salton Sea. Pesticide runoff and floods contributed to the demise. It was sad to see a place that held happy memories for so many totally gone."
If you have a memory or story about the Golden State, share it with us. Send us an email to let us know what you love or fondly remember about our state. (Please keep your story to 100 words.)
Please let us know what we can do to make this newsletter more useful to you. Send comments, complaints and ideas to Benjamin Oreskes and Shelby Grad. Also follow them on Twitter @boreskes and @shelbygrad.
---