Newsletter: Essential California: How a 2014 Disneyland measles outbreak changed state history
Good morning, and welcome to the Essential California newsletter. It's Tuesday, May 7, and I'm writing from Los Angeles.
The measles outbreak that changed the course of California history began like the opening sequence in a disaster movie.
An individual who — presumably unbeknownst to them — was infected with one of world's most contagious diseases visited California's busiest theme park in the tourist-saturated week before Christmas in 2014. The original patient (or patients) zero potentially crossed paths with tens of thousands of people at Disneyland and/or the adjacent California Adventure Park, including international travelers, children with still-developing immune systems and babies too young to have been vaccinated.
"It was basically a public health nightmare," health reporter Soumya Karlamangla, who has been covering measles for the Los Angeles Times, told me of the 2014-2015 Disneyland outbreak.
On Jan. 5, 2015, the California Department of Public Health first received a call about an unvaccinated 11-year-old child who had been hospitalized with a suspected case of measles. The rash-stricken child's only recent travel had been to Disneyland. By the middle of that week, there were nine potential measles cases tied to Disneyland or Disney California Adventure Park, and the theme park connection had been publicly announced by health officials.
In the end, at least 131 Californians would be infected, along with individuals in six other states, Mexico and Canada.
The jarring juxtaposition of a visit to The Happiest Place on Earth™ and a dreaded viral epidemic made a big story even bigger, fixating the nation and spurring legislative changes that reversed the state's declining measles vaccination rate.
Four years later, measles is again making headlines, with the largest number of cases reported nationwide in more than 20 years. Any incidence of a virus that the U.S. declared to have "eliminated" in 2000 is disturbing, and local cases have generated plenty of attention. But this time around, California has been faring far better than other parts of the country. (There have been just 42 cases this year in California, compared with more than 670 in New York.)
(See also: "Q&A: Do I need a measles booster shot? How to protect yourself, and more")
So, why haven't we seen a larger outbreak here in the nation's most populous state? The answer can be traced back to the Disney theme parks and all that followed.
As Karlamangla and data journalist Priya Krishnakumar explained in a Los Angeles Times story Monday, that 2014 Disneyland outbreak was fueled by low vaccination rates.
Preventing outbreaks depends on something called "herd immunity," which requires a 95% vaccination rate for measles. But by 2014, California's measles' vaccination rate had fallen below 94%, making the population more vulnerable to a potential outbreak.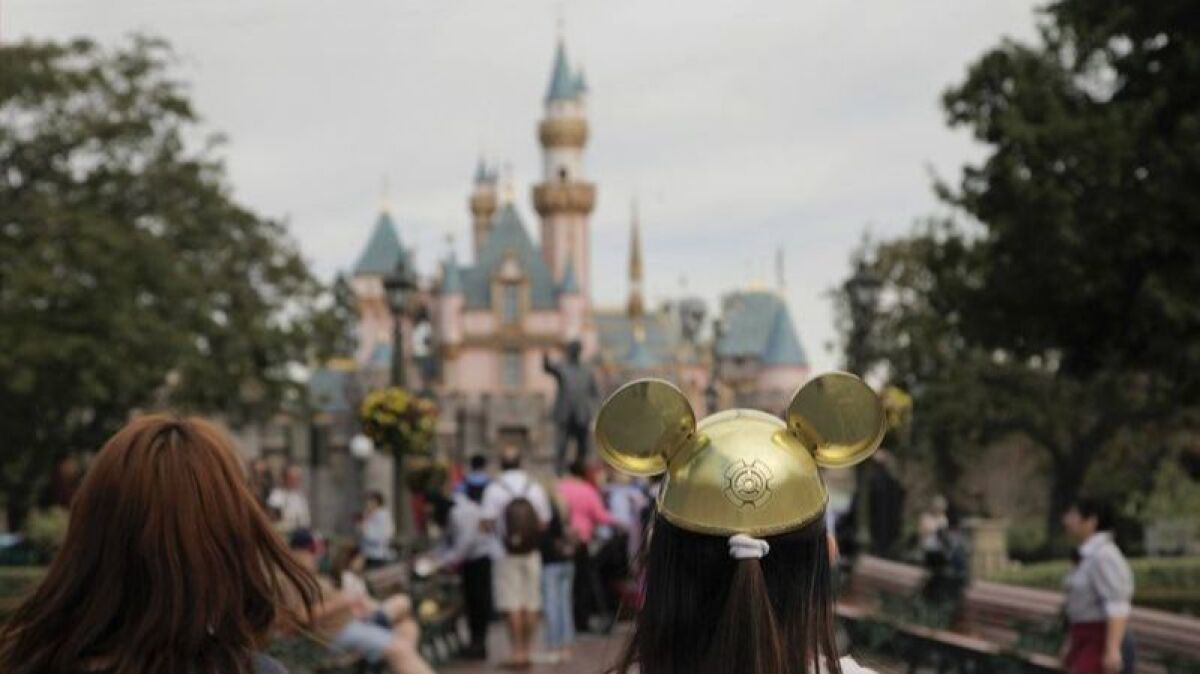 The Disneyland outbreak "was bad, but it also allowed California to look at what was going on here and try to figure out a way to fix it," Karlamangla told me. The outbreak "captured the attention of the public" and "advanced the national conversation about immunization," according to a presentation prepared by an epidemiologist with the California Department of Public Health.
New cases linked to the Disneyland outbreak were still emerging in February 2015 when Dr. Richard Pan, a state senator who'd spent decades as a pediatrician before taking elected office, proposed controversial legislation that would curb "personal belief" vaccine exemptions.
According to that state epidemiologist's report, it's unlikely that the attention surrounding the Disneyland outbreak changed the views of individuals "with strongly held beliefs" about vaccines, but parents who "were 'on the fence' may have been influenced."
By the end of June 2015, state lawmakers had passed one of the toughest mandatory vaccination requirements in the nation, making California one of three U.S. states that do not allow personal or religious belief exemptions for vaccines.
That law, which went into effect on July 1, 2016, "changed the behavior of impassioned resisters more effectively than a thousand public service announcements might have," as the New York Times put it.
The data in Krishnakumar and Karlamangla's story show that the state's falling measles vaccination rate reversed after the Disneyland outbreak and ensuing legislation. In 2017, the state measles vaccination rate climbed to 96.9%.
Krishnakumar and Karlamangla's story makes clear that the law "hasn't been a silver bullet," and many individual California counties still have vaccination rates below that 95% threshold required for herd immunity. But things could be much worse.
And now, here's what's happening across California:
TOP STORIES
Gov. Gavin Newsom faces his first real test in the coming days, when he will release his revised state budget and brave the ensuing negotiations. Newsom's very real challenge is a quandary of quantity: more tax revenue, yes, but also more Democrats in the Legislature after last year's election landslide and more demands to raise spending. Whatever happens — and the extent to which he acquiesces or fights back against demands — could set the tone for the rest of his term, writes Times Sacramento bureau chief John Myers. Los Angeles Times
Amid a larger surge in tech worker activism, more than 200 workers at Riot Games walked out of the video game developer's Los Angeles headquarters Monday to protest the company's use of forced arbitration to handle sexual discrimination lawsuits. Los Angeles Times
Get the Essential California newsletter »
L.A. STORIES
Five years after the Sepulveda Pass widening, traffic on the 405 Freeway remains terrible. In fact, it's actually, uh, getting slower. Curbed LA
Armed with a 35mm camera, multimedia journalist Samanta Helou Hernandez has been documenting life along a changing stretch of the L.A. River between Lincoln Heights and Frogtown for her series "Gente del Rio."
"I do a lot of work around gentrification and I'm really interested in preserving histories and legacies around L.A. as the city is changing," Helou Hernandez told me, explaining that the communities around the section of the river that she's been documenting have traditionally been Latino and working-class. The LAnd Magazine
Your support helps us deliver the news that matters most. Subscribe to the Los Angeles Times.
POLITICS AND GOVERNMENT
San Francisco and Oakland could be the first cities in the nation to ban city departments from using facial recognition technology. Mercury News
Two congressmen — Rep. TJ Cox (D-Fresno) and Rep. Devin Nunes (R-Tulare) — will probably be top targets in the 2020 election. But neither have a single public challenger yet. Sacramento Bee
CRIME AND COURTS
The first witness was called in the Ghost Ship fire trial on Monday. Through tears, the mother of a woman killed in the 2016 Oakland warehouse fire described receiving a final text message from her daughter that read, "I'm gonna die now." San Francisco Chronicle
THE ENVIRONMENT
One of the most well-known figures in American letters first made his name with an improbable short story about amphibians. Mark Twain's tale of the jumping frog of Calaveras County cemented the author's early success and eventual entry into the literary stratosphere, but more than 150 years later, the frogs themselves haven't fared nearly as well — until recently. The federally threatened California red-legged frogs had all but disappeared from Yosemite Valley, but now they're back and thriving. Fresno Bee
It's been 35 years since new federal leases for oil drilling along the Pacific coast have been issued. But while the offshore drilling is banned in state waters, without federal legislation the possibility for renewed production more than three miles from shore remains. An ocean protection advocate talks about the Trump administration's efforts to upend long-standing policy regarding offshore drilling. KQED
Basking sharks have returned to California waters. The elusive and hulking sharks, known for their massive size and tiny teeth, all but disappeared in the 1960s. Los Angeles Times
CALIFORNIA CULTURE
In a city with some of the worst potholes in the country, two Oakland residents dubbed themselves the "Pothole Vigilantes" and went rogue, patching potholes themselves under the cover of darkness. SF Gate
Could weed tourism be the new wine tasting? Northern California's cannabis-producing "Emerald Triangle" is already catering to the new breed of "cannatourists." San Francisco Chronicle
Twenty-five years before Peak TV, there was "Must See TV." Television biz reporter Stephen Battaglio has an interesting look at how the same risk takers responsible for the lineup of prime-time hits on 1990s-era NBC have helped shape the Peak TV landscape. Los Angeles Times
CALIFORNIA ALMANAC
Los Angeles: Partly sunny, 66. San Diego: Cloudy, 66. San Francisco: Partly sunny, 62. San Jose: Partly sunny, 71. Sacramento: Sunny, 78. More weather is here.
AND FINALLY
Today's California memory comes from Ken Britten:
"When I was in high school in the '70s, my family and I lived on a wooden schooner named Tiercel, docked in Newport Beach, and would often head out to Catalina for the weekend. We'd set sail in the afternoon sun, before the westerlies relaxed into calm. The sky would darken, the moon would be above us, and we'd eventually motor our way to our favorite anchorage behind Long Point. As we neared the anchorage, we'd get wafts of land smells mixing with those of the sea. We'd drop anchor and the gentle wrap-around waves would lull us all to a peaceful sleep."
If you have a memory or story about the Golden State, share it with us. (Please keep your story to 100 words.)
Please let us know what we can do to make this newsletter more useful to you. Send comments, complaints, ideas and unrelated book recommendations to Julia Wick. Follow her on Twitter @Sherlyholmes.
---