Newsletter: Today: How Not to Win Friends and Offend Important People. DeVos May Be Getting Schooled.
I'm Davan Maharaj, editor-in-chief of the Los Angeles Times. Here are some story lines I don't want you to miss today.
TOP STORIES
How Not to Win Friends and Offend Important People
The U.S. has put Iran "on notice" for a medium-range ballistic missile test and attacks by proxy forces on a Saudi ship. Tensions with Mexico are high. President Trump's phone call with Australia's leader reportedly got aggressive. Newly minted Secretary of State Rex Tillerson appears to have his hands full — and that's not counting the crisis involving unhappy career diplomats within his own department.
The Senate Isn't Such a Chummy Club Today
The U.S. Senate has long been described as "the world's greatest deliberative body" and an exclusive, chummy club. Over the last several years it's turned into one of politics' biggest battlegrounds, with politicians changing the rules of engagement to get their way. The latest: Democrats boycotted confirmation votes for President Trump's Cabinet picks for Treasury and Health and Human Services, so Republicans advanced them anyway. And a big battle over Supreme Court nominee Neil Gorsuch is brewing, with Trump urging the GOP to "go nuclear" if there's resistance.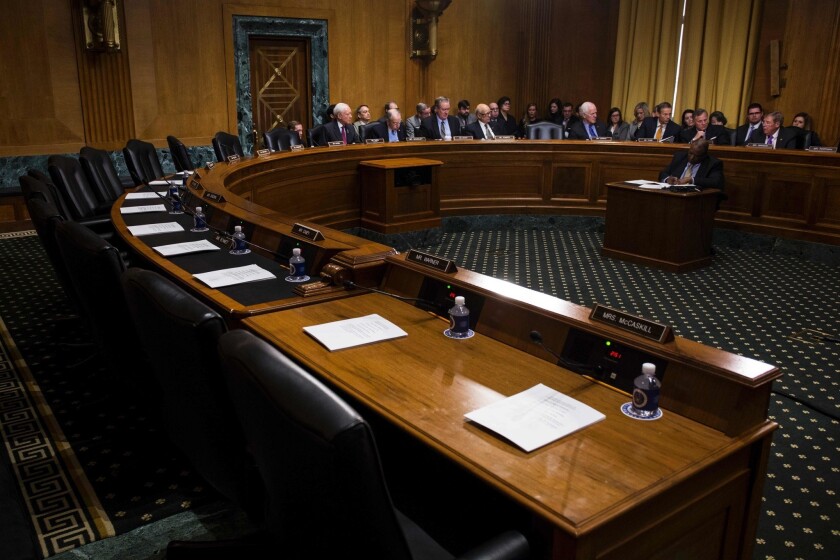 DeVos May Be Getting Schooled
Democratic senators have given bad marks to Trump's nominee for secretary of Education, Betsy DeVos. No surprise there. But two GOP senators have now said they won't vote for her, and charter school advocate Eli Broad has sent a letter calling DeVos unqualified.
More Politics
-- "So far I couldn't be happier": Red California backs Trump and sees protests as an overreaction.
-- Trump's threats to Mexico's booming auto industry have executives' heads spinning.
-- The Trump administration has clarified language in its travel ban to make clear that green card holders from the affected countries do not need to get a waiver.
How Terror Attack Victims See Trump's Travel Ban
The victims of the San Bernardino terror attack represent a cross-section of America. Their tragedy became fuel for Trump's travel restriction policy that temporarily bars refugees and immigrants from seven majority-Muslim nations. Now, as that ban faces more legal hurdles, including a temporary restraining order from an L.A. federal judge, some of the attack's victims and their families have divergent views on the executive order and how it was implemented.
If They Email It, Can We See It?
The California Public Records Act is designed to shed light on the business of government. But what happens when public officials use private devices to send emails, texts and other communications? Are they shielded from or open to public inspection? And if they're open, how do you address concerns about officials' privacy? Those are some of the questions the California Supreme Court is trying to decide.
CALIFORNIA
-- Violent protests at UC Berkeley led to the cancellation of a speech by Breitbart firebrand Milo Yiannopoulos.
-- Spending on lobbying in California last year topped $309 million, the second-highest amount ever recorded in the state.
-- A state panel recommended parole for Bruce Davis, a former follower of cult leader Charles Manson.
-- A man with dementia was found alone in England. Here's how detectives traced him back to Southern California.
HOLLYWOOD AND THE ARTS
-- The student ballet scholarship competition Youth America Grand Prix draws young, driven competitors in droves.
-- This female photographer's goal? To change perceptions of black men.
-- Activist theater group Artists Rise Up Los Angeles put on a raucous show to protest Trump.
-- Johnny Depp is suing his former business managers, but they've fired back in court saying he refused to rein in his "voracious spending."
CLASSIC HOLLYWOOD
Farrah Fawcett soared to fame as a sex symbol in the 1970s, but she transformed her career in 1984 with "The Burning Bed," a TV movie about a battered wife that brought her the first of four Emmy nominations. Fawcett, who died in 2009, was born on this date in 1947.
NATION-WORLD
-- Trump made an unannounced trip to witness the return of the remains of a Navy SEAL killed in a raid in Yemen, the first known casualty of an operation Trump ordered. U.S. investigators say it's also probable that civilians were killed.
-- Inmates at a Delaware prison took four corrections department workers hostage, saying they were concerned about their treatment and the leadership of the United States. Two workers have been released and negotiations are ongoing.
-- India's army of young tech workers is bracing for new restrictions from Trump on a visa program.
-- The Oregon state leadership of the American Legion has threatened to shut down a renegade post in northeast Portland.
-- The surprising link between air pollution and Alzheimer's disease.
BUSINESS
-- Another major corporation is leaving Southern California: Food giant Nestlé USA is moving its headquarters from Glendale to Virginia.
-- A dispute between Univision and Charter has left viewers of Univision's Spanish-language channels in the dark.
SPORTS
-- Lakers forward Luol Deng shares his experience as a refugee growing up in Egypt.
-- The nation's best high school football players signed up for college, and Illinois State has nabbed a player named Kobe Buffalomeat.
OPINION
-- Trump rattles his saber at Iran before his top diplomats are even in place.
-- Will John McCain lead the loyal opposition?
WHAT OUR EDITORS ARE READING
-- How Peter Thiel, co-founder of PayPal and advisor to Trump, became a citizen of New Zealand in a Santa Monica ceremony. (The Guardian)
-- Scientists think they have a way to get a spacecraft to visit an Earth-sized planet orbiting Proxima Centauri, the nearest known star to the Sun. (National Geographic)
-- Where in L.A. can you sample food from the seven countries affected by the travel ban? (LA Weekly)
ONLY IN CALIFORNIA
Five decades ago, Marta Becket and her husband ended up in the old Mojave Desert mining town of Death Valley Junction after their trailer got a flat tire. That's when she discovered an abandoned building. "I knew I'd perform here the rest of my life," she would tell The Times years later. Here's a look back at the legend of Becket, who brought culture to the desert with the Amargosa Opera House and once lived with a menagerie that included a peacock named Vladimir.
Please send comments and ideas to Davan Maharaj.
If you like this newsletter, please share it with friends.
---