Is the White House giving you whiplash? I'm Davan Maharaj, editor-in-chief of the Los Angeles Times. Here are some story lines I don't want you to miss today.
TOP STORIES
Trump Says: No Showboating Allowed!
The one consistent thing coming out of the White House this week? A lack of consistency in the explanation of President Trump's firing of FBI Director James Comey. The president added new twists by telling NBC News he was going to dismiss Comey regardless of whether the Justice Department recommended it, which contradicted an earlier White House statement that he had done so "based on the clear recommendations" of Deputy Atty. Gen. Rod Rosenstein and Atty. Gen. Jeff Sessions. Trump also called Comey "a showboat" and "a grandstander" (ahem) and, just as he did during a presidential debate, managed to pull Rosie O'Donnell into the conversation. In a bipartisan move that showed the mounting concern on Capitol Hill, Rosenstein has been invited to brief all senators early next week on Comey's dismissal.
Look, Over Here! Voter Fraud Investigation
Trump hasn't let go of his claims that millions of people illegally voted in the presidential election after it became clear he didn't win the popular balloting. Now he's ordered an investigation, albeit through a "solely advisory" panel headed by Vice President Mike Pence and with Kansas' secretary of state, a champion of strict voting laws, as second in command. Voting rights advocates are worried it could lead to a push for national laws making it harder to vote.
More From Washington
-- Acting FBI Director Andrew McCabe defended Comey's integrity and performance, saying he "enjoyed broad support within the FBI and still does."
-- This graphic breaks down where each senator stands on Comey's ouster.
-- Trump now says he might release his taxes after he leaves office.
Another Lesson in the Charter School Debate
Just last fall, the State Board of Education approved two new charter schools operated by the Celerity Educational Group in Los Angeles. Now board members have voted to close two of the nonprofit's other schools because they have lost confidence in Celerity, which remains under investigation by the U.S. Department of Education and the inspector general for the L.A. Unified School District. The incident highlights the difficulties in regulating charter schools at a time when some want to add more in Los Angeles.
No More Eagle Scouts for the Mormon Church
The Mormon Church and the Boy Scouts of America have been associated with each other ever since the latter organization's origins about a century ago. Next year, though, the church plans to bring Scouts between 14 and 18 years old into its own program because, it says, older teens just aren't into Scouting these days. Others wonder if it has something to do with the Scouts' acceptance of gay and transgender people as troop leaders.
This Eclipse Will Be Totally Worth It
In 100 days, there will be a total solar eclipse, the first in the lower 48 states since 1979. But most Americans will see only a partial eclipse on Aug. 21. This interactive graphic will help you get ready for it now, by showing you where and when totality will occur, how far away you are from it (just enter an address) — and how to see the eclipse without damaging your eyes.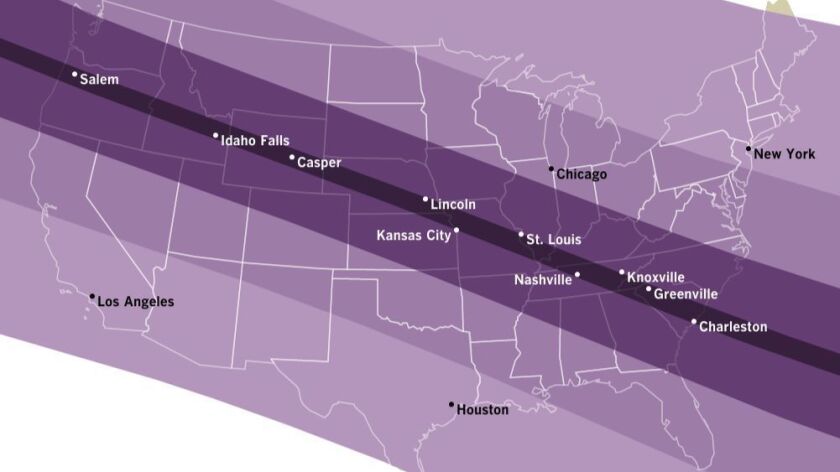 FLASHBACK FRIDAY
The Dodgers' move to Los Angeles in 1958 was much celebrated, but the removal of more than 1,000 mostly Mexican American families from Chavez Ravine to make way for a baseball stadium is a dark chapter in city history. The last family was forcibly removed before a bulldozer razed their home. "Mrs. Vargas was the last to leave — making good her threat that 'they'll have to carry me,' " reported The Times on May 9, 1959.
MUST-WATCH VIDEO
-- They call him "Superman": This L.A. City Council aide's full-time job is devoted to trash.
-- Acting FBI Director McCabe testifies on the Russia investigation.
-- Film critic Justin Chang reviews "King Arthur: Legend of the Sword": It has some first-rate performances, most of them delivered by computer-generated animals.
CALIFORNIA
-- Gov. Jerry Brown unveiled his revised state budget plan and called out Republicans who voted to repeal the Affordable Care Act.
-- California set an ambitious goal for fighting global warming. Now comes the hard part.
-- Lloyd Cotsen, who made a fortune selling Neutrogena soap and became an elite L.A. philanthropist and collector of folk art, has died at age 88.
-- "Attention in the water: This is the Orange County Sheriff's Department.… You are paddleboarding next to approximately 15 great white sharks." If that wasn't warning enough, here's why you should watch out for sharks.
YOUR WEEKEND
-- Flier beware: Five things to know before you head to LAX this weekend (and Monday and Tuesday too).
-- It's probably too late to make Mother's Day reservations, so here are 50 great recipes to make for Mom.
-- Chef Mario Batali shares tips for preventing food waste, whether you're dining out or eating in.
-- There are so many books to help you get rid of stuff (like too many books).
HOLLYWOOD AND THE ARTS
-- Amy Schumer knew she wanted Goldie Hawn to play her mother in the film "Snatched," but there was one problem: Hawn hadn't appeared in a movie in more than a decade.
-- Don't "ambush" Steve Harvey: When he wrote that leaked memo, he says he needed a little privacy.
-- Architecture critic Christopher Hawthorne says the design for the Obama library and museum is off to a surprisingly somber start.
NATION-WORLD
-- Roughly a third of white working-class Americans said in a new survey that they have cut back on food or meals in the last year to save money and that it would be difficult to cover an emergency expense of $400.
-- The Department of Homeland Security may expand a ban on laptop computers and other large electronic devices as carry-ons on planes flying to the U.S. from Europe.
-- A mom demanded justice for her daughter's death in Mexico. Then, on Mexican Mother's Day, she was killed.
-- The specter of ever-worsening traffic jams in Germany's most populous state has emerged as a major campaign issue ahead of a key regional election Sunday.
-- Do dogs or rodents have a better sense of smell than humans? A study says there is no evidence that we have inferior sniffing abilities.
BUSINESS
-- Will Snap Inc., the maker of Snapchat, make a dramatic comeback the way Facebook did? Or will it be more like Twitter's stock? Time will tell.
-- Sony Pictures Entertainment has turned to a low-key executive to get the studio back on the right track.
-- Wells Fargo plans to cut $2 billion more in costs and put a greater focus on digital banking as the institution tries to attract new customers after an accounts scandal.
SPORTS
-- How many pairs of Lonzo Ball's $495 shoes sold in the first week? Let's put in this way: A lot more people watched the video announcement.
-- Who will win the Canelo Alvarez-Gennady Golovkin fight? Our experts disagree.
OPINION
-- Blasphemy laws are an unholy offense against free speech.
-- Here's what happened when a 64-year-old liberal attended his first NRA convention.
WHAT OUR EDITORS ARE READING
-- For new aircraft carrier catapults, Trump wants "goddamned steam" instead of digital systems. (The Atlantic)
-- The dangers of "moral grandstanding." (Aeon)
-- Found in the marginalia of Medieval books: some interesting doodles. (Atlas Obscura)
ONLY IN L.A.
In the early 1970s, L.A. artist Chris Burden broke through with shocking performance pieces such as being shot in the arm and crucified on a VW Beetle. Later, he would create a Los Angeles landmark in the street lamp installation "Urban Light" at LACMA. As arts writer Carolina Miranda reports, when two filmmakers set out to document his life, they didn't know they'd also be contending with his death.
Please send comments and ideas to Davan Maharaj.
If you like this newsletter, please share it with friends.
---