Lloyd Cotsen, the multimillionaire soap salesman who became an elite L.A. philanthropist, dies at 88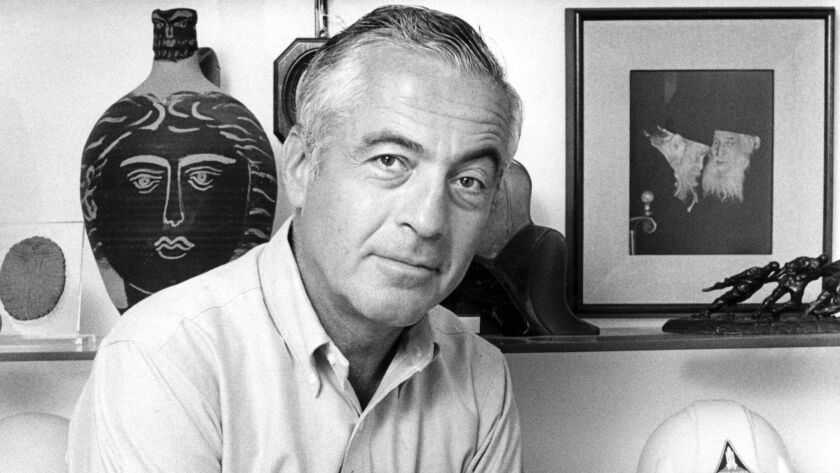 For every Japanese bamboo basket he collected, for each children's book he bought, for every ornate Chinese hand mirror he acquired, there was a bar of soap to thank.
Lloyd Cotsen — aspiring archaeologist and insatiable collector — found his future, and eventually his fortune, in an amber-colored beauty bar that seemed imbued with a medicinal aura. At a time when drug store shelves were filled with household standards like Ivory and Dial, even the name of the glycerin-based soap stood out: Neutrogena.
As a new employee at his father-in-law's cosmetics company, he was tasked with getting America to buy a product it had never heard of. Without a Fortune 500 marketing budget, he hit upon a creative strategy. He persuaded dermatologists to give the soap to their patients, giving the product a stamp of medical approval. And for pennies, he sold Neutrogena to upscale hotels where guests might come to regard it as a high-end beauty product.
The strategy turned Neutrogena into a worldwide brand and Cotsen into a multimillionaire and a generous Los Angeles philanthropist. He endowed an archaeology institute at UCLA, created a foundation to promote excellence in teaching and gave away his stunning collections of folk art and children's books to museums and libraries.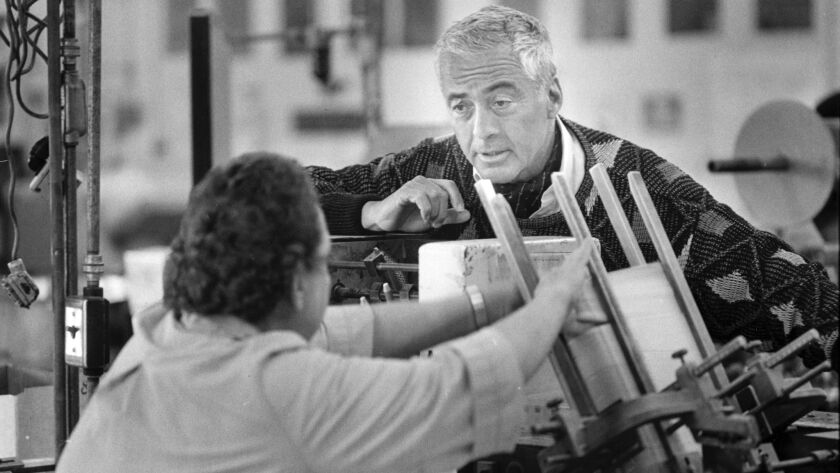 Cotsen "had a lot of money and the will to do something beautiful with it," said Judith Johnson, the founding and former executive director of the Cotsen Foundation for the Art of Teaching.
A longtime Los Angeles resident, Cotsen died at his Beverly Hills home on May 8. He was 88.
When Neutrogena Corp. was sold in 1994 for $924.1 million, Cotsen — who'd been president, chief executive and finally chairman of the company — walked away with more than $350 million and the wherewithal to indulge his fascination with collecting what he called "the extraordinary in the ordinary."
As a youngster, he collected matchbooks and stamps. As an adult, he collected illustrated children's books, hand-woven baskets used to hold flowers in traditional Japanese tea ceremonies, ornately decorated hand mirrors and textiles, from wildly colorful undergarments to feathered headdresses.
Each, he said, spoke to the beauty of simplicity.
"I'm not really a collector," he told the Denver Post in 1998. "I'm an accumulator. I buy things because they strike an emotional bell, they appeal to my curiosity, to the thrill of discovery of the extraordinary in the ordinary."
His rule of thumb, he said, was to collect until he ran out of room. At that point, he considered the assembled trinkets and art objects to be a collection, worthy of giving to a museum.
With children's books, which he began collecting at used bookstores during business trips in the 1960s, he gathered more than 40,000 titles before he deemed it a worthy collection and promptly gave it to the Firestone Library at Princeton University, his alma mater. The books, many of them rare illustrated children's books dating to the 14th century, are now housed at the Cotsen Children's Library at the university.
It was in Japan while Cotsen was in the U.S. Navy that he saw his first Japanese bamboo basket, but it wasn't until years later during a trip to San Francisco that he could actually afford to buy one. The basket cost him $34 and had a slightly warped look, as if someone had accidentally sat on it. The collection, and the cost for acquiring each item, inched steadily upward.
His collection grew so large that a group of bamboo artists from Japan traveled to the U.S. to see the 1,000 or so baskets Cotsen had assembled, many of them a product of their own labor. One of the artisans told the Wall Street Journal that the experience was like being reunited with a child.
In 2002, Cotsen gave the collection to the Asian Art Museum of San Francisco, with the stipulation that 25 to 40 baskets be displayed at all times.
Cotsen's collection of Chinese hand-held mirrors may have been even more esoteric. Some of the mirrors dated back thousands of years, and each of the nearly 100 pieces he collected had elaborate and purposeful designs on the non-reflective side — guides for social order, cosmological charts, statements of religious belief. A selection of the mirrors was displayed at the Huntington Library in San Marino in 2011, shortly before he donated the entire set to the Shanghai Museum in China.
Cotsen was active in numerous civic and charitable organizations in Los Angeles and served on the boards of the Ahmanson Foundation, the J. Paul Getty Trust, the Skirball Cultural Center and the Huntington Library, Art Collections and Botanical Gardens.
Born Feb. 25, 1929, Cotsen grew up in New Jersey and earned a degree in history from Princeton before serving in the Navy during the Korean War. He later returned to Princeton to study architecture and earned an MBA at Harvard. In 1953, he married Joanne Stolaroff and went to work for her father's cosmetics company, casting aside his dreams of being an archaeologist.
The comforts of home life, though, were ripped from him in 1979 when his wife, their 13-year-old son and the son's friend were killed by a masked gunman who broke into the family's Beverly Hills home. Cotsen was in New York on a business trip at the time, and heard about it on the radio while riding in a cab.
The gunman left the home empty-handed, and police spent months chasing down blind leads until getting a tip that the suspect might be a business rival in Brussels. Detectives flew to Belgium to interview the man, but he committed suicide hours before they arrived, according to Los Angeles Times accounts at the time.
Married three times, Cotsen is survived by his wife Margit Sperling-Cotsen; three children, Corinna Cotsen, Tobey Cotsen-Victor and Eric Cotsen; and eight grandchildren.
When Cotsen still worked at the Neutrogena headquarters near LAX, he surrounded himself and his fellow employees with a museum-size collection of artifacts and folk art he'd gathered on business trips. He hand-selected each item that would be displayed, and then watched carefully as they were hung.
Cotsen said he had only three guiding rules for his employees.
"You can't change the product formula without telling Lloyd; you can't fire anyone without telling Lloyd," he said. And: "You can't hang anything without telling Lloyd."
---
Must-read stories from the L.A. Times
Get the day's top news with our Today's Headlines newsletter, sent every weekday morning.
You may occasionally receive promotional content from the Los Angeles Times.