Newsletter: Today: 'Give Me Your English-Speaking, Skilled Workers Yearning …'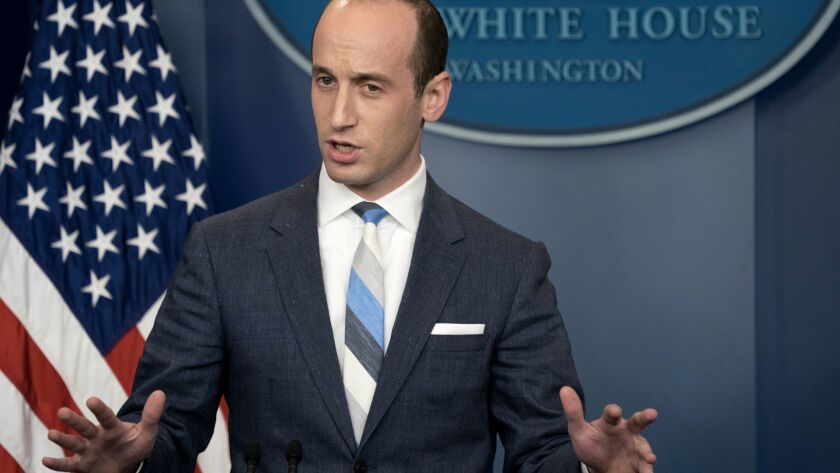 President Trump's support of a bill to cut legal immigration in half sets off a debate, even if it doesn't have much of a chance at becoming law. I'm Davan Maharaj, editor in chief of the Los Angeles Times. Here are some story lines I don't want you to miss today.
TOP STORIES
'Give Me Your English-Speaking, Skilled Workers Yearning …'
It's not too often that a White House news conference turns into a free-for-all about the Statue of Liberty and "cosmopolitan bias" (watch it here), but that's what happened after the Trump administration endorsed a proposal on legal immigration from two Republican senators. The bill, which President Trump called the "biggest change in 50 years" to the immigration system, would favor those who speak English, can financially support themselves and have skills that "can contribute to our economy." Right now, the bill's chances of passing are slim, but that didn't stop presidential advisor Stephen Miller and CNN's Jim Acosta from getting into a heated exchange about immigration — a topic of passionate debate and many different laws through American history.
More Politics
-- The Justice Department signaled it would examine "race-based discrimination" in college admissions, alarming some civil rights advocates who fear that the Trump administration is trying to roll back affirmative action policies.
-- President Trump signed a bill on sanctions against Russia, Iran and North Korea, but he issued two statements outlining his concerns. Read them here.
-- How many false statements did Trump make in his interview with the Wall Street Journal? We counted at least five.
-- Trump tweeted that a report saying he had called the White House a "dump" is "Fake News."
Trump's Ping-Ponging Diplomacy
Is the White House's stance on North Korea meant to confuse Pyongyang, or is it just confusing? On the campaign trail and in the Oval Office, President Trump has stressed the element of surprise in military matters. In recent days, his senior advisors have sent mixed signals about a possible U.S. response to the growing threat from North Korea's missile and nuclear programs. The saber-rattling one day and talk of "peaceful pressure" the next has left many wondering whether there's a coherent strategy.
California Can't Breathe Easy
While Republicans in Washington have looked at rolling back parts of the Clean Air Act in an effort to help businesses, lawmakers in California have vowed to keep the same high standards in place here. That will be easier said than done, especially if a bill making its way through Congress becomes law. One big reason is that California can't regulate the emissions of trucks traveling through the state; those fumes make up 60% of heavy truck pollution.
Before There Are Designer Babies, We Need to Talk
Scientists and ethicists have long anticipated that we'd one day manipulate the DNA of human embryos. That day has come, via an experiment designed to rid embryos of a mutation that can lead to heart disease. The research has drawn praise as a scientific advancement, but also concern over potential uses such as creating designer babies. "It will happen whether we discuss it or not, and we need to talk about these things before they happen," says one bioethicist. "That's now."
Congrats, You've Been Reaccepted to UC Irvine
For nearly 500 students, it was a crushing blow: After having been admitted to UC Irvine, they got a letter just two months before the fall term saying they were no longer welcome because of transcript issues or poor senior-year grades. Now the university says it will readmit all who were dropped over the alleged paperwork problems and review each of those booted because of grades. Ashley Gonzalez, who was featured in a Times story last week, is one who got back in.
Even With a Rainy-Day Fund, L.A. Is Over a Barrel
L.A. Mayor Eric Garcetti says the city's finances are "quite strong" and it has built up more than $400 million in reserves for the future. But even in a booming economy, the budget challenges will be daunting, including a projected gap of more than $200 million in two years. And if the economy goes south? A Times analysis shows the mayor will have less room to maneuver than in the last recession, in part because of decisions Garcetti and the City Council have made.
MUST-WATCH VIDEO
-- The defense attorney for a South Pasadena man who pleaded guilty to the murder of his son speaks to the media.
-- Inside a Saudi woman's secret apartment.
-- Jay-Z and Beyoncé are about to become L.A. homeowners, if a $90-million deal goes through.
CALIFORNIA
-- The California pastor leading Bible studies for Trump's Cabinet once told state lawmakers that female politicians with children had no business being in Sacramento and were sinners.
-- The pilots of a jet that nearly smashed into aircraft on a San Francisco airport taxiway said they didn't see the planes but that something didn't look right.
-- Caltrans is looking to rebuild Highway 1 on top of a massive landslide near Big Sur.
-- Where does the Yosemite National Park forest get its food? Scientists say it comes via dust from as far away as the Gobi Desert in Asia.
HOLLYWOOD AND THE ARTS
-- For John Boyega and Will Poulter, who play law-and-order men of radically different outlooks and temperaments in the film "Detroit," the challenge was getting inside the material as outsiders.
-- The long-awaited Stephen King adaptation "The Dark Tower" will kick off what is widely expected to be a slow August at the movie box office.
-- Singer-songwriter Randy Newman dropped by CBS' "The Late Show" for a rare visit to perform a song called "Putin," about the Russian leader.
-- "In a Heartbeat," an animated short about a same-gender crush, has gone viral.
CLASSIC HOLLYWOOD
Anthony Dominick Benedetto was born in Queens, N.Y., to an Italian immigrant grocer and a seamstress on this date in 1926. Now 91, Tony Bennett is still going strong. Just a few weeks ago, he sang at the Hollywood Bowl.
NATION-WORLD
-- The Pentagon says two U.S. service members were killed in southern Afghanistan. So far this year, nine have been killed. That's as many as in all of 2016.
-- The British company that provided voting machines for Venezuela's election says the balloting was tampered with and that voter turnout was inflated by at least 1 million.
-- Relations between Israel and Jordan, neighboring states that signed a peace treaty in 1994, have hit rock bottom.
-- Facing the political might of its auto industry, German officials agreed to a plan to install relatively inexpensive software updates on diesel cars, rather than forcing mechanical changes.
BUSINESS
-- As Tesla begins ramping up production of its affordable Model 3 sedan, the company reported a second-quarter net loss of $401.4 million.
-- TV news via Snapchat? It's one of the many ways broadcast news is trying to stay afloat.
-- The Dow Jones industrial average closed above 22,000 points for the first time, thanks in large part to Apple.
SPORTS
-- On his first day with the Dodgers, pitcher Yu Darvish promised to be low-maintenance. (Side note: His Japanese interpreter is nicknamed "Sugar.")
-- How do you make the American women's soccer team stronger? Coach Jill Ellis and U.S. Soccer set up their own international tournament.
OPINION
-- Remember all those left-wing pundits who drooled over Venezuela?
-- Does carrying a gun make you safer? No. A study says right-to-carry laws increase violent crime.
WHAT OUR EDITORS ARE READING
-- Poet Alicia Ostriker reads aloud Emma Lazarus' "The New Colossus," the poem on the Statue of Liberty's pedestal, and gives its history and her commentary. (Library of Congress)
-- A Korean American writer delves into the blue birthmark known as a Mongolian spot. (Longreads)
-- What's behind a Milan neighborhood's ban on bottles, cans, firecrackers, food trucks and selfie sticks for the summer? (CityLab)
ONLY IN CALIFORNIA
It's not just your imagination: These days, we really are swimming with the sharks off the California coast. Columnist Steve Lopez had a close encounter one Sunday morning in Santa Barbara County. After he and his daughter got out of the water, they eventually went back in. Should they have taken the chance? He asked some experts for their sharpest insights.
Please send comments and ideas to Davan Maharaj.
If you like this newsletter, please share it with friends.
---