Newsletter: Today: The 'Cajun Navy' Sails Again
Harvey is weakening, but the deadly storm is still causing misery across an ever-widening area. Volunteers known as the "Cajun Navy" are lending a hand. Here are the stories you shouldn't miss today:
TOP STORIES
The 'Cajun Navy' Sails Again
After wreaking havoc in parts of Texas and Louisiana, the biggest rainstorm in U.S. mainland history was weakening as it moved north toward Mississippi and Tennessee, but forecasters are warning that Harvey still has deadly potential. More than 30 people are believed to have died, and though the sun has emerged above Houston, Texas' governor says "the worst is not yet over." National Guard members have made thousands of rescues, and the Navy is sending a ship to support relief efforts. But among the first responders have been volunteers loosely organized as the "Cajun Navy," as we saw 12 years ago during Hurricane Katrina. Reporter Matt Pearce followed along as a flotilla, led by a bright yellow fan boat painted with the words "SHO NUF," motored toward Port Arthur, Texas.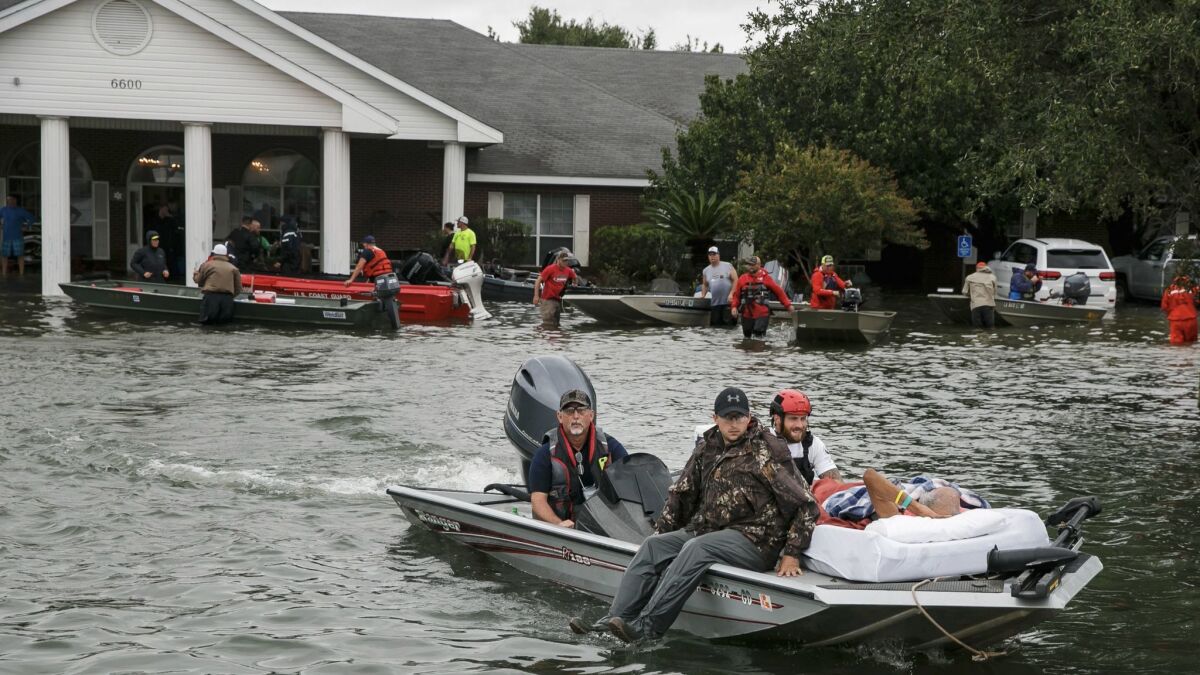 More From Texas
-- Two explosions were reported Thursday at a Houston-area chemical plant that lost power amid flooding from Harvey.
-- "A true testament to a mother's will": saving her daughter, but not herself, from Harvey's floods.
-- Braving mud, debris and dread, Houston residents venture home to see what the storm left behind.
-- Catastrophic storms, once rare, are almost routine. Is climate change to blame?
Will Overhauling Taxes Be More Painful Than Paying Them?
The U.S. tax code hasn't had a major overhaul since President Reagan was in office. President Trump wants to change that with something called "the American model." In a speech that was long on populism and short on details, Trump told a crowd in Springfield, Mo., that the plan would slash taxes paid by businesses and simplify the tax law. Republicans in Congress will be largely responsible for drafting the plan — and given that the GOP is divided over some aspects, it could be another painful process.
More Politics
-- Sen. Dianne Feinstein came under fire from the Democratic leader of California's state Senate for calling for "patience" with President Trump.
-- Polling data and a focus group held this week indicate that the way voters react to Trump's behavior and personality, not his positions on particular issues, drives the way they feel about him.
A Game-Changer in the Fight Against Cancer
Researchers say we're entering a new era in cancer treatment with the first FDA approval of a form of gene therapy that is highly effective at fighting an aggressive type of leukemia in children. Patients have their bodies' own disease-fighting T cells fortified and multiplied in a lab, then get the cells back to help them fight their cancer — though it can also have serious side effects. The head of the Food and Drug Administration says the treatment and others like it will "change the face of modern medicine."
The Summer of Hollywood's Discontent
Hollywood's summer is coming to an end this Labor Day weekend, and the results are nothing to write home about. The number of movie tickets sold in the U.S. and Canada is expected to hit 425 million, the lowest level since 1992. Revenue will be down too, most likely about 16% from last year, despite some hits like "Wonder Woman" and "Girls Trip." Just about everyone, from the studio bigwigs to the box office clerks, has a theory why.
How Hot Is It?
The dog days of August have come, but if you live almost anywhere west of the Rockies, they won't be going soon, even after September arrives. It's all because of a high-pressure system that will stay in place through at least Monday. Temperatures in some areas are 25 degrees above average. That's put a strain on California's power grid and complicated matters for firefighters battling a blaze in the northern part of the state.
MUST-WATCH VIDEO
-- Times photographer Robert Gauthier shows the small moments of humanity in the midst of Harvey.
-- "Hope to go home in a week … We don't know yet": Houston-area residents seek shelter.
-- Seven people were hurt after an SUV collided with a Metro bus in downtown Los Angeles.
CALIFORNIA
-- State lawmakers are considering a future without the use of fossil fuels to generate electricity.
-- Authorities say a Sacramento County sheriff's deputy was killed and two California Highway Patrol officers were wounded during a stolen-vehicle investigation.
-- An immigrant in the U.S. illegally who was arrested after dropping off one of his daughters at school in L.A. has been released on bond.
-- Over the objections of Italian American civic groups, the L.A. City Council voted to replace Columbus Day with Indigenous Peoples Day.
HOLLYWOOD AND THE ARTS
-- It looks as though "Springsteen on Broadway" was born to run. It's been extended through February.
-- You probably know Jay Baruchel from his work on screen, but he's directed his first feature film: the sequel to the cult hockey comedy "Goon."
-- Tomi Lahren has found a new home as a contributor at Fox News.
-- At 101, Olivia de Havilland is more determined than ever to do battle over her depiction in the FX miniseries "Feud: Bette and Joan."
CLASSIC HOLLYWOOD
The box office may not be so hot this weekend, but 35 years ago, "Fast Times at Ridgemont High" had a totally gnarly Labor Day when it went into wide release. Jennifer Jason Leigh, who played Stacy Hamilton, recently told The Times: "I actually got a job at, not at Perry's Pizza, but whatever the name of the joint was where we actually shot it."
NATION-WORLD
-- A federal judge in Texas temporarily stopped the implementation of a new state law that seeks to outlaw "sanctuary" cities.
-- The Pentagon revealed that roughly 11,000 U.S. troops are deployed in Afghanistan, 2,600 more than the U.S. military had previously disclosed.
-- The Trump administration wants stricter monitoring of the Iran nuclear agreement, but officials in Iran insist they're complying and won't let inspectors into military sites.
-- Torched villages, dead civilians, squalid refugee camps: Western Myanmar is caught in a cycle of horrific violence.
BUSINESS
-- Show-biz ups: Donald Tang, a former Bear Stearns money man in China, now wants to remake himself in Hollywood.
-- Show-biz downs: Film and TV company Miramax has laid off 20 more staffers, while Walt Disney Co.'s ABC Television Group plans to make substantial job cuts.
SPORTS
-- College football starts up again this weekend. Here's how a converted quarterback became USC's most crucial question mark.
-- And across town, a look at the long journey UCLA's offensive coordinator took to Westwood.
OPINION
-- Why hasn't Rex Tillerson resigned as secretary of State?
-- Twenty years after Princess Diana's death, the rubbernecking continues.
WHAT OUR EDITORS ARE READING
-- As we're seeing in Texas, fire ants love floods. When the waters recede, they'll have at least one job that benefits humans. (The Atlantic)
-- Here's why the battles over radio in the 1930s can inform today's debate about online "fake news." (The New Yorker)
-- How did the "distracted boyfriend" picture that's flooded Twitter feeds come to be? "I didn't even know what a meme is until recently," says the photographer. (Wired)
ONLY IN L.A.
There's a rat in the house at the Ahmanson Theatre. Don't call an exterminator. Zeus plays Toby the Rat in the Tony-winning play "The Curious Incident of the Dog in the Night-Time." Like any other actor, he (or his wrangler, at least) can name his influences: "Ratatouille's" Remy, of course, and "an older Marlon Brando."
If you like this newsletter, please share it with friends.
Must-read stories from the L.A. Times
Get the day's top news with our Today's Headlines newsletter, sent every weekday morning.
You may occasionally receive promotional content from the Los Angeles Times.