Newsletter: Today: Fire Sweeps Into Ventura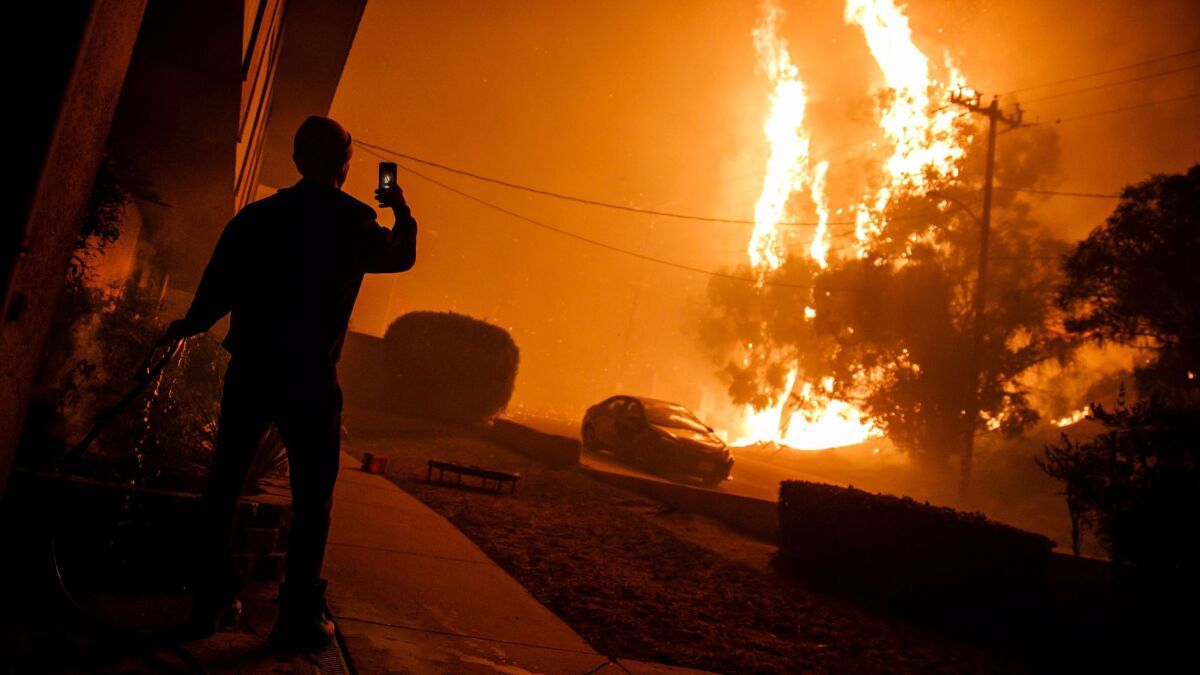 Flames have hit yet another California community, in what was already the worst year on record for wildfires in the state.
TOP STORIES
Fire Sweeps Into Ventura
Driven by wind gusts of 50 mph, a fire that broke out in the foothills near Thomas Aquinas College in Santa Paula swept into the city of Ventura early Tuesday, burning homes and forcing evacuations. The extent of the destruction was unclear; one person was reported killed in a traffic accident on a road closed because of the fire. Forecasters had issued a red flag warning in Ventura and L.A. counties through Thursday because of dry conditions and fierce Santa Ana winds.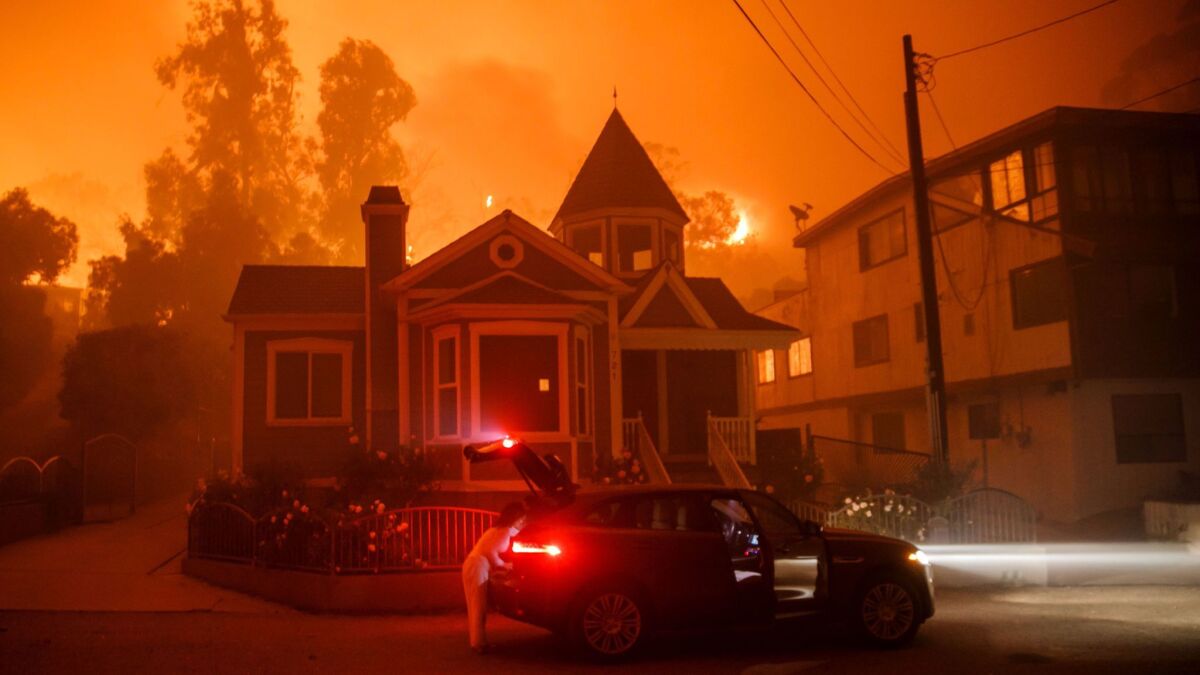 Trump Brings Down These Two Monuments
Two million acres. That's how much President Trump carved out of the 1.35-million-acre Bears Ears and 1.9-million-acre Grand Staircase-Escalante national monuments in southern Utah, couching the move as a return of the land to local control and out of the hands of "distant bureaucrats." "You know how best to take care of your land," the president told a crowd in Salt Lake City. Though polls say Utah residents are divided on the issue, state lawmakers had lobbied for the change, which improves access to coal, oil, natural gas and uranium. Next step: Will it hold up in court?
Travel Ban 3.0 Is in Force, for Now
Speaking of legal challenges.… The Supreme Court ruled that Trump may put the third version of his travel ban into effect while cases challenging it make their way through lower courts. The decision, with only two dissents, suggests the justices believe it does not exceed the president's powers. The U.S. 4th Circuit Court of Appeals and the 9th Circuit are scheduled to hear arguments this week.
More Politics
-- One of Trump's lawyers argued it's impossible for the president to obstruct justice "because he is the chief law enforcement officer."
-- The special counsel's office says Paul Manafort violated a court order by ghost-writing an editorial with a Russian who has ties to that country's intelligence services.
-- Trump has fully endorsed Roy Moore, the Alabama Senate candidate accused of making unwanted sexual advances on teenage girls.
-- House and Senate Republicans are set to go to work this week to reconcile significant differences between their two tax bills. Here are the biggest sticking points.
-- Trump has invited congressional leaders, including Democrats, to the White House on Thursday for discussions on a year-end budget deal.
-- A White House spokesman refused to answer any questions on the record from reporters Monday.
An Assemblyman Is Accused
Sacramento lobbyist Pamela Lopez has claimed that, in January 2016, Democratic Assemblyman Matt Dababneh followed her into a bathroom, masturbated in front of her and urged her to touch him. Dababneh has strongly denied the allegation. "I am utterly shocked and blown away," said the assemblyman, whose district includes Encino, Tarzana and Woodland Hills. "This is a career-ending charge based on no facts."
Less Ice in the Arctic = More Drought in California
What does rapidly melting Arctic sea ice have to do with drought in California? A lot, according to new research. The model that scientists at Lawrence Livermore National Laboratory used looks at the link between the disappearing sea ice and the buildup of high ridges of atmospheric pressure over the Pacific Ocean, which push winter storms away from the state. They say it could reduce precipitation over California by as much as 15% within two to three decades.
MUST-WATCH VIDEO
-- Trump's full remarks on the Utah national monuments.
-- Daniel Franco was an unbeaten boxer bankrolled by Jay-Z. After an injury sent him into a coma, his new mission is helping fighters.
-- Jessica Chou, a YouTuber who posts tutorials showing how to fix cars, on why she hosted a Girls' Pit Stop booth at the L.A. Auto Show.
CALIFORNIA
-- As the homeless crisis grows, L.A. has opened the first new public toilets on skid row in more than a decade, monitored by full-time attendants, a maintenance crew and security. More are on the way, but some advocates say it's not enough.
-- Riverside police say a mother turned in her 18-year-old son, who confessed to molesting up to 50 children.
-- The L.A. city attorney says Uber broke California law by concealing a massive data hack.
-- LA Weekly's new era has begun with quite a backlash.
HOLLYWOOD AND THE ARTS
-- Spurred by the spate of sexual harassment complaints, Hollywood's Women in Film advocacy group is establishing a resource center, a help line and pro bono legal help.
-- The Weinstein Co. is facing more trouble with two producers filing a new lawsuit against the company over an Amazon project with filmmaker David O. Russell that was scrapped.
-- PBS is offering its member stations a version of Christiane Amanpour's daily show on CNN International as an interim replacement for the departed "Charlie Rose."
-- Ballet dancer Misty Copeland is back in Southern California for "The Nutcracker." She recalls her first time dancing the holiday classic in San Pedro.
CLASSIC HOLLYWOOD
Beverly Garland gained B-movie cult stardom in films such as "Not of This Earth" and "It Conquered the World," but it was playing Fred MacMurray's wife on the sitcom "My Three Sons" that cemented her fame. Garland, who died on this date in 2008 at the age of 82, told The Times in 1969: "The only thing that bothers me is that everybody loves this character so much. I don't remember anybody loving me all that much."
NATION-WORLD
-- The Irish border question took center stage in Britain's negotiations to leave the European Union, causing a major setback for the pursuit of "Brexit."
-- Allies and opponents say Yemen's deposed strongman Ali Abdullah Saleh has been killed, putting new uncertainty into a devastating civil war.
-- Honduran President Juan Orlando Hernandez, seeking a second term in office, continued to hold a slim lead in disputed elections, but no winner has been declared after more than a week.
-- John B. Anderson, whose quixotic run for president helped hand the 1980 election to Ronald Reagan, has died at age 95.
BUSINESS
-- Mick Mulvaney is moving quickly to put his stamp on the Consumer Financial Protection Bureau, even as he continues to spar with the deputy director over who is its lawful acting chief.
-- If the CVS-Aetna deal goes through, will it be good for consumers? Columnist David Lazarus finds there is good reason to be skeptical.
SPORTS
-- "He might as well be in jail": LaVar Ball says he is going to withdraw his son LiAngelo from UCLA, given his indefinite suspension after a shoplifting incident in China. Columnist Bill Plaschke says it's the best news the Bruins could have received.
-- In pursuit of a miracle, paralyzed by a hockey injury, Jack Jablonski is finding his purpose off the ice.
OPINION
-- Trump's ploy to formally recognize Jerusalem as the capital of Israel could ruin the "ultimate deal."
-- Sen. Dianne Feinstein writes that the fight against the GOP's unfair tax plans isn't over yet.
WHAT OUR EDITORS ARE READING
-- A review of federal tax data and nonpartisan research shows that family farmers and small-business owners represent a tiny share of estate tax payers in Iowa. (Des Moines Register)
-- A new study says overall trust and confidence in the media has increased, but nearly a third agree with a claim that Trump made that the media are an "enemy of the people." (Poynter)
-- Why is childbirth so difficult? Scientists are challenging some old assumptions. (The Atlantic)
ONLY IN CALIFORNIA
An Oceanside woman had given up hope of finding her lost 9-month-old pit bull, until she turned on the TV and says she saw her puppy on the news after a high-speed pursuit. "I couldn't believe it," says Salina Hurtado. "I remember thinking, 'My poor baby got into a high-speed chase? Is this for real?' But I knew it was her." The story doesn't end there, though: The man arrested in the chase says the dog is his and has been given two weeks to contest Hurtado's claim.
If you like this newsletter, please share it with friends. Comments or ideas? Email us at headlines@latimes.com.
---