Newsletter: Today: Horror in a Florida High School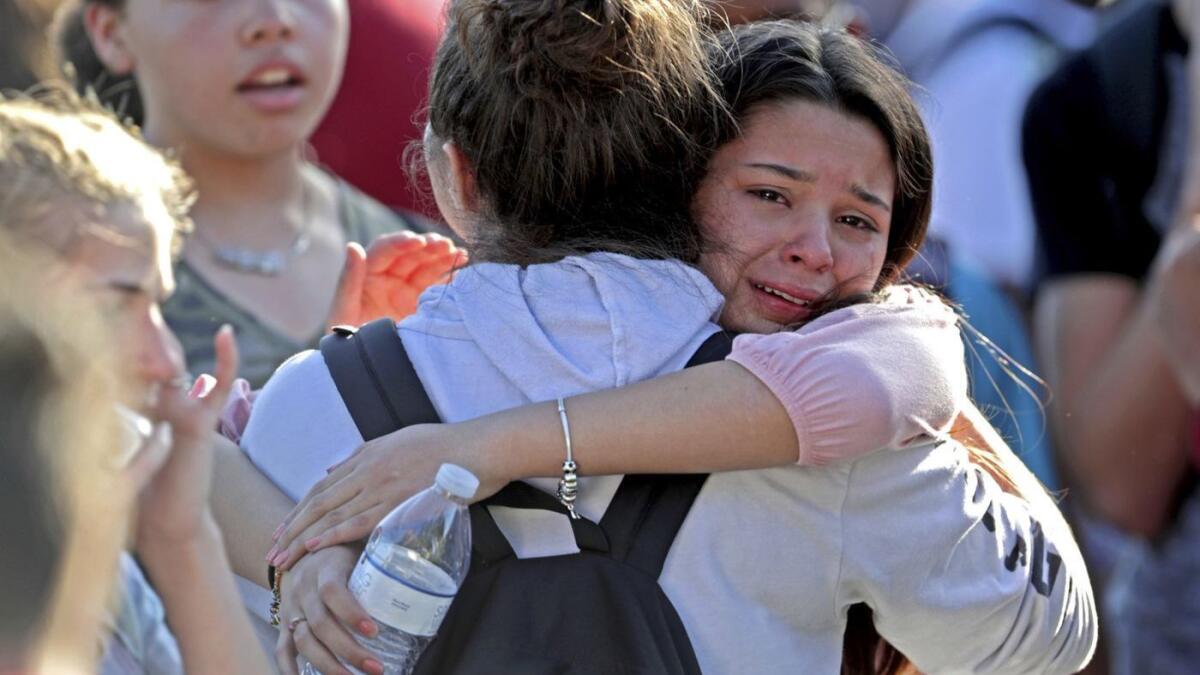 A school shooting in Florida leaves 17 people dead and a nation, again, wondering why.
TOP STORIES
Horror in a Florida High School
"Kids were freaking out. Some kids froze; some were on their phones. Some were trying to Snapchat because they thought it was a joke, and it wasn't." That's how one student described the scene at Marjory Stoneman Douglas High School in Parkland, Fla., where teenagers hid in closets and a geography teacher was said to have died shielding his class. Authorities say a former student, expelled for "disciplinary reasons," killed 17 people and wounded at least a dozen others. He was armed with at least one AR-15 semiautomatic rifle and taken into custody. The attack was the eighth-deadliest mass shooting in modern U.S. history. Since the Sandy Hook Elementary School shooting in 2012, a gun has been fired on school grounds nearly once a week.
Trump Says He's 'Totally Opposed to Domestic Violence'
As much as the White House would like the Rob Porter scandal to go away, it could stay in the national discussion for weeks or months now that Republican Rep. Trey Gowdy has announced his House Oversight Committee is investigating the matter. Not long after, President Trump broke his silence on spousal abuse. "I am totally opposed to domestic violence of any kind," he said, more than a week after details of allegations against Porter emerged. "Everyone knows that, and it almost wouldn't even have to be said." Meanwhile, Vice President Mike Pence offered a rare expression of regret: "I think the White House could have handled this better."
More Politics
-- The White House has been pushing one bill as the only option in Congress to help "Dreamers," but a bipartisan coalition of senators may be close to agreeing on an alternative proposal.
-- An inspector general's report says Veterans Affairs Secretary David Shulkin improperly accepted tickets to the Wimbledon tennis tournament and brought his wife on a European trip at taxpayer expense.
-- Porn actress Stormy Daniels is ready to talk; she believes a Trump lawyer invalidated a non-disclosure agreement by acknowledging a $130,000 payment and reportedly shopping a book proposal.
-- Trump's proposed military parade could cost $10 million to $30 million, his budget director says.
The Movie of the Moment
"Black Panther" isn't the first superhero movie to star an African American actor, but based on ticket sales and buzz, it's positioned to be the first global superhero blockbuster to feature a mostly black cast and an African American director. With Disney giving it an international marketing push, the Marvel Studios film could shake up some long-held assumptions in the movie industry. The film opens in theaters tonight, and our critics have given it rave reviews.
She Skis Like the Wind
For three days, Mikaela Shiffrin waited as howling winds kept her and her fellow Alpine skiers off the slopes. But when she finally got her chance in the giant slalom, she proved why she's ranked No. 1 in the world, despite some recent struggles. Shiffrin's aspirations extend far beyond one gold medal, though; if everything lines up right, she could win as many as five at the Games.
More From the Olympics
-- The U.S. women's hockey team fell short against the Canadians, but the teams are likely to meet for the gold medal.
-- As biathlete Lowell Bailey chases Olympic history in a solo sport, his family is never far from his thoughts.
-- Yuzuru Hanyu, perhaps the most popular athlete in Japan, dreams of delivering another figure skating gold-medal program.
MUST-WATCH VIDEO
-- Olympic figure skaters combine six types of jumps to create a well-rounded performance.
-- "Mudbound" cinematographer Rachel Morrison made Oscar history but knows the good fight isn't over yet.
CALIFORNIA
-- Federal officials are in the midst of an immigration sweep in the L.A. area and have so far detained more than 100 people suspected of being in violation of immigration laws.
-- A federal judge visited Santa Ana River homeless camps as he pushes for a shelter solution in Orange County.
-- An oversight panel has found that a veteran LAPD officer last year violated department rules for using deadly force when he shot and killed a 70-year-old man holding a pipe.
-- A lawyer representing four anonymous former staffers of Assemblywoman Cristina Garcia has filed a letter alleging the legislator had created an inappropriate workplace environment.
HOLLYWOOD AND THE ARTS
-- Netflix has landed a new multiyear deal with prolific TV producer Ryan Murphy, the man behind "American Horror Story," "Glee" and more. It's the latest evidence of just how powerful the streaming giant has become at luring Hollywood's top talent away from established competitors.
-- Nick Park of "Wallace and Gromit" fame is back with his first stop-motion animated feature in 13 years: the prehistoric soccer comedy "Early Man."
-- "I believe I'm a good man," Oscar-contending actor Gary Oldman says. "I've got a big heart. Sometimes I have a big mouth. But I've tried to make my apologies and, as they say, make my amends."
-- Bill Paxton's widow and children are suing Cedars-Sinai Medical Center and a heart surgeon who performed the operation that preceded the actor's death in February 2017.
CLASSIC HOLLYWOOD
Cesar Romero played Latin lovers in the movies and the Joker in the "Batman" TV series. Born on this date in 1907 to a machinery exporter and singer, Romero once said he owed his career to his father's misfortune. "If his business hadn't gone broke, I'd be exporting nuts, bolts and sugar machinery right now," he told The Times in 1965. "What an awful thought!"
NATION-WORLD
-- Authorities say the driver of a vehicle tried to enter the secure campus of the National Security Agency at Ft. Meade, Md. Three people, including a police officer, were injured.
-- South African President Jacob Zuma bowed to intense pressure from his party and resigned, ending nearly nine years of rule marred by corruption scandals and fiscal mismanagement.
-- Secretary of State Rex Tillerson came to Jordan and pledged to increase aid spending and tried to ease tensions over moving the U.S. Embassy in Israel to Jerusalem.
-- The U.S. Food and Drug Administration approved a first-ever blood test to help diagnose concussions in adults.
BUSINESS
-- A government report says the cost of healthcare will continue to outpace economic growth over the next decade, driven by rising prices for drugs and medical services.
-- Wall Street pundit Josh Brown says that if you're under 40, you should be hoping for another stock market plunge.
SPORTS
-- Shohei Ohtani seems unfazed by the hullabaloo surrounding his historic debut with the Angels.
-- With pitcher Yu Darvish gone, the Dodgers are still confident in their starting rotation.
OPINION
-- Here's a morbid exercise: Can you keep track of which school shooting was the last before Parkland?
-- When New York sends people to Los Angeles, they're not sending their best.
WHAT OUR EDITORS ARE READING
-- "Take everything you've heard and multiply it by 50": Reince Priebus talks about his tumultuous time as White House chief of staff. (Vanity Fair)
-- First person: Republican donor Rebekah Mercer says she supports "U.S. generosity, decentralized power, evidence-based science, and open discourse." (Wall Street Journal)
-- Inside Facebook's struggle with fake news and Russian meddling. (Wired)
ONLY IN L.A.
Jay Leno's passion for vintage cars is well known, but he's also amassed an impressive array of motorcycles. It includes the world's most extensive collection of Brough Superiors, top-of-the-line bikes that gained fame in the 1920s and could top 100 mph. Braking was another matter. "You don't really stop," Leno said as he gave us a tour of his garage. "You try to retard progress. You practice accident avoidance."
If you like this newsletter, please share it with friends. Comments or ideas? Email us at headlines@latimes.com.
Sign up for Essential California for the L.A. Times biggest news, features and recommendations in your inbox six days a week.
You may occasionally receive promotional content from the Los Angeles Times.