Newsletter: Today: Trump's EPA Aims to Tap the Brakes on Fuel Economy
The Trump administration is poised to scrap an ambitious program that was designed to confront climate change.
TOP STORIES
Trump's EPA Aims to Tap the Brakes on Fuel Economy
When the Obama administration unveiled a plan in 2011 to set stronger fuel economy targets for cars and SUVs, the Environmental Protection Agency called it "the most significant federal action ever taken to reduce [greenhouse gas] emissions." Now the Trump administration is gearing up to weaken those standards. EPA chief Scott Pruitt, a climate change skeptic, has previously suggested that he thinks the targets are too onerous for automakers. But whether he can set lower standards for the entire nation is a matter of dispute, and California leaders are ready to fight to maintain the Obama-era rules in the Golden State.
The Chill of a Cold War
Russia and the West are now fully engaged in a Cold War-style chess match. Moscow's latest move: tossing out 60 American diplomats and scores of other Western envoys in response to a coordinated expulsion of Russians from Britain, the U.S. and European countries. It may not end there, especially if the next step involves hitting President Vladimir Putin's oligarch-heavy inner circle with economic sanctions. Some analysts think Putin may have misjudged how Britain's allies have stood in solidarity since the poisoning of a former Russian spy and his daughter on British soil. But there are still rifts within Europe, and within NATO, for Putin to exploit.
More Politics
-- In Ohio, President Trump renewed his call for more spending on America's infrastructure, but his meandering speech helped explain why he hasn't gotten Republicans in Congress behind him.
-- During that speech, Trump also said he may put a hold on a new trade deal with South Korea just to make sure things are "moving along very nicely" in talks to end North Korea's nuclear program.
-- Atty. Gen. Jeff Sessions named a federal prosecutor to head a review of Hillary Clinton's emails and the Justice Department's actions in the Russia investigation but did not heed Republican calls for a second special counsel.
-- Trump keeps attacking his predecessors, but Barack Obama and the other former presidents have remained mostly silent.
-- Facing a boycott, Fox News host Laura Ingraham has apologized after taunting Parkland shooting survivor David Hogg over his being rejected from getting into some colleges.
Who Was Stephon Clark?
On the day Stephon Clark's funeral was held, protesters once again filled streets in downtown Sacramento. They called, once again, for justice in the fatal police shooting of the 22-year-old African American man in the backyard of his grandmother's house. Yet while Clark's death has gained national attention, only fragments of his life have surfaced. Who was Stephon Clark? Here's what we know about the father of two boys who was surrounded by love, tragedy and trouble.
'Those Who Did This Should Pay'
In Venezuela, there is also mourning and anger — over a deadly fire at an overcrowded jailhouse 100 miles west of the nation's capital. Officially, the death toll stands at 68, but many expect that number to rise. The government of President Nicolas Maduro maintained official silence Thursday over the cause. Opposition leaders pointed to the tragedy as an example of a failed administration and a society that is unraveling.
FLASHBACK FRIDAY
Some of the World War II aircraft were famous for flying combat missions. Some had just rolled off the production line. By the thousands, they were sold or dismantled after the war had ended. As these photos from March 29, 1946 show, they arrived at an airfield near Kingman, Ariz., to meet their fate.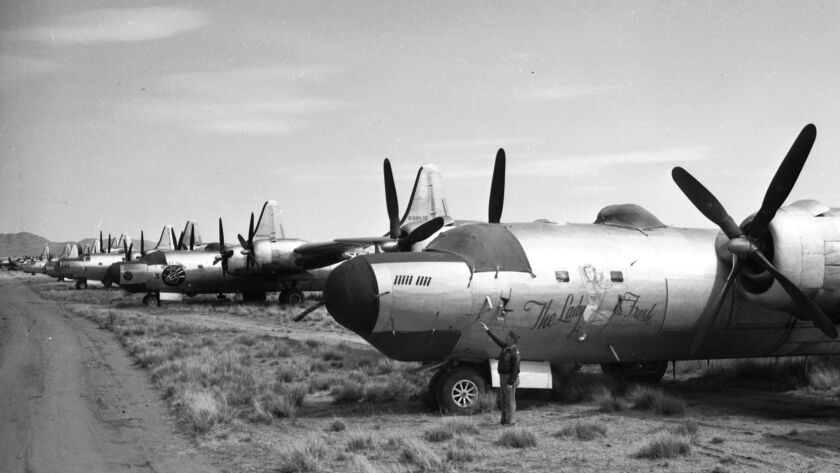 MUST-WATCH VIDEO
-- Easter eggs: We've got an easy way to "marbleize" them.
-- Should you see "Ready Player One"? Film critic Kenneth Turan says it's an excellent adventure.
CALIFORNIA
-- Judge Stephen Reinhardt, the "liberal lion" of the U.S. 9th Circuit Court of Appeals, has died at age 87. A spokesman said Reinhardt died of a heart attack during a visit to a dermatologist.
-- Starbucks and other coffee purveyors probably will have to use warning labels after an L.A. judge ruled that they failed to prove they should be exempt from a state law on carcinogens and toxic chemicals.
-- Days before an SUV carrying a family of eight plummeted from a Mendocino Coast cliff, child welfare authorities in Washington state had attempted to contact the children's parents about abuse allegations.
YOUR WEEKEND
-- How to avoid losing your mind to Alzheimer's or dementia? Hint: Start now, says Maria Shriver.
-- Forty-eight Easter recipe ideas to help you plan your menu.
-- For Passover, make these gluten-free almond macaroons.
-- There's more to Carpinteria than choppy surf and blowing sand on a spring weekend escape.
HOLLYWOOD AND THE ARTS
-- Tyler Perry wanted to make a movie with Taraji P. Henson so badly, they filmed her starring role in "Acrimony" in five days. She explains.
-- With the success of "Roseanne's" return to TV, Roseanne Barr is back to raising eyebrows.
-- How good is the King Tut exhibition at the California Science Center? Our art critic weighs in.
NATION-WORLD
-- A Maryland appeals court has upheld a ruling granting a new trial to Adnan Syed, whose conviction in the murder of his high school sweetheart became the subject of the popular podcast "Serial."
-- In Oklahoma, teachers are getting a boost from superintendents and school boards as they prepare to walk off the job Monday unless the Legislature significantly raises their pay.
-- The CDC says opioid overdose deaths are still rising in nearly every segment of the U.S.
-- Nobel Peace Prize winner Malala Yousafzai, who was shot by Pakistani Taliban militants for championing girls' education, made a surprise return to her home country.
-- A velvet fist in an iron glove? China talks tough about Taiwan but is showing signs of a softer policy.
BUSINESS
-- After years of spectacular gains, shares of tech giants such as Facebook, Amazon and Netflix fell sharply this week, although they bounced back Thursday. The question now is whether they're poised to rebound further.
-- There's yet another new electric vehicle Silicon Valley start-up, but this one already has procured two manufacturing plants and has some experience.
SPORTS
-- For the first time since 2010, the Dodgers lost on opening day, dropping a 1-0 game to the San Francisco Giants. Though it didn't end well, the fans were glad to be back.
-- Meanwhile, the Angels lost 6-5 to the Oakland A's after 11 innings, four hours and two minutes. So much for the new pace-of-play rules.
OPINION
-- Pardoning former national security advisor Michael Flynn and former Trump campaign manager Paul Manafort would be grounds for an impeachment investigation.
-- Advocating for a repeal of the 2nd Amendment is a gift the NRA doesn't deserve.
WHAT OUR EDITORS ARE READING
-- David Shulkin, hired and fired by Trump as the secretary of the Department of Veterans Affairs, says he's been "falsely accused" and is speaking out "against those who seek to harm the V.A. by putting their personal agendas in front of the well-being of our veterans." (New York Times)
-- The Parkland, Fla., gunman is getting stacks of fan mail and love letters sent to the Broward County jail, along with hundreds of dollars in contributions to his commissary account. (Sun-Sentinel)
-- The tale of a little lost dog is told in the form of a children's book. (Boston Globe)
ONLY IN L.A.
From beautiful downtown Pomona, it's … the Beverly Hills Dog Show!? For the second year in a row, more than 1,200 dogs made the trek to the Fairplex for an all-breed competition hosted by the Kennel Club of Beverly Hills. The organizers hope it will become an Easter TV tradition — even if it does take place 40 miles east of the 90210 ZIP Code.
If you like this newsletter, please share it with friends. Comments or ideas? Email us at headlines@latimes.com.
---