Newsletter: Today: Michael Cohen's Cash Machine
A look at how President Trump's personal lawyer parlayed his purported access into cash.
TOP STORIES
Michael Cohen's Cash Machine
Three weeks before the 2016 election, attorney and businessman Michael Cohen filed the paperwork to create a limited liability company that would offer the promise of unlimited potential. He used it to send $130,000 in hush money to Stormy Daniels, the porn actress who has alleged a sexual liaison with Donald Trump. After Trump won, Cohen also used Essential Consultants LLC to sell his guidance — and presumed access to the incoming president — to major corporations. Here's how he made big money, which is causing some big legal problems. Plus, this graphic connects some of the dots.
Lights, Camera, Diplomatic Action!
With his flair for theatrics, Trump this week has welcomed home three Americans freed from prison in North Korea and announced the place and date for his summit with Kim Jong Un: Singapore, June 12. (Singapore? Here's why.) But has he prepared the American public for what promises to be a long slog in the negotiations to denuclearize the Korean peninsula? Many foreign policy experts worry the answer is no — and that it could weaken Trump's position with North Korea.
More Politics
-- In its most serious military clash in decades, Israel said it attacked nearly all of Iran's military installations in neighboring Syria. And the Middle East is bracing for more unrest as the U.S. prepares to open its Embassy in Jerusalem.
-- Both of California's U.S. senators will vote against Gina Haspel to lead the CIA, and her confirmation in the full Senate appears increasingly shaky.
Declaration of Independents
In 2007, Arnold Schwarzenegger warned his own California Republican Party that it was "dying at the box office." Had he traveled, Terminator-like, back in time? The latest data show that Republicans are close to losing their status as the state's second-largest bloc of voters, just barely ahead of those who have designated themselves as "independent." Maybe even more worrying for the GOP: Among those between the ages of 18 and 24, the share of Republicans is only 13%.
Are Justice Reforms to Blame?
When Michael Christopher Mejia was charged last year with killing a Whittier police officer and wounding another, many in law enforcement blamed California's efforts to reduce its prison population for failing to keep an admitted gang member like Mejia off the streets. The case is even mentioned in a proposed ballot measure to reverse some of the recent changes. But a review by The Times and the Marshall Project found a far more complex chain of events that allowed Mejia to remain free despite his record of criminal behavior. This timeline shows Mejia's record of rule-breaking before the killing.
A Mother's Day Lament
On Thursday, Mexico observed Mother's Day. For most, it is a time to venerate maternal love with speeches, gifts and meals. But in recent years, it has also been a time of sadness and protest for mothers to remember the "disappeared": the tens of thousands of Mexicans who have gone missing amid the war on drugs. Their ranks include many with no criminal history who were abducted and never seen again, usually for reasons that remain unclear.
Sign up to get Today's Headlines delivered to your inbox. »
FLASHBACK FRIDAY
In March 2009, North Korea detained journalists Laura Ling and Euna Lee while they were reporting on human trafficking along the border with China. About five months later, former President Clinton flew to Pyongyang to secure their release. After taking some time to reflect, the two reporters wrote this piece for The Times about their capture and the story they were trying to tell.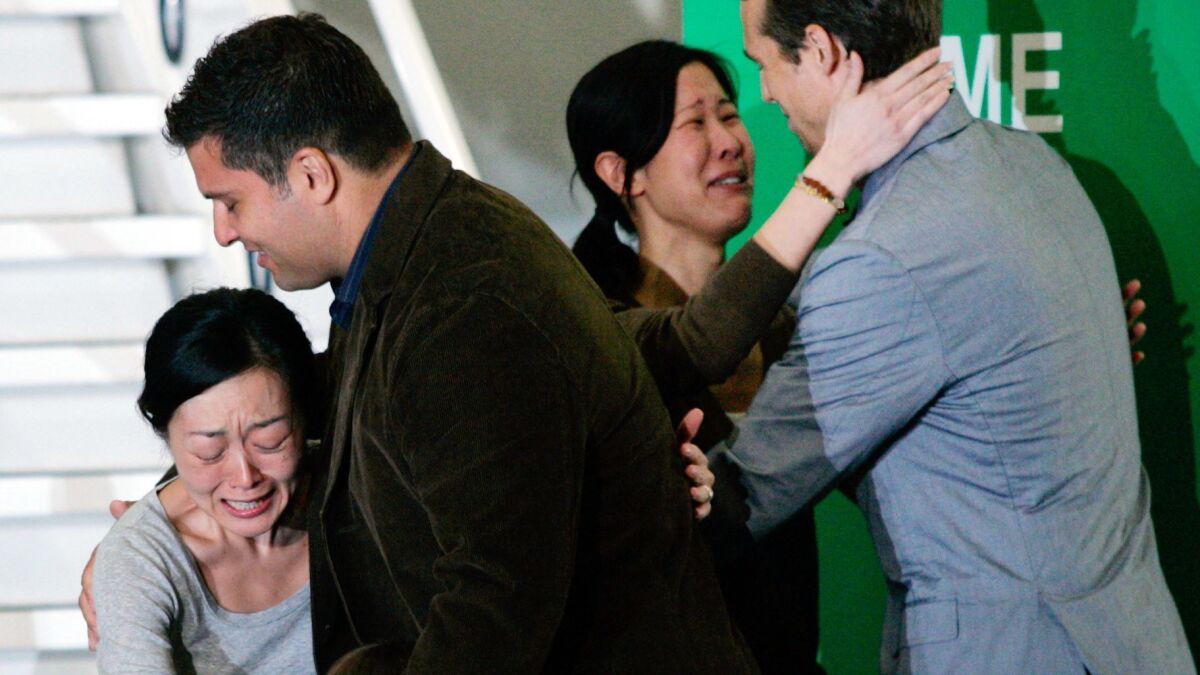 MUST-WATCH VIDEO
-- Kilauea watch: Footage from the Big Island, plus a look at the science behind the volcanic activity.
-- Catching up with Justin Hartley, who plays the adult version of the Kevin Pearson character on the TV show "This Is Us."
CALIFORNIA
-- The man suspected of being the Golden State Killer was charged in four more killings in Santa Barbara County. Authorities think he may have gotten his start as a cat burglar in Sacramento.
-- A jury found two Los Angeles police officers liable in the fatal shooting of a homeless black man on skid row in 2015 that set off days of protests.
-- California's gubernatorial candidates have a similar answer to the state's housing crisis: Build a lot more homes.
-- Until she went to work as a custodian at UC Merced, this woman never thought much about politics or workers' rights. Now she's a union leader.
YOUR WEEKEND
-- Have a restaurant picked out for Mother's Day? Here is some 11th-hour help.
-- For last-minute gifts, check out these indie pop-up events.
-- Create a vegetable garden with these 27 tips, tricks and hacks.
-- A weekend escape to Windsor. No, not that Windsor ... the one in California.
HOLLYWOOD AND THE ARTS
-- In the film "Life of the Party," Melissa McCarthy goes back to school … and it's kind of a dream.
-- Our guide to dance in L.A.: Twelve standout companies to see.
-- Denzel Washington's performance in "The Iceman Cometh" on Broadway is revelatory, writes theater critic Charles McNulty.
NATION-WORLD
-- U.S. special operations troops in Africa have been restricted from undertaking missions that might involve direct combat, one of several steps announced in response to findings on a deadly ambush in Niger.
-- Yale University says campus officers "followed procedures" this week when a white student called police after she discovered a black student sleeping in a residence hall common area.
-- Fatal falls for senior citizens are increasing in the U.S., according to a report from the Centers for Disease Control and Prevention.
-- In Iraq, voters have a chance to clean house in upcoming elections. But many are asking: "Why should I vote?"
BUSINESS
-- A brave new world: Google unveiled a virtual personal assistant that speaks so much like a human, people demanded that the company disclose it's an algorithm. It taps into a debate we'll be having a lot soon.
-- Tariffs levied by the Trump administration on the Canadian paper used to make newsprint are starting to cause financial difficulties at U.S. newspapers and printers.
SPORTS
-- English boxing promoter Eddie Hearn's new $1-billion boxing venture will bring its first two cards to New York and Los Angeles.
OPINION
-- Melania Trump's "Be Best" campaign is too much talk, not enough parental action.
-- The new Republican farm bill will dismantle our programs to feed the needy.
WHAT OUR EDITORS ARE READING
-- Secretary of Homeland Security Kirstjen Nielsen reportedly told colleagues she was close to resigning after Trump berated her in front of his Cabinet over the nation's borders. (New York Times)
-- "He's dying anyway": A White House official's comment about Sen. John McCain's brain cancer causes a furor. (The Hill)
-- In the Philippines, some Filipinos speak exclusively in English, the result of a painful history with American colonialism. (BuzzFeed News)
ONLY IN L.A.
If you've been to Lawry's The Prime Rib anytime in the last 80 years, you know the drill: There's the big stainless steel cart of meat, the Famous Original Spinning Bowl Salad, the Yorkshire pudding and whipped cream horseradish. "My grandfather said you need salt or sugar or fat to taste good," says Ryan Wilson, vice president and executive chef of the Lawry's restaurant group. Some things never change.
If you like this newsletter, please share it with friends. Comments or ideas? Email us at headlines@latimes.com.
Must-read stories from the L.A. Times
Get the day's top news with our Today's Headlines newsletter, sent every weekday morning.
You may occasionally receive promotional content from the Los Angeles Times.