Newsletter: Today: She Said, He Said, They'll Vote
After a day of drama, the Senate will proceed to decide on Brett Kavanaugh's bid for the Supreme Court.
TOP STORIES
She Said, He Said, They'll Vote
The fate of a Supreme Court nomination now rests with the Senate after hours of raw, emotional testimony from professor Christine Blasey Ford and Judge Brett Kavanaugh, the man she has accused of sexually assaulting her in their high school days. Ford's soft-spoken, anguished recall of details and statement that she is "100%" certain Kavanaugh was her attacker contrasted with his outraged denials and portrayal of himself as a victim of "a frenzy on the left" and "revenge on behalf of the Clintons." At the end of the day, Republican senators expressed confidence that the Senate Judiciary Committee would approve Kavanaugh in a vote this morning, with a final vote by the full Senate next week.
A Great Divide, Personified
For an event that brought together much of the nation in viewership, Thursday's hearing was an embodiment of the country's divide in partisanship. Republican Sen. Lindsey Graham nearly shouted, "This is the most unethical sham since I've been in politics." Democrats repeatedly called for an FBI investigation and later said Kavanaugh's anger at "the left" could leave permanent doubt about his impartiality. President Trump tweeted his approval of the judge's testimony. And as GOP Sen. Jeff Flake, who had not declared how he's voting, put it: "This is not a good process, but it's all we've got."
More About the Hearing
-- Did Ford's account sound real? Experts who study sexual violence weigh in.
-- Sen. Dianne Feinstein, the panel's top Democrat, came under fire from the GOP and, in the end, defended herself.
-- Columnist Robin Abcarian: Do we really want a man consumed with rage, self-pity and hate on the Supreme Court?
-- TV critic Lorraine Ali: The optics of the hearings were as divided as America.
-- If Ford's testimony stirred up painful memories, here's where you can get help.
-- Video: Ford's opening statement | Kavanaugh's opening statement | Sen. Kamala Harris questions Kavanaugh | Sen. Lindsey Graham angrily defends the judge
Will the Feds Pull the Plug on Musk?
Did Elon Musk finally go too far? The Securities and Exchange Commission has charged the audacious, erratic chief executive of Tesla with fraud, alleging that his tweets about taking the electric-car company private at $420 a share were "false and misleading." (And, according to the lawsuit, he picked that number because of its reference to pot.) Musk has denied wrongdoing. But if the SEC is successful, it could force Musk out of Tesla's leadership and ban him from running any public company.
Justice Served?
Javier Duarte, a former governor of Mexico's Veracruz state, became a symbol of corruption when he was accused of embezzling possibly billions of dollars and having links to criminal gangs. If he had been convicted of all the charges against him, he would have faced up to 55 years behind bars. Instead, he struck a plea deal that puts him in prison for nine years — and that has sparked outrage among those who say he's getting off the hook too easily.
Sign up to get Today's Headlines delivered to your inbox. »
FLASHBACK FRIDAY
This week in 1930, the Sepulveda Boulevard tunnel opened, connecting the San Fernando Valley with West Los Angeles. Mayor John Porter turned a golden key and opened wide the tunnel's gates for a a procession of cars, horses and wagons.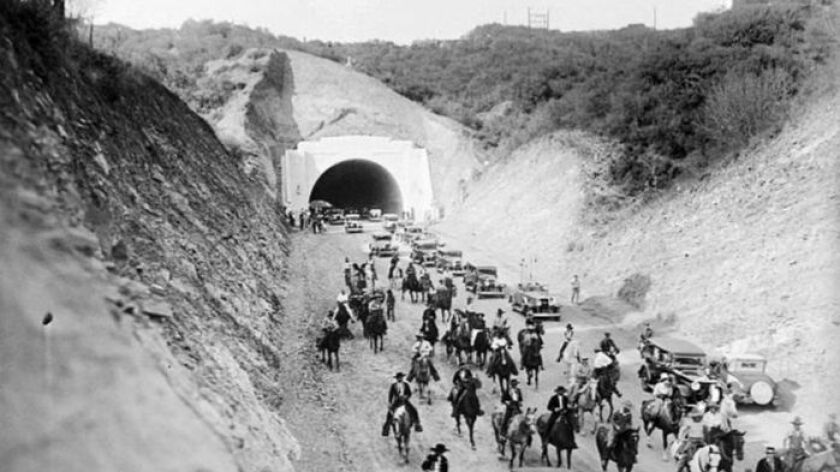 CALIFORNIA
-- Republican John Cox, kicking off the final weeks of his campaign for governor, has begun a "Help Is on the Way" statewide bus tour.
-- "In the early 1980s, I was drugged, beaten and raped by one of our colleagues at the L.A. Times": A retired editor speaks out and spurs a discussion.
-- A bill sitting on Gov. Jerry Brown's desk could give survivors of childhood sexual assault much more time — in some cases, decades — to sue those who might have stopped their abusers.
-- The city of Lynwood wants to buy St. Francis Medical Center, whose parent company filed for bankruptcy protection last month.
YOUR WEEKEND
-- "Top Chef" alum Shirley Chung wants to change the way people think about Chinese food in L.A.
-- Nine common-sense safety tips for women who run — and everyone else.
-- A weekend escape to Whistler in Canada at this time of year includes golfing and biking.
-- A new marijuana museum in Las Vegas features what is billed as the world's largest bong.
HOLLYWOOD AND THE ARTS
-- "The Old Man & the Gun" is probably Robert Redford's acting swan song. Film critic Kenneth Turan says it succeeds in part because of the charisma of Redford and Sissy Spacek.
-- In this Q&A, Cher discusses loving Twitter, hating Trump and singing the songs of ABBA.
-- David Lynch: director, painter, festival impresario and ant collaborator. (Yes, you read that right.)
NATION-WORLD
-- In the trial of Chicago Police Officer Jason Van Dyke, his lawyers have tried to turn the tables and put slain youth Laquan McDonald on trial.
-- Seven men were arrested in the Netherlands on suspicion of plotting a large-scale extremist attack that Dutch prosecutors say they think was foiled.
-- The Indian Supreme Court struck down a 158-year-old law that criminalized adultery, ruling that the statute drafted by British colonizers was archaic and discriminated against women.
-- Egypt has revived a long-stalled effort to renovate the pyramids, as tourism is on the rebound.
BUSINESS
-- Disney Cruise Line wants to build a port in the Bahamas, but a rival plan has split locals into feuding camps.
-- Gasoline prices are climbing toward $4 a gallon in Southern California, boosted in large part by a rise in worldwide crude oil prices.
SPORTS
-- Here's how the Dodgers wound up fighting for their lives in the NL West this weekend.
-- Mike Scioscia's influence is felt across the majors: Part 3 of our series on the Angels manager, who's likely to make his swan song Sunday.
OPINION
-- If there's no FBI investigation, the Senate should reject Kavanaugh's nomination.
-- Removing Father Junipero Serra's name from campus buildings is the easy part. To be truly inclusive, Stanford needs to do more.
WHAT OUR EDITORS ARE READING
-- Boof: an embarrassing history of a word whose definition is in dispute. (Vox)
-- Ten magazine covers from 1998 and the stories behind them. (The Undefeated)
ONLY IN L.A.
Welcome to our new raccoon overlords? The new video game "Donut County" from local game developer Ben Esposito reimagines Los Angeles and its surroundings as if a pack of the creatures came along and turned it into a paradise for themselves. It even includes Raccoon Lagoon, "the happiest raccoon place on raccoon earth."
If you like this newsletter, please share it with friends. Comments or ideas? Email us at headlines@latimes.com.
---