Newsletter: Today: On Saudi Arabia, 'Here We Go Again'?
President Trump has criticized the global condemnation of Saudi Arabia over the case of a missing journalist.
TOP STORIES
On Saudi Arabia, 'Here We Go Again'?
President Trump has warned of a rush to judgment as suspicions grow that Virginia-based Saudi journalist Jamal Khashoggi was killed on orders of Saudi Arabia's rulers, going so far as to compare the case with sexual assault allegations against Supreme Court Justice Brett Kavanaugh during his confirmation hearing. "Here we go again with, you know, you're guilty until proven innocent," Trump said, after Secretary of State Michael R. Pompeo had met with Saudi Arabia's king and crown prince in Riyadh. Meanwhile, Turkish officials say investigators searching the Saudi Consulate in Istanbul found evidence that Khashoggi was killed there, gave details of what they say happened and provided a list of people in what they called a hit squad, some of whom have been linked to Saudi security services. Saudi officials have repeatedly denied any involvement in Khashoggi's disappearance.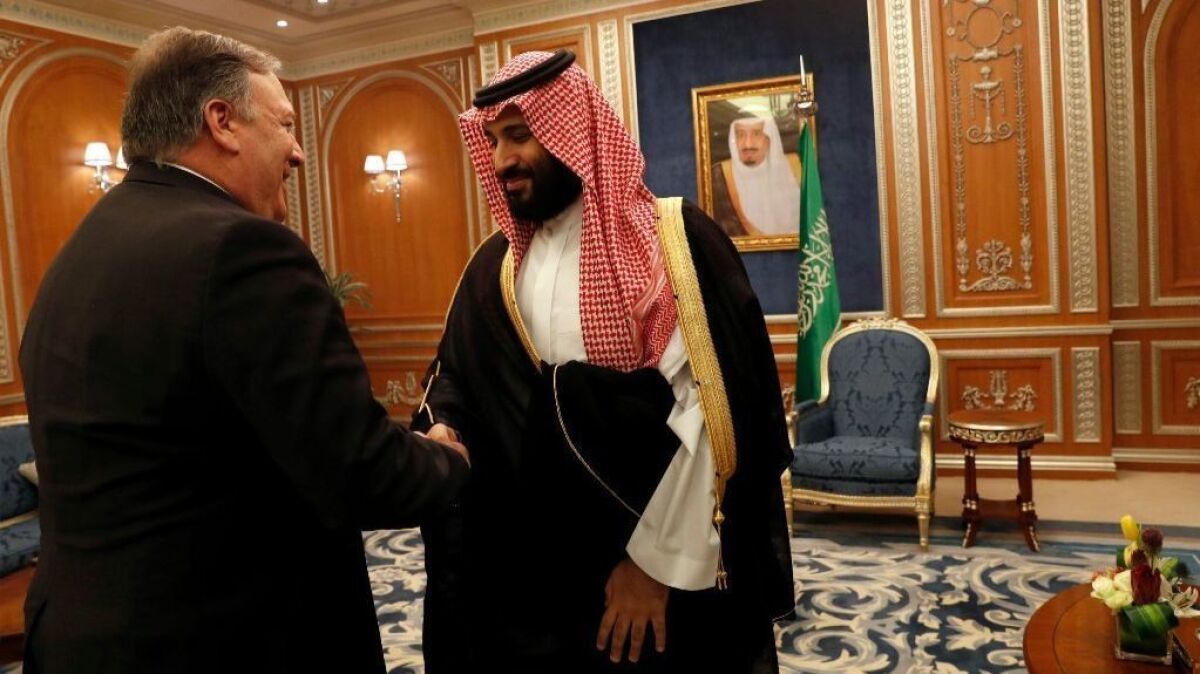 More Politics
-- Trump threatened to cut off U.S. aid to Honduras if a caravan of Central American immigrants traveling in buses and on foot was not stopped.
-- The Russia investigation is shadowing Trump's presidency, but few Democrats are campaigning on it.
-- #BeBest, anyone? Trump called porn actress Stormy Daniels "Horseface" in a tweet, the latest insult from a man known for demeaning women.
The 'Trump of Pahrump'
Detectives and deputies were at the Love Ranch brothel investigating the death of Dennis Hof, the pimp, reality TV star and Republican nominee who had been expected to win a seat in the Nevada Assembly next month. Hof, who billed himself as the "Trump of Pahrump," was found dead Tuesday morning by his close friend, porn actor Ron Jeremy. Hof had just celebrated his 72nd birthday over the weekend.
One Step Closer to Touching the Third Rail
Forty years ago, Proposition 13 changed the property tax game in California. Ever since, it's been a political "third rail," never to be touched. But this week, an initiative qualified for the November 2020 ballot that could dismantle Prop. 13's protections for businesses. Proponents say it would give cities, counties and school districts an additional $6 billion to $10 billion a year. Business groups and taxpayer advocates say companies already pay too much.
The LAUSD's Collision Course
L.A. schools Supt. Austin Beutner and teachers union leader Alex Caputo-Pearl agree that the Los Angeles Unified School District is at a critical juncture that could lead to reform or disaster. They don't see eye to eye on much else – resulting in a difference of vision that goes far beyond salary negotiation. That means a teachers strike is looking more likely.
Sign up to get Today's Headlines delivered to your inbox. »
MUST-WATCH VIDEO
-- How "First Man" director Damien Chazelle and his visual effects team took moviegoers to the moon.
FROM THE ARCHIVES
Motorists in L.A. have a lot to contend with, but … a sheep crossing? That was the scene on this date in 1955, when "two policemen, three dogs, a shepherd, two goats and a few students from Pierce College combined their talents ... to help Nick Costa of Calabasas lead a band of 500 sheep across busy Ventura Blvd."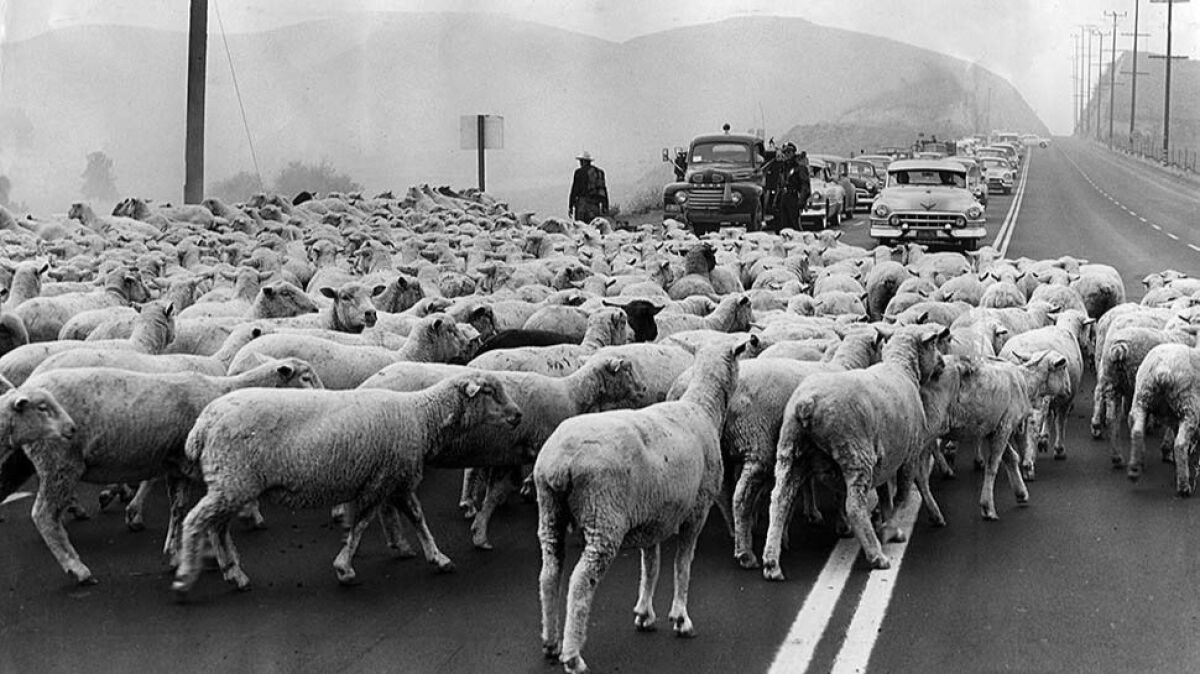 CALIFORNIA
-- A new USC Dornsife/Los Angeles Times poll finds Democratic Lt. Gov. Gavin Newsom holds a solid lead over Republican businessman John Cox in the race for governor.
-- Democrats are out-fundraising Republicans by millions in the most competitive House races. (And speaking of the election, here's how to register to vote, along with more coverage on our Decision California page.)
-- A Los Angeles city employee who misused his position to get free parking at a downtown lot for years is being slapped with a fine of more than $16,000.
-- In Davis, police are investigating allegations that a high school student baked her grandfather's ashes into sugar cookies and brought them to school.
HOLLYWOOD AND THE ARTS
-- Here's how "The Conners" wrote Roseanne off the show. (Yes, there are spoilers ahead.) Plus, Barr herself emphatically weighed in.
-- In "Can You Ever Forgive Me?" Melissa McCarthy turns a malcontent into fascinating company, writes film critic Kenneth Turan.
-- Piers Morgan mocked Daniel Craig's baby carrier, and other men just weren't having it.
-- The artwork of Adrian Piper, now on view at the UCLA Hammer Museum, makes a stern proclamation: "Everything will be taken away."
NATION-WORLD
-- The U.S. military has announced its deadliest airstrike against the Al Qaeda-linked Shabab extremist group in Somalia in nearly a year, killing about 60 fighters.
-- Amid growing international pressure, China is defending its detention camps for minority Muslims as job training centers with dancing, singing and sports.
-- French police have arrested an unnamed "high-profile" Ukrainian who, authorities say, faked his death and was found living lavishly in a castle.
BUSINESS
-- Netflix is again crashing the party to the chagrin of Hollywood studios, but this time in an old-school way: by acquiring billboards along the Sunset Strip.
SPORTS
-- It took five hours and 15 minutes, but the Dodgers beat the Milwaukee Brewers in the 13th inning at Dodger Stadium to tie their National League Championship Series. Game 5 is today.
-- The Angels have opted out of their lease with Anaheim, setting the stage for another round of negotiations over whether the team stays at Angel Stadium.
-- Former U.S. Rep. Mary Bono abruptly resigned from USA Gymnastics, less than a week after being named interim president and chief executive.
OPINION
-- A carbon tax is a good idea, so long as it doesn't come with industry handouts.
-- What will the U.S. be left with when this bull market goes to slaughter?
WHAT OUR EDITORS ARE READING
-- A map of the Trump administration's unfilled ambassador posts around the world. (Foreign Policy)
-- An oral history of the show "Dallas," which premiered in 1978 and changed television, if not Texas itself. (Texas Monthly)
-- What do you call the new trade agreement among the U.S., Mexico and Canada? "USMCA? Musca? AEUMC? You-Smacka?" (Wall Street Journal)
ONLY IN CALIFORNIA
If you walk down Laguna's Main Beach at twilight on Nov. 3 and see 1,000 illuminated umbrellas, it isn't a sign you've had one too many drinks. But that's kind of how the idea for artist Elizabeth Turk's latest creation, "The Shoreline Project," came to be. One night she and the Laguna Art Museum director were at the Royal Hawaiian restaurant, and "he had a really funny drink that had an umbrella on a toothpick in it, and I said, 'Hey, I have an idea for the project.' " Here's a look at how a "social sculpture" involving 1,000 volunteers will be made.
If you like this newsletter, please share it with friends. Comments or ideas? Email us at headlines@latimes.com.
Must-read stories from the L.A. Times
Get the day's top news with our Today's Headlines newsletter, sent every weekday morning.
You may occasionally receive promotional content from the Los Angeles Times.