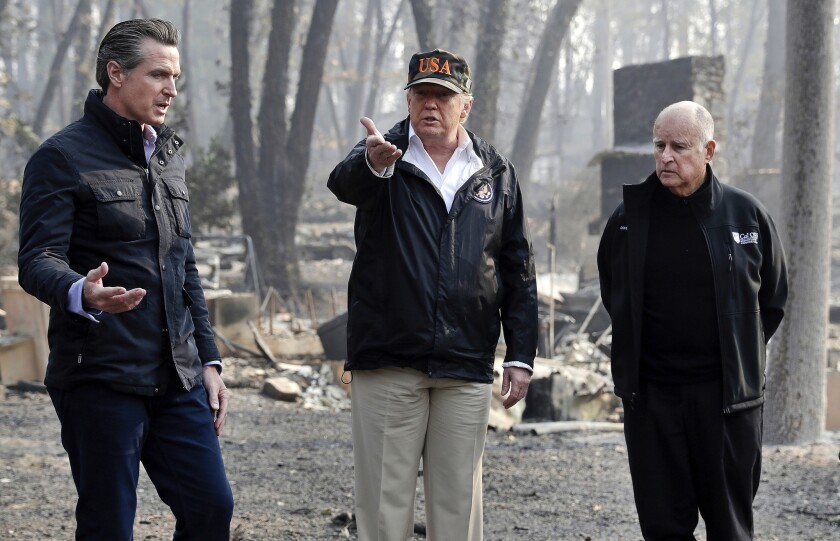 The relationship between President Trump and California has long been fraught, but in the aftermath of the state's deadliest wildfire season, the acrimony is burning hotter than ever.
TOP STORIES
Trump's Fury, California's Fires
With weeks to go before the start of California's traditional wildfire season and fears that it will be a deadly, devastating repeat of the last one, the Trump administration has thrown a curveball: It's balking at reimbursing California for the expense of firefighting on federal land last year, saying local officials have failed to itemize costs, even though they have not customarily done so in the past. That has stoked fears that the administration will this year cut back on fire assistance to the state, which President Trump has repeatedly blamed for "gross mismanagement of the forests" and not controlling the threat of wildfire by "raking."
More Politics
-- Numerous House Democrats on Tuesday demanded immediate impeachment proceedings against Trump amid White House resistance to their investigations, a marked increase in support for launching an effort to remove the president from office.
-- The chairman of the House Judiciary Committee has issued subpoenas ordering two more of Trump's former advisors — Hope Hicks and Annie Donaldson — to testify before the panel and hand over documents.
-- California's high-speed rail agency says it is suing the U.S. Department of Transportation and its senior officials over the Trump administration's decision to terminate a $929-million grant for the state's beleaguered bullet train.
Revenge of the 'Burbs
Powerful interests including labor and business groups, environmentalists and developers had lined up behind Senate Bill 50, a proposal in the California Legislature to dramatically increase home building near mass transit and in neighborhoods zoned only for single-family homes. But last week, it was blocked — at least until next year — after suburban homeowners and local elected officials strongly pushed back. As one activist put it: "There is a wake-up call that our legislators are not representing people at the grass-roots level."
Isn't It Grand?
Walk the length of Grand Avenue from Temple to 5th Street, and you'll encounter one of the most vital arts hubs in the city. But it wasn't always so. L.A. Times writers (and a few surprise guests) spent several months on a report about the past, present and future of Grand Avenue. Read about the history of the neighborhood; critics' appraisals of the buildings, the musical offerings, and the artworks (inside and out); and the memoirs of philanthropist Eli Broad, the man who helped make it possible. And if you need to fuel your cultural immersion with a little food and drink, we can help with that as well.
Your support helps us deliver the news that matters most. Subscribe to the Los Angeles Times.
Sign up to get Today's Headlines delivered to your inbox. »
FROM THE ARCHIVES
In the 1960s, Claremont boasted a thriving artist colony based around the Claremont Colleges. For an article published on this date in 1961, four Claremont artists gathered at the studio of Jack Zajac for the group portrait below. "All over the world artists group together by choice. There is the Left Bank in Paris, Greenwich Village in New York, in Mexico at Puebla there is the 'Barrio del Artista.' And then there is the colony of talented men and women in Claremont."
CALIFORNIA
-- Housing. Transportation. Cost of living. What to do? Columnist Steve Lopez imagines himself as king of California and how to fix it all.
-- A jury has awarded $8.6 million to two LAPD K-9 handlers who said they were retaliated against after their unit chief sexually harassed a female member of their team and falsified overtime.
-- Two more parents — a star lawyer and a Napa Valley vintner — have pleaded guilty to taking part in college admissions fraud.
-- May is proving to be a wet blanket, and more rain is on the way.
HOLLYWOOD AND THE ARTS
-- Quentin Tarantino has shocked Cannes once again with his epic film "Once Upon a Time ... in Hollywood."
-- A Lionsgate comedy and an Amazon Studios TV series have pulled out of Georgia after the passage of a law prohibiting abortion once a fetal heartbeat is detected.
-- Actress Sara Gilbert dissects her show "The Conners": "If there's no conflict, it's not funny."
-- Comedian Amy Schumer is pushing back after getting "mom-shamed" when she posted a picture of herself performing stand-up after giving birth this month.
NATION-WORLD
-- Washington has become the first state to legalize "human composting," an alternative to conventional burial and cremation that produces topsoil suitable for gardening.
-- In European Parliament elections, mainstream parties are facing a test from populist insurgents.
-- British lawmakers have vowed to reject Theresa May's "one last chance" for a Brexit deal.
-- A German Holocaust archive has put millions of documents online.
BUSINESS
-- Can Boeing's chief executive engineer a recovery course amid the 737 Max crisis?
-- Trump's fight with Huawei could threaten internet access in rural areas of the U.S.
SPORTS
-- A common theme was repeated by devastated Lakers insiders after Magic Johnson's franchise-leveling rant: "Who's the backstabber now?" Columnist Bill Plaschke thinks Johnson is tarnishing his legacy.
-- How should Dodgers fans respond when pitcher Julio Urias takes the mound after being reinstated following his arrest on suspicion of misdemeanor battery?
OPINION
-- Of course police should kill only when necessary. California law should reflect that.
-- As tensions rise with Iran, remember the intelligence failures that led to the Iraq war.
WHAT OUR EDITORS ARE READING
-- As the trade war worsens, China has raised the threat of cutting off rare earths — crucial minerals used in every corner of the U.S. economy. (Foreign Policy)
-- How Trump helped South Asian comics make a name for themselves in stand-up. (Daily Beast)
-- Everything you wanted to know about laugh tracks but were afraid to ask. (Quartz)
ONLY IN L.A.
The city of Beverly Hills has cleared the last hurdle to enact what officials say is the most stringent tobacco ban in the country, eliminating the sale of virtually all recreational nicotine products — with one very Beverly Hills exception. It's the Grand Havana Room, a club so exclusive its members need a special key to get in. Among its supporters: former Gov. Arnold Schwarzenegger and the chairman of cardiac surgery at UCLA.
If you like this newsletter, please share it with friends. Comments or ideas? Email us at headlines@latimes.com.
---