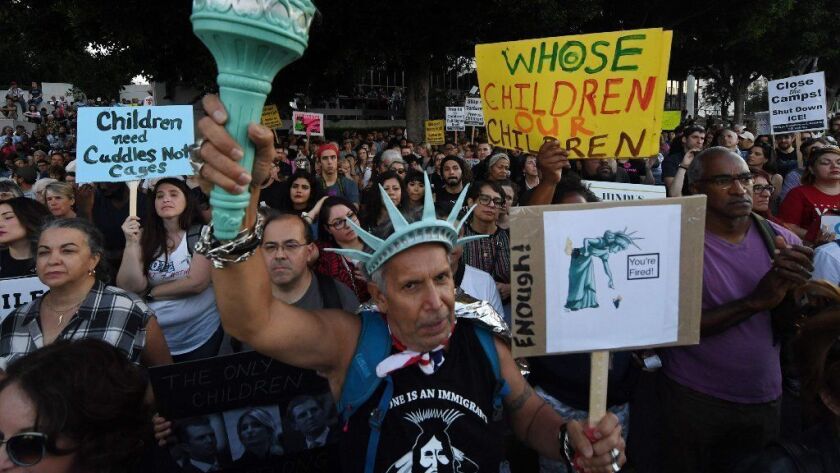 The Immigration and Customs Enforcement raids touted by President Trump appeared to result in few arrests but lots of frayed nerves over the weekend.
TOP STORIES
On Edge Over ICE Raids
In immigrant communities across the United States, the weekend brought anxiety and questions: Would Immigration and Customs Enforcement come looking for them, even if they were not among the 2,000 people said to be targeted? Though there were scattered reports of ICE agents poised to sweep into urban areas, and of arrests in a few states, by Sunday evening there was nothing approaching the mass roundups that the White House had suggested could roll out. The anticipated raids — which President Trump last week forecast as a "major operation" — were expected to target several U.S. cities, including Los Angeles, San Francisco, New York, Chicago, Miami, Denver, Atlanta, Baltimore and Houston.
Go Back to … Cincinnati?
On Sunday, Trump denounced " 'progressive' Democrat Congresswomen who originally came from countries whose governments are a complete and total catastrophe." In a series of tweets echoing the language often used to target Americans of color, he added: "Why don't they go back and help fix the totally broken and crime infested places from which they came. Then come back and show us how it is done." The presumed targets: Four first-year House Democrats, all women of color, who are widely known as "the squad." Three of them were born in the U.S., and one was naturalized in 2000.
More Politics
-- Joe Biden's choices in Delaware in the 1970s are haunting his White House bid today.
-- A U.K. newspaper has published more leaked memos revealing a British ambassador's blunt assessments of the Trump administration, including one in which the envoy to Washington claimed Trump pulled out of the Iran nuclear deal to spite predecessor Barack Obama.
Once in a Blue Moon
Tomorrow is the 50th anniversary of the Apollo 11 mission's launch from Kennedy Space Center. Four days later, men would walk on the moon. It was the result of a government leadership culture, an industrial organization, a tolerance for risk and a political environment that no longer exist. Could such a feat be duplicated today? "Lots of luck with that," says Jay Honeycutt, an Apollo-era engineer in flight operations who later became chief of the space center in Florida. "We could if they let us."
Not What They Envisioned
When Haim Saban and billionaire-led private equity firms acquired Univision Communications for $13.7 billion in early 2007, they figured the nation's largest Spanish-language media company would be a sure bet. Now sources say they are eager to sell the company, even at a discount. It would mark a rare blunder by Saban, who built his fortune with "Mighty Morphin Power Rangers." So what went wrong? A lot.
Sign up to get Today's Headlines delivered to your inbox. »
OUR MUST-READS FROM THE WEEKEND
-- The magnitude 7.1 Ridgecrest earthquake packed the power of 45 nuclear bombs, but its impact was muted. Here's why.
-- L.A. County sheriff's deputy gangs have survived decades of lawsuits and investigations. Can the FBI stop them?
-- The Downtown Los Angeles Soccer Club's group of mostly Latina athletes is trying to change the face of women's soccer.
-- The Angels' magical night: a no-hitter on the day before pitcher Tyler Skaggs would have turned 28.
-- At CBS News, anchor Norah O'Donnell is trying to restore the house that Walter Cronkite built.
Your support helps us deliver the news that matters most. Subscribe to the Los Angeles Times.
FROM THE ARCHIVES
In 1987, the Los Angeles Police Department embarked on a major crackdown on homeless encampments on skid row. In response, Mayor Tom Bradley proposed a temporary site to relocate the homeless — an urban campground that would open in June of that year. By September, it had closed. "No one calls the attempt a success — not the city, the Salvation Army or advocates for the homeless," The Times reported. "Yet, it did give a small number — 240 of the 2,600 homeless who passed through — a leg up with help to find jobs."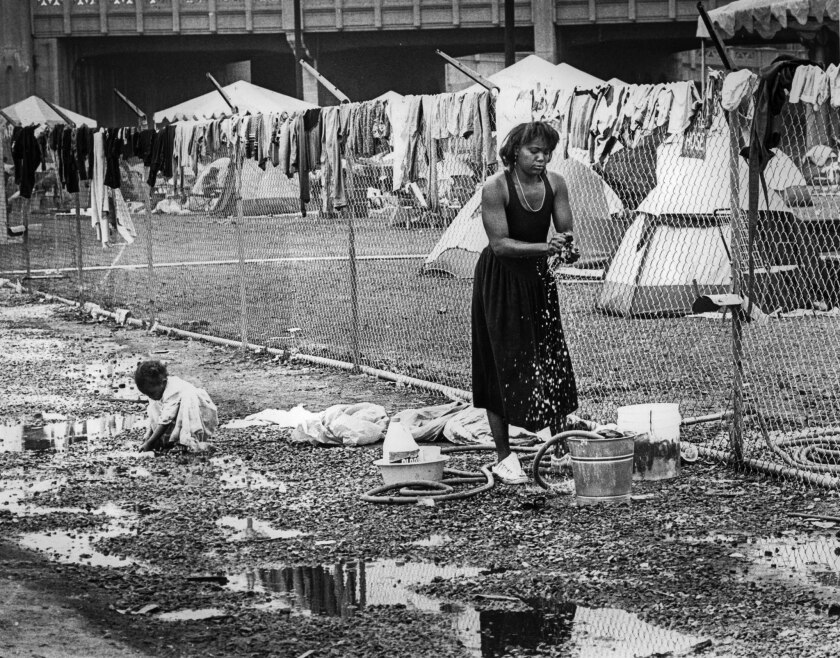 CALIFORNIA
-- At the Ghost Ship warehouse fire trial, victims' relatives are facing down the man they blame for the fire.
-- Ads ripping L.A. Mayor Eric Garcetti on homelessness are about fighting his Green New Deal.
HOLLYWOOD AND THE ARTS
-- Who enabled singer R. Kelly (and, for that matter, businessman Jeffrey Epstein), charged with preying on underage girls?
-- The legacy of slain rapper Nipsey Hussle is being remembered in murals across L.A.
-- On the final U.S. stop on his 2019 Freshen Up tour, Paul McCartney brought surprise guest Ringo Starr to sold-out Dodger Stadium.
-- The Emmy nominations will be announced Tuesday morning. Here are five things to look for.
NATION-WORLD
-- After making landfall on Louisiana's Gulf Coast as a Category 1 hurricane, Barry swiftly weakened to a tropical storm, but officials are warning there's more to come.
-- A Manhattan power outage that temporarily turned off the bright lights of the big city lasted for a few hours, but it left plenty of lingering questions and calls for investigations.
-- India's upcoming mission to land a rover on the moon is heralding a new global space race.
-- France's annual Bastille Day celebration became a showcase for European defense cooperation.
BUSINESS
-- Forever 21 reportedly is now in financial trouble and developing restructuring plans in hopes of avoiding a possible sale or bankruptcy. How can it regain the coolness factor?
-- A jury recently awarded $23.3 million to Underwood Ranches after a bitter lawsuit with Huy Fong Foods Inc., maker of the world-famous Sriracha sauce. Owner Craig Underwood says he just wants to get back to business.
SPORTS
-- At Wimbledon, Novak Djokovic won his fifth title there in an epic match against Roger Federer, while Simona Halep won her first title of the tournament to deny Serena Williams a record-tying victory.
-- The Lakers' six-player esports team in the NBA 2K League is considered a valued extension of the club's basketball organization.
OPINION
-- Money bail is absurd and unfair, as California continues to show the nation.
-- Dear liberals: Your outrage helps Trump far more than it hurts him.
WHAT OUR EDITORS ARE READING
-- Memos and Slack messages for taking the kids to camp? Some parents are starting to operate more like businesses. (The Atlantic)
-- Sweepers: Winning online sweepstakes is supposed to be by luck. Some contestants claim to have it down to a science. (The Hustle)
ONLY IN L.A.
It has been immortalized in song and literature, has inspired Halloween costumes and ornaments and has become so inextricably linked with part of Silver Lake that the area is known as HaFo SaFo. But soon, the revolving Happy Foot Sad Foot sign will be hotfooting it, as the podiatry clinic it has long advertised is moving. Columnist Frank Shyong caught up with the good foot doctor to talk about the end of a strange kind of fame.
If you like this newsletter, please share it with friends. Comments or ideas? Email us at headlines@latimes.com.
---