As Robert F. Kennedy was leaving the Ambassador Hotel on June 5, 1968, following his victory in that year's California Democratic Presidential primary, a part-time Los Angeles Times photographer, working on his own time in hopes of catching a shot for his wall, followed.
"The idea went further than I had expected," Boris Yaro would write more than 40 years later in a reminiscence of the night he became one of the world's celebrated photographers.
In the pandemonium of the hotel's pantry following Kennedy's shooting by Sirhan B. Sirhan, as the crowd parted from the fallen candidate, Yaro snapped the enduring black-and-white image of a distraught busboy trying to console a mortally wounded hero.
Yaro, who shot news photos for The Times for more than 40 years and along the way tutored the actor who played the news photographer on the TV series "Lou Grant," died Wednesday at his home in Northridge of natural causes. He was 81.
Although Yaro's career became defined by the Kennedy photo, he was known to colleagues as a hard-driving but dapper news hound.
Always going to work in a blazer and tie, Yaro presented an amusing contrast to the slovenly, rumpled photographer known as Animal on "Lou Grant." In preparing for that role, actor Daryl Anderson tutored under Yaro, learning how to use a camera and going on assignments to absorb the daily rhythm of the photojournalist.
"It struck me as comical that here was this character he got hanging around with Boris," said Times photographer Al Seib.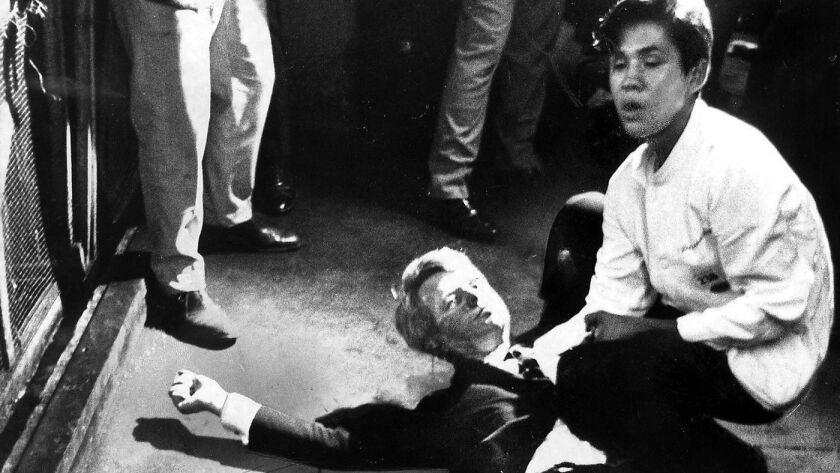 In a 1996 book on the making of "Lou Grant," author Douglass K. Daniel quoted Yaro as saying, "You can't walk into a newsroom dressed as a damn bum."
Beneath Yaro's sharp appearance was an intense commitment to his craft.
"It was like meeting a rock star," said Rick Meyer, another longtime Times photographer, of his first meeting with Yaro in 1973, when Meyer was fresh out of journalism school. "His company car sprouted numerous antennas for police radios. Boris would respond to news stories all hours of the day and night."
"He knew everybody: every fireman, every policeman," said colleague Joel Lugavere. "They all knew him on a first-name basis."
Yaro's children, Michael Yaro and Nicole Good, said that dedication was part of their lives too.
"We all lived with that," Good said. "He had scanners on his nightstand. He never left home without some form of connected communication. He always had one, maybe two maybe three cameras with him, film in every single pocket."
According to his children, Yaro joined The Times in the mid-1960s as a part-time photographer in the paper's San Gabriel Valley office.
In his 2010 recollection of the night of the Kennedy assassination, Yaro said he did not take photos during the shooting.
"It was dark, and I think I was afraid," he wrote.
When he saw Kennedy sinking to the floor, he realized, "I had better make pictures."
Then a woman grabbed his sleeve and pleaded with him to stop.
"My response was, 'Dammit, lady, this is history,' " Yaro wrote. "I pulled my coat sleeve loose from her grasp but lost some visual space because people began crowding around the fallen Kennedy."
The photo, which is part of the permanent collections of the Getty Museum in Los Angeles and Museum of Modern Art in New York, did not win the Pulizer Prize, which went that year to an equally enduring shot of the execution of a Viet Cong prisoner in Saigon.
Pulitzer Prize-winning former Times photographer Don Bartletti said he thought two Pulizers should have been given that year.
"When you look at Boris' picture of Kennedy from head to foot, with the kitchen worker leaning over him, that is a completely perfect composition with all the necessary elements," Bartletti said. "His picture is and will remain fantastic."
Besides his two children, Yaro is survived by his wife, Jill, and a brother.
Kobe Bryant, Kirk Douglas, Mary Higgins Clark and more.
(Los Angeles Times)
Country singer Kenny Rogers
racked up an impressive string of hits — initially as a member of The First Edition starting in the late 1960s and later as a solo artist and duet partner with Dolly Parton — and earned three Grammy Awards, 19 nominations and a slew of accolades from country-music awards shows. Country purists balked at his syrupy ballads, but his fans packed arenas that only the titans of rock could fill. He was 81.
(Suzanne Mapes / Associated Press)
Swedish actor
Max von Sydow
starred in several Ingmar Bergman movies, including "The Seventh Seal" (above, at left) and "The Virgin Spring," then built a varied body of U.S. work that included the 1973 horror blockbuster "The Exorcist." In a career that began in 1949, his rich repertory included Jesus Christ, clergymen, pontiffs, knights, conquerors, villains and the devil incarnate. He was 90.
(File photo)
Former Egyptian
President Hosni Mubarak
crushed dissent for decades until the 2011 Arab Spring movement drove him from power. During his presidency, which spanned nearly 30 years, he protected Egypt's stability as intifadas roiled Israel and the Palestinian territories, the U.S. led two wars against Iraq, Iran fomented militant Shiite Islam across the region and global terrorism complicated the divide between East and West. He was 91.
(Sameh Sherif / AFP/Getty Images)
Xerox researcher Larry Tesler
pioneered concepts that made computers more user-friendly, including moving text through cut, copy and paste. In 1980, he joined Apple, where he worked on the Lisa computer, the Newton personal digital assistant and the Macintosh. He was 74.
(AP)
Mathematician
Katherine Johnson
calculated rocket trajectories for NASA's early space missions, including Alan Shepard's Freedom 7 Mission, the first to carry an American into space, and John Glenn's orbits around the planet. In 2015, Johnson was awarded the Presidential Medal of Freedom by President Obama, and the next year was portrayed in the film "Hidden Figures." She was 101.
(NASA/Bill Ingalls )
Ski industry pioneer Dave McCoy transformed a remote Sierra peak into the storied Mammoth Mountain Ski Area. Over six decades, it grew from a downhill depot for friends to a profitable operation of 3,000 workers and 4,000 acres of ski trails and lifts, a mecca for generations of skiers and boarders. He was 104.
(Genaro Molina / Los Angeles Times)
Veteran TV personality Orson Bean brought his wit to "What's My Line?" and "To Tell the Truth," guest-starred on variety shows and bantered with talk show hosts such as Johnny Carson and Mike Douglas. Later in his career, he starred in "Dr. Quinn, Medicine Woman" and "Desperate Housewives" while becoming a mainstay of Los Angeles' small theater scene. He was 91.
( Sean Smith)
Screen icon
Kirk Douglas
brought a clenched-jawed intensity to an array of heroes and heels, receiving Oscar nominations for his performances as an opportunistic movie mogul in the 1952 drama "The Bad and the Beautiful" and as Vincent van Gogh in the 1956 drama "Lust for Life." As executive producer of "Spartacus," Douglas helped end the Hollywood blacklist by giving writer Dalton Trumbo screen credit under his own name. He was 103.
(Annie Wells / Los Angeles Times)
"Queen of Suspense"
Mary Higgins Clark
became a perennial best-seller, writing or co-writing "A Stranger Is Watching," "Daddy's Little Girl" and more than 50 other favorites. Her sales topped 100 million copies, and many of her books, including "A Stranger is Watching" and "Lucky Day," were adapted for movies and television. She was 92.
(Associated Press)
Fred Silverman
was the head of programming at CBS, where he championed a string of hits including "The Mary Tyler Moore Show," "All in the Family," "MASH" and "The Jeffersons." Later at ABC, he programmed "Laverne & Shirley," "The Love Boat," "Happy Days" and the 12-hour epic saga "Roots." He was 82.
(Associated Press)
Kobe Bryant
was just 18 when he started playing for the Lakers, but by the end of his 20-year career — all of it as a Laker — the Black Mamba was a five-time world champion, two-time Olympic gold medalist and 18-time All-Star. His post-basketball career included an Oscar for the animated short "Dear Basketball" and a series of children's books that became New York Times bestsellers. He was 41.
(Andrew D. Bernstein / NBAE / Getty Images)
Former California
Rep. Fortney "Pete" Stark Jr.
represented the East Bay in Congress for 40 years. The influential Democrat helped craft the Affordable Care Act, the signature healthcare achievement of the Obama administration, and also created the 1986 law best known as COBRA, which allows workers to stay on their employer's health insurance plan after they leave a job. He was 88.
(Associated Press)
News anchor
Jim Lehrer
appeared 12 times as a presidential debate moderator and helped build "PBS NewsHour" into an authoritative voice of public broadcasting. The program, first called "The Robert MacNeil Report" and then "The MacNeil-Lehrer Report," became the nation's first one-hour TV news broadcast in 1983. Lehrer was 85.
(David McNew / Getty Images)
Terry Jones
was a founding member of the Monty Python troupe who wrote and performed for their early '70s TV series and films including "Monty Python and the Holy Grail" in 1975 and "Monty Python's Life of Brian" in 1979. After the Pythons largely disbanded in the 1980s, Jones wrote books on medieval and ancient history, presented documentaries, wrote poetry and directed films. He was 77.
(Associated Press)
Rush drummer
Neil Peart
was one of the most accomplished instrumentalists in rock history. Peart often cited swing-era drummers Gene Krupa and Buddy Rich among his primary inspirations, although he also credited Keith Moon, Ginger Baker and John Bonham as major influences. He was 67.
(Andrew MacNaughtan)
---