Editorial: Gov. Brown needs to speed up the review process for death row inmate Kevin Cooper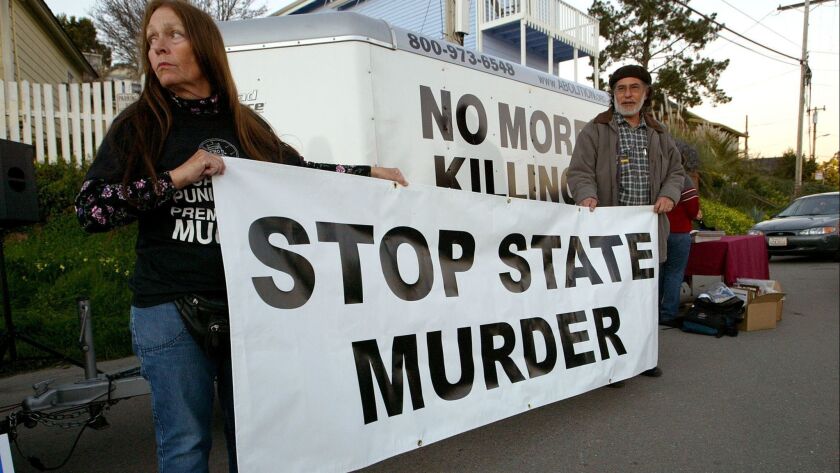 A San Bernardino jury sentenced Kevin Cooper to death three decades ago after convicting him of murdering two adults and two children and severely wounding a third child. But the jury didn't know that the investigation into those murders was, to say the least, problematic.
Subsequent inquiries and analyses persuasively show that investigators may have planted a blood sample from Cooper on a T-shirt found near the crime scene; that they failed to test — and then lost — a pair of bloody overalls worn by another man on the day of the murders; that the prosecution withheld exculpatory evidence from Cooper's lawyer; and that the only eyewitness — the wounded child — initially told a hospital social worker that the attackers were three or four white men. (Cooper is black.) The victims suffered multiple slash and stab wounds from a number of weapons, more than one could reasonably expect a single perpetrator to inflict. Nevertheless, the child testified at trial that the attacker was a single man.
Cooper, though, has had an inordinate amount of trouble getting the courts to give him a fair hearing. In one appeal, the U.S. 9th Circuit Court of Appeals rejected Cooper's plea for a new hearing despite a scathing, 100-page dissent by Judge William Fletcher that dissects how the police and courts not only failed to give Cooper a fair trial, but also apparently conspired to convict him. "Kevin Cooper has now been on death row for nearly half his life," Fletcher wrote. "In my opinion, he is probably innocent of the crimes for which the state of California is about to execute him."
Cooper has asked Gov. Jerry Brown to order new, more sophisticated DNA tests on the shirt and other items, tests that he believes will prove once and for all that someone else committed the murders. He also wants the governor to conduct an innocence hearing to weigh those test results and, ultimately, to pardon him. Brown has asked the San Bernardino County district attorney's office, which opposes reopening the case, for a response by Oct. 11 to Cooper's allegations before deciding whether to conduct the review.
Enter the Fray: First takes on the news of the minute from L.A. Times Opinion »
But time is running out on Brown's term, and chances are increasing that it could end before the review process does. If so, the next governor and his legal staff would probably have to start over, assuming they chose to address Cooper's requests at all. That would unjustly delay yet again the search for the truth, and the possible freeing of an innocent man.
Brown should heed Cooper's request and line up a special master for the review and ensure that the issues are resolved with all deliberate speed. Justice demands it.
Follow the Opinion section on Twitter @latimesopinion or Facebook
---
A cure for the common opinion
Get thought-provoking perspectives with our weekly newsletter.
You may occasionally receive promotional content from the Los Angeles Times.