Editorial:: Democracy pushes back against Erdogan in Turkey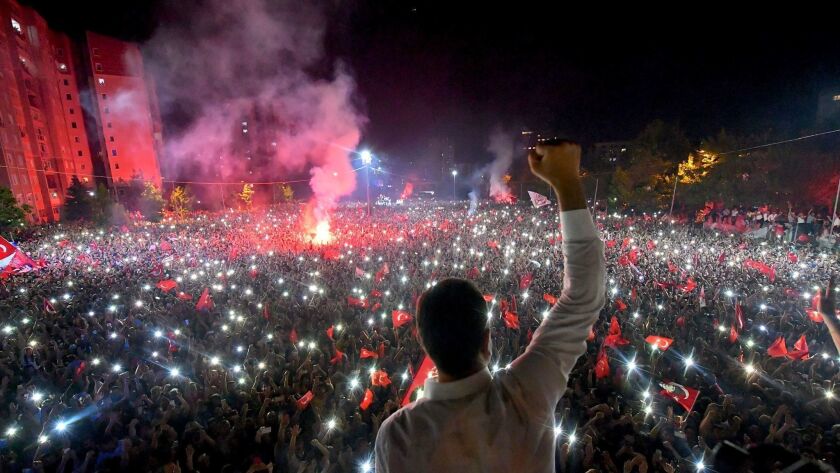 On the surface, Sunday's mayoral election in Istanbul centered on garbage collection, water service and other municipal issues. But it was ultimately a referendum on the leadership of Turkish President Recep Tayyip Erdogan and the increasingly oppressive rule of his Islamist Justice and Development Party (AKP).
Erdogan's candidate lost. The winner, opposition candidate Ekrem Imamoglu, had narrowly defeated an AKP candidate in an earlier election in March, but in what now appears to have been a massive strategic blunder, the Turkish government called for a do-over. The specter of the president nullfying city elections may have angered voters, who this time handed Imamoglu an even bigger win, with about 54% of the vote.
The AKP candidate conceded defeat and Erdogan congratulated Imamoglu. Turkish democracy, although weakened by Erdogan's rule, clings to life.
Istanbul is one of the world's most populous cities and dominates the social and political life of Turkey, a NATO member linking Europe and Asia, the West and Islam. Erdogan's rise to power can be traced to his own election as Istanbul mayor in 1994 and his widely lauded performance in office, curbing pollution and traffic.
Enter the Fray: First takes on the news of the minute »
But he was imprisoned and forced to relinquish his position for publicly reciting religious verses. Released, he became prime minister in 2003 and was elected president in 2014 — and consolidated his power through crackdowns on press freedoms and purges of judges and the military. His government continues to imprison dissenters for what Erdogan describes as their role in a 2016 coup attempt. Tens of thousands of people have been arrested in connection with the coup.
Popular sovereignty's most serious challenge is built within it. Voters are prone to nationalism and on occasion embrace strongmen who consolidate their power by whittling away human rights and liberties, sometimes through the electoral process. In Turkey, for example, Erdogan tightened his grip on the country in 2017 by pushing through a constitutional referendum vastly strengthening the powers of his office.
Once lost, free speech and a free press, and an independent legislature and judiciary, are difficult to regain. Elections give citizens and observers alike the comfort of democratic rituals, but their power and authenticity are tested most when they allow voters to repudiate their rulers.
Modern Turkey has been pockmarked by military takeovers and now by the elected president's authoritarian rule. What was so troubling about the March elections was Erdogan's ability to pressure election officials to throw out the results. But apparently even he was not strong enough to sweep away the decisive victory of Imamoglu and his Republican People's Party over the AKP's Binali Yildirim. That's an encouraging sign for freedom in Turkey. It should also provide hope amid populist rollbacks Hungary, Poland, Italy and other democratic nations that have proven all too willing to relinquish — at least temporarily — the power to dissent.
Follow the Opinion section on Twitter @latimesopinion and Facebook
---
Life is stressful. Our weekly mental wellness newsletter can help.
You may occasionally receive promotional content from the Los Angeles Times.