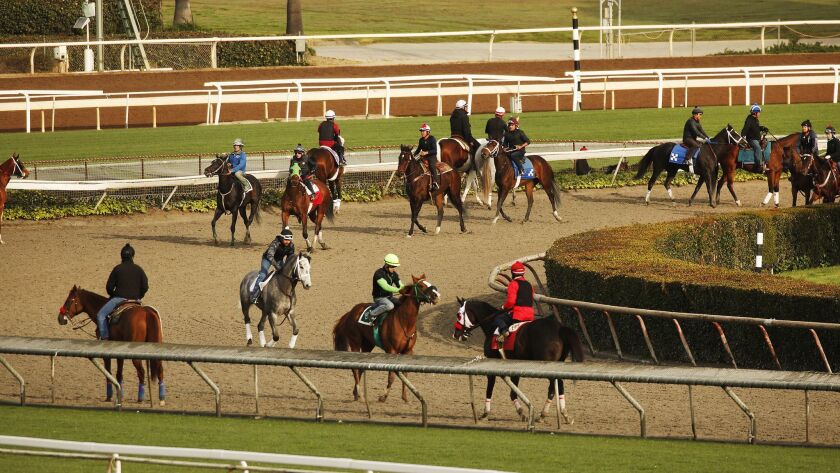 It was extremely troubling that 21 horses died in relatively short order at the venerable Santa Anita Park before management finally closed its tracks to all racing or training on March 5. But it's absolutely unconscionable that the park reopened less than a week later for training — only to have a 22nd horse die.
The filly, Princess Lili B, broke both her front legs in training Thursday morning and had to be euthanized. Hours after the horse's death, the owners of Santa Anita called the deaths "beyond heartbreaking" (as if anyone could possible disagree) and issued sweeping new restrictions on treating horses with drugs — including a complete ban on race day drugs; an overall ban on Lasix, the commonly used race day diuretic; and new rules on the use of anti-inflammatory drugs. The park also vowed to invest in diagnostic equipment to aid in the early detection of pre-existing conditions in racehorses.
This is a welcome, landmark change in a sport long dogged by doping scandals in which horses were medicated so they could run without pain. On Thursday, the co-chairs of the Congressional Horse Caucus re-introduced H.R. 1754, the Horse Racing Integrity Act, calling for a federal ban on all drugs within 24 hours of a race and other regulations on medications. Santa Anita officials say they know of no other race park in the country with such strict new drug standards for horses.
Enter the Fray: First takes on the news of the minute »
But even if the changes are welcome, the fact is that there's no reason to believe so far that the deaths were the result of medication. Track officials have not said publicly that there's a link. Kitty Block, chief executive of the Humane Society of the United States, has called on the park to conduct an investigation into whether drugs played a role in any of the deaths.
What's more, officials have set a tentative date to resume racing on March 22 even though they have offered no explanation for what did cause the deaths. If drugs might have played a role, why not, at the very least, wait to reopen the park until the new medication rules are completely in effect?
It's true that nearly 200 horses trained without incident after the re-opening. But given the mystery of what everyone has called an extraordinary cluster of deaths, shouldn't the park have remained closed until officials came closer to a satisfactory explanation?
Last week, after the 21st death, Santa Anita officials said the deaths were horrible. After the 22nd death, they put out a statement vowing to "do right by the horse." If another horse dies next week, what will they say in that statement?
Follow the Opinion section on Twitter @latimesopinion or Facebook
---