Editorial: Scooters are good for the transportation system. Safe scooters are better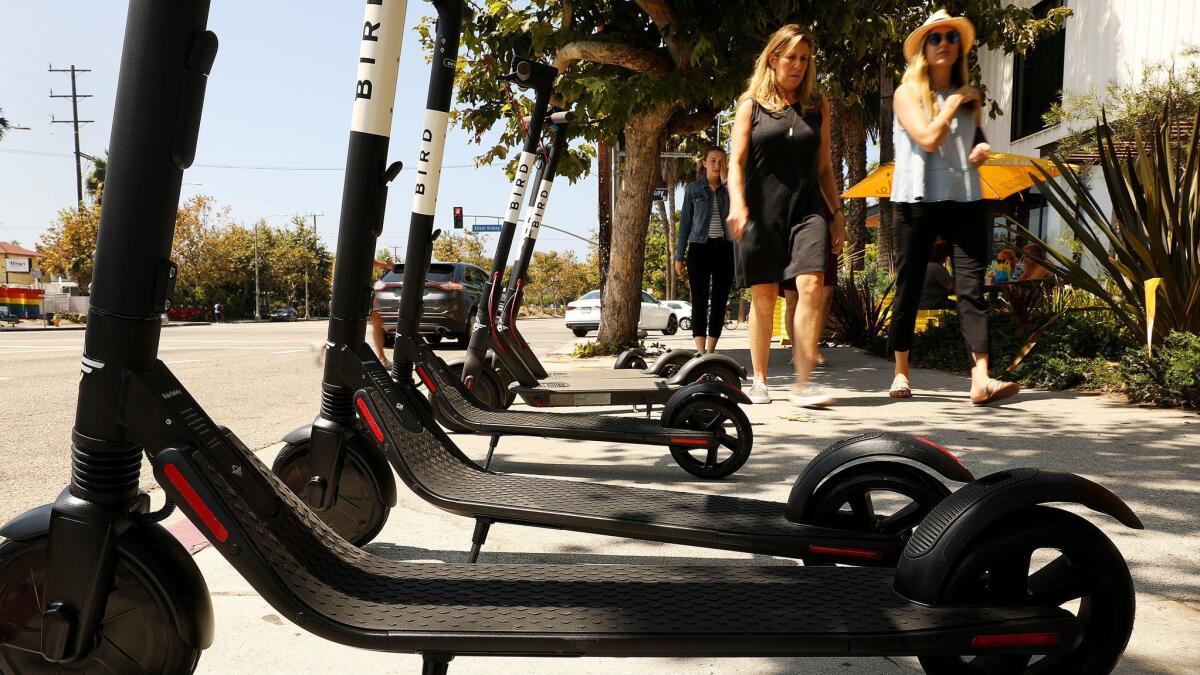 There have been electric scooters for rent on the streets of Los Angeles for only about a year, but they have already been declared a menace to society and an urban scourge. They've been blamed for causing chaos on the roads and sidewalks, and now a class-action lawsuit alleges that the two largest shared e-scooter companies — Bird and Lime — are guilty of "aiding and abetting assault."
The lawsuit contends that the companies were grossly negligent when they dumped thousands of scooters onto streets and sidewalks without first seeking approval from local authorities, and without regard for the safety and welfare of the public. As a result, says the complaint, scores, if not hundreds, of riders and pedestrians have been injured by scooters.
The plaintiffs are asking the court to consider a variety of remedies, ranging from prohibiting Bird and Lime from deploying scooters in California to, at the very least, requiring the companies to put warnings and more-thorough instructions on them.
A regulatory system that should make for safer, more responsible scootering is beginning to emerge.
That the major scooter companies would be dragged into court was predictable — and is probably deserved, up to a point. The sudden deployment of so many motorized scooters, unfamiliar and unregulated, followed the Silicon Valley better-to-ask-forgiveness-than-permission model: The companies rolled into towns and dropped their vehicles on public streets without a care as to rules or permits.
Riders liked them from the start, creating a sort-of grassroots pro-scooter lobby. Others, including pedestrians and local businesses, complained that the scooters were dangerous and that they cluttered the sidewalks. Forced to react, cities began developing rules far faster than they usually would; now, a regulatory system that should make for safer, more responsible scootering is beginning to emerge.
That's good. Scooters have enormous potential to help transform the urban transportation system. They offer a convenient, affordable way to travel short distances without getting in a emission-spewing car. They're helping fill the "first-mile, last-mile" gap between peoples' homes and jobs — and their nearest transit stations. The scooters are building a constituency of riders who can advocate for protected lanes and for reconceived road designs that make the streets safer for scooters riders, bicyclists and pedestrians.
For all those reasons, it would be a terrible loss if this class-action lawsuit (and the others that will assuredly follow) were to quash the nascent scooter industry. The Los Angeles and Santa Monica-based attorneys who filed the lawsuit insist their goal is not to ban scooters, but rather to force the companies to act more responsibly toward their customers and the broader public. The suit also names scooter manufacturers Xiaomi United States and Segway as defendants.
It's not reasonable to hold scooter companies responsible for all the bad behavior of riders, such as those who willfully ignore the rules of the road or ride carelessly on the sidewalk (where motorized scooters are already prohibited by law.) However, it is perfectly fair to demand that scooter companies do more to educate their users on the rules of the road and that they take steps to curtail bad behavior by riders. Scooters, for example, could be outfitted with license plates or some other identifier so it would be easier to report dangerous users or to catch a hit-and-run rider.
The lawsuit also alleges that Bird and Lime are putting scooters on the road that are defective or damaged, or in some cases using models that were never intended for such intensive use. One plaintiff said he was riding a scooter when the accelerator locked up, causing him to lose control and fall off. There have been reports of defective brakes and damage inflicted by anti-scooter vigilantes.
Enter the Fray: First takes on the news of the minute from L.A. Times Opinion »
The attorneys who filed the lawsuit said they also plan to challenge the companies' user contracts, which require riders to scroll through lengthy and complicated legal documents and which strictly limit the companies' liability if there are crashes or injuries.
If scooter companies hope to brand themselves as solutions to urban traffic woes, they will have to manage and maintain their fleets with the same care as a public transit agency. Some of the complaints raised in this lawsuit will resolve themselves as the scooters become less of a novelty and more of a regular mode of transportation.
Ultimately, it is possible to see scooters as a valuable innovation that can help move people out of their polluting, traffic-clogging cars — while also demanding that the companies that rent scooters do so in a manner that is safe and responsible.
Follow the Opinion section on Twitter @latimesopinion and Facebook
A cure for the common opinion
Get thought-provoking perspectives with our weekly newsletter.
You may occasionally receive promotional content from the Los Angeles Times.