Editorial: It's truth or consequences time for Jeff Sessions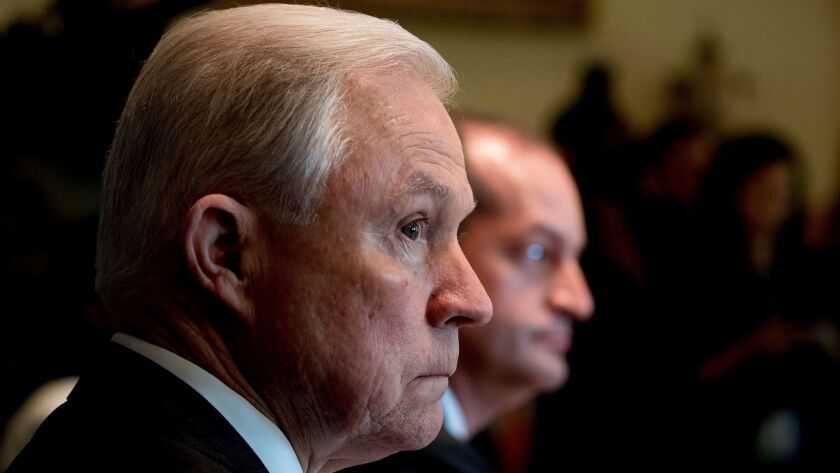 On Tuesday, members of the Senate Intelligence Committee need to pin Atty. Gen. Jeff Sessions down about his role in the firing of FBI Director James B. Comey and other matters that remain murky.
On May 9, Sessions wrote a letter to President Trump urging Comey's dismissal "based on my evaluation, and for the reasons expressed by the deputy attorney general in the attached memorandum." The memo he referred to by Deputy Atty. Gen Rod Rosenstein faulted Comey for the way he handled the Hillary Clinton email investigation.
Yet Trump later said that "I was going to fire [Comey] regardless of [the Justice Department's] recommendation" and that he had "this Russia thing" on his mind when he made the decision. Did Sessions, who has recused himself from any investigation connected to last year's election campaigns, know this when he wrote his letter to Trump? Did he assign Rosenstein to write the memo used to justify Comey's dismissal?
The former director said that on Feb. 14, when Trump shooed various participants in a meeting out of the Oval Office, "the attorney general lingered by my chair, but the president thanked him and said he wanted to speak only with me." Did Sessions have an inkling that Trump had an improper reason for wanting to talk to Comey alone? (According to Comey, Trump in that conversation indicated that he wanted him to shut down the investigation of former national security advisor Michael Flynn.)
Comey also testified that shortly after that meeting, he told Sessions that being left alone with Trump was inappropriate and should never happen again. Sessions, Comey said, "did not reply."
But a Justice Department statement characterized that conversation differently: Sessions "was not silent" and agreed that proper procedures needed to be followed. That's a major discrepancy.
Sessions was a less than forthcoming witness at his confirmation hearings. This time senators must press Sessions to be explicit and exhaustive in his answers.
Follow the Opinion section on Twitter @latimesopinionand Facebook
---
Life is stressful. Our weekly mental wellness newsletter can help.
You may occasionally receive promotional content from the Los Angeles Times.