Endorsement: Loraine Lundquist, an astrophysicist, would bring fresh ideas to City Council District 12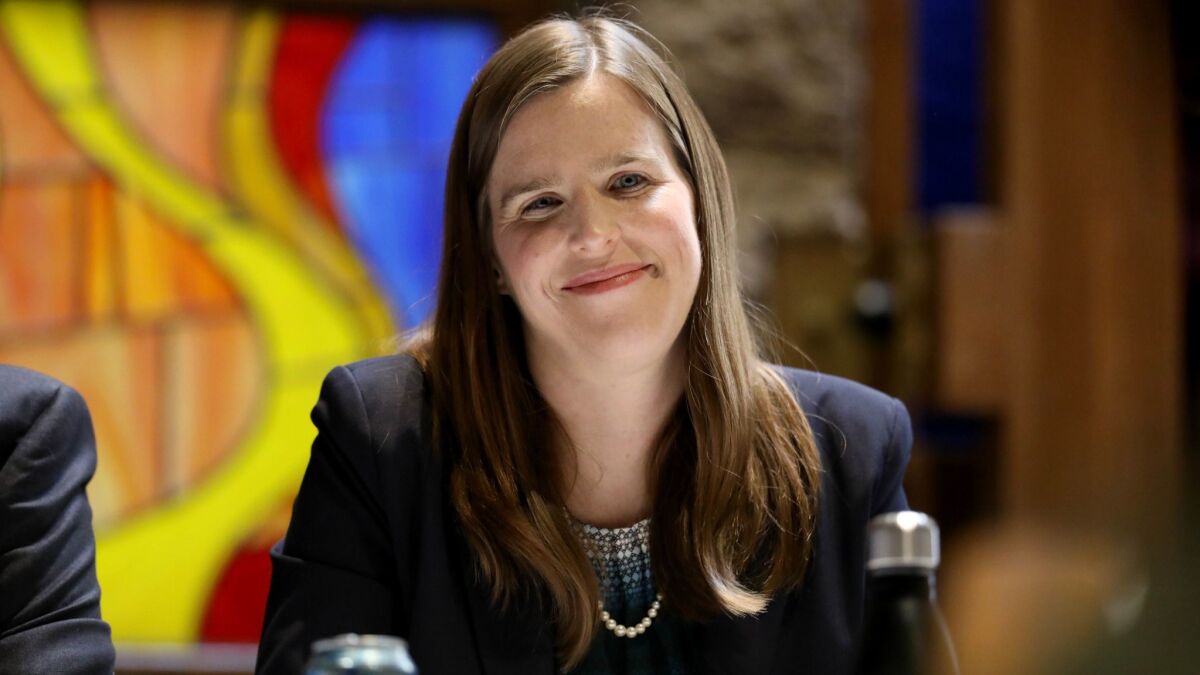 You might not know it from traveling across the far northwest reaches of Los Angeles, but there's a City Council election coming up there on June 4. This special election is to fill the seat left open when Councilman Mitch Englander left the job to become a lobbyist with a sports and entertainment firm.
Because this was a surprise vacancy and a hastily scheduled special election, the race has been a scramble among 15 candidates, many of them grassroots community leaders, to raise money and knock on doors across one of the largest council districts in Los Angeles.
Covering Northridge, Granada Hills, Porter Ranch, Chatsworth and West Hills, Council District 12 is more suburban and affluent than the city as whole. But it isn't immune to the problems facing more urban areas of L.A. There's a shortage of affordable housing. Traffic is getting worse, commute times are longer and the streets aren't safe enough for bicyclists and pedestrians. Homelessness is overwhelmingly the top concern of residents and is much-discussed by the candidates.
Lest you think global climate change is not a City Hall issue, consider how a warming planet is already affecting Los Angeles neighborhoods.
Yet while homelessness is top-of-mind for residents, the council district under Englander (and since his departure) has been extremely slow to create homeless housing. In fact, CD 12 is the only district in the city that has not approved the construction of a single supportive housing unit. Nor has the district found a location for a "bridge" shelter, as requested a year ago by Mayor Eric Garcetti.
Yes, of course, it's hard to site homeless housing and, yes, there are always community concerns about shelters. But the job of a council member is to confront those challenges head on, work to build consensus and to lead the community toward solutions — on homelessness and all the thorny issues the city grapples with.
With this special election, voters have a chance for a fresh start. Council District 12 needs a committed, creative council member with the fortitude to tackle the challenges of the district and the city as a whole. The best person for that job is Loraine Lundquist.
Lundquist is a member of the local neighborhood council, an environmental activist in the community and — a rarity in local politics — an astrophysicist. After becoming a mother, Lundquist said she grew increasingly worried about the devastating impact of a warming planet and decided to focus her career and activism on climate change.
She's on the faculty of Cal State Northridge's Institute for Sustainability, and she's served on the Los Angeles Department of Water and Power's community advisory board, nudging the utility to invest in more renewable energy sooner. She was an early advocate to stop fracking in the hills north of Porter Ranch and, after the Aliso Canyon blowout — the worst methane leak in U.S. history — she became a leading advocate of weaning the city off natural gas and shutting down the natural gas storage field.
Lest you think global climate change is not a City Hall issue, consider how a warming planet is already affecting Los Angeles neighborhoods — more intense wildfires, drought and heat waves — and how decisions made at the local level can ease or worsen the environmental crisis. Transportation is California's largest source of greenhouse gases. It's local elected officials who ultimately decide whether cities are walkable, bike-able, transit-friendly communities, or whether they have the infrastructure to support the transition to zero-emission vehicles. Lundquist pushed the city to require that new developments be built ready for electric car charging, and she wants the city to expand its bike network by developing paths along flood control channels. With her experience as an academic and advocate, she would be a persuasive voice in the community and on the City Council to keep climate change front and center in decision making.
Enter the Fray: First takes on the news of the minute »
On homelessness, Lundquist — like most of the other candidates in the race — has committed to building more supportive housing and shelters. She has served as the Northridge East Neighborhood Council's homeless liaison. She believes that by listening to and addressing community concerns, she can build support for homeless housing. But ultimately, she said, "We have to stand up and be courageous."
There are several other notable candidates in the race, including lawyer and former airport commissioner Jeff Daar, who wants to make it easier to do business and solve city problems by reforming City Hall bureaucracy; Frank Ferry, who brings years of governing experience from Santa Clarita; and Stella Maloyan, an executive for a left-leaning nonprofit organization.
Also in the race is Englander's former chief of staff, John Lee, who has 14 years of experience working for the council office. Lee would be the third chief of staff elected to fill the CD 12 seat — Englander succeeded his boss, Greig Smith, who was elected when his boss, Hal Bernson, left office.
Experience in government matters, but so do other qualifications, and sometimes the community needs new blood. Lundquist would bring a fresh perspective from the North Valley to City Hall.
Follow the Opinion section on Twitter @latimesopinion and Facebook.
Our six-week newsletter will help you make the right decision for you and your property.
You may occasionally receive promotional content from the Los Angeles Times.