Alas, there will be no billionaire presidential cage match in 2020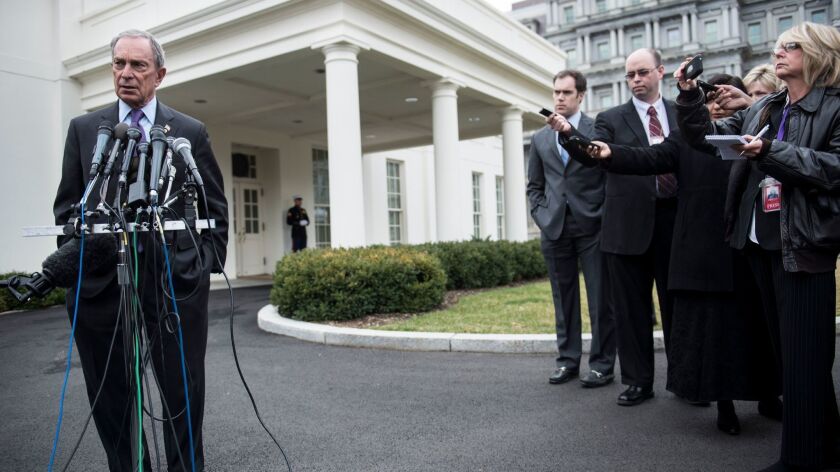 Former New York Mayor Michael Bloomberg made the sort of decision Tuesday that helps explain why he's still wealthy.
Having assembled a campaign team and tested the waters, the Democrat-turned-Republican-turned-independent-turned-Democrat determined that his chances of winning the Democratic nomination for president in 2020 were too slim to be worth committing any portion of his sizable fortune. So he said he would pour money instead into the effort to elect a Democrat to the White House next year, while also working on legislation related to climate change.
Like just about everyone in the center and on the left, Bloomberg was confident that he could beat President Trump. And it certainly would have been entertaining to see two rich New Yorkers — one articulate and quick-witted, the other, err, not — square off on the presidential debate stage.
But Democrats weren't likely to rally behind a white male billionaire as their standard-bearer, especially not one who was something of a law-and-order mayor (not to the Rudy Giuliani extent, but still). Bloomberg's polling evidently told him that as well.
Enter the Fray: First takes on the news of the minute »
Still, Democrats can certainly use more center-leaning, business-steeped candidates like Bloomberg to help rebut the narrative that Trump is advancing about the party being taken over by socialists and extremists.
As a successful entrepreneur who made his billions off the financial news organization that bears his name, Bloomberg's experience gives him more credibility on financial, tax and regulatory issues than the many career public servants in the race possess. And although he supported some nanny-state initiatives (remember his attempt to ban Big Gulp-sized sugary drinks?), he looks like a National Review editor in comparison to his uber-liberal successor, Bill de Blasio.
There are other center-leaning Democrats in the race, and it's possible they'll have better ideas than Bloomberg. Sen. Amy Klobuchar (D-Minn.) is one. Another is former Rep. John Delaney (D-Md.). Former Vice President Joe Biden would be a third, if he jumps in.
Progressives are fond of saying that their wing of the party is where all the energy resides. But a Gallup poll in November found that 54% of the Democrats surveyed wanted their party to move toward the middle, compared to 41% who wanted it to move to the left. And all the talk by liberal Democrats about major governmental interventions into healthcare, energy and other arenas only feeds the "socialist" canard that Trump wants to run against next year.
Even if he or she doesn't win the nomination, a prominent, credible centrist in the Democratic primaries could help keep the party tethered to a real-world view of how the economy works, the importance of incorporating market forces to help solve the major problems of the day, and the need to rein in the burgeoning federal debt. That perspective would be nice to have in the mix, now that some on the left and the right are arguing that federal deficits no longer matter and fiscal responsibility is just so 20th century. Such a voice may still emerge in the party, but it won't be Bloomberg's.
---
A cure for the common opinion
Get thought-provoking perspectives with our weekly newsletter.
You may occasionally receive promotional content from the Los Angeles Times.