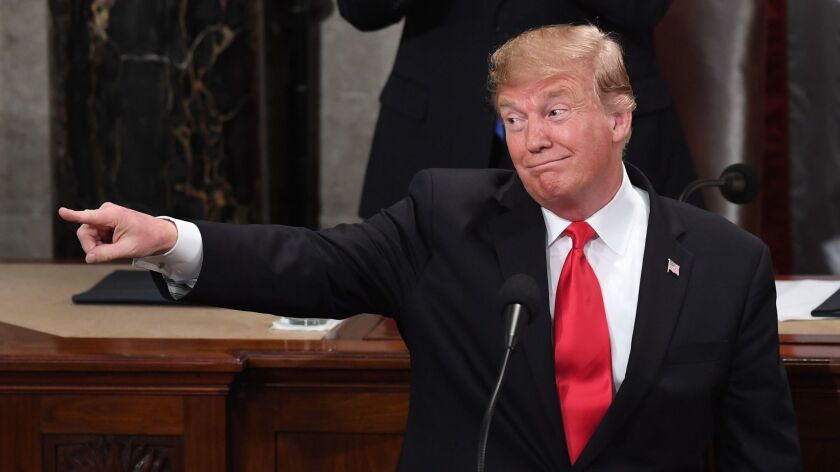 Suckers!
As predicted, President Trump plans to declare a national emergency in order to override parts of the deal congressional negotiators struck when they hammered out a government funding bill for the remainder of fiscal 2019.
In a statement issued Thursday afternoon, White House Press Secretary Sarah Huckabee Sanders said, "President Trump will sign the government funding bill, and as he has stated before, he will also take other executive action — including [declaring] a national emergency — to ensure we stop the national security and humanitarian crisis at the border."
Exactly what steps the president will take have yet to be revealed, but it seems certain that he will shift dollars from previously approved projects into his "big, beautiful wall," or as Democrats prefer to call it, physical barriers at the border. Which is where the sucker part comes in.
Enter the Fray: First takes on the news of the minute »
Since funding for nine federal departments and dozens of agencies ran out in mid-December, the central point in dispute between congressional Democrats and Trump (and his allies in Congress) has been how much to spend on border security. In particular, Trump demanded large increases in funding to build his wall project, detain immigrants awaiting potential deportation, interdict drug smugglers at ports of entry and increase surveillance at the border, among other related programs.
Negotiations began in earnest last month after Trump agreed to end the longest-on-record government shutdown he had triggered. Democrats succeeded in holding the line on one key point, as Republicans agreed to include a little less for physical barriers than a bipartisan Senate group had proposed in December (close to $1.4 billion instead of $1.6 billion). But they agreed to an 11% increase in detention beds, while also putting more money into surveillance, the Border Patrol and Immigration and Customs Enforcement — all wins for Trump.
And now, by declaring a national security emergency where none exists — remember, arrests at the border are far lower than they were a decade ago — Trump will seize the federal purse and, presumably, write himself a giant check for the border wall.
Think about this for a moment. Presidents are forced to compromise with Congress all the time, even when their party controls both of its chambers. When they don't get their way, sometimes they resort to executive orders to forge ahead without lawmakers' approval — and in so doing blur the separation of powers. Witness how the Obama administration found money for Obamacare's out-of-pocket subsidies after Congress failed to provide it.
Republicans were so upset about this, they sued and persuaded a federal judge to stop federal money from flowing to the subsidies without a congressional appropriation. Here, Trump is trying to give himself a veneer of constitutionality by using his almost unlimited power to declare a national emergency. But there's no getting around the fact that he is doing so to circumvent Congress' exclusive power to spend federal dollars.
With some luck, federal judges will again see through the pretext and stop Trump's effort to usurp lawmakers' authority. If they don't, Trump will have found a way to play Congress for suckers from now until he leaves the Oval Office.
---