Op-Ed: To fight Ebola, create a Health Workforce Reserve force
Sanitized gloves and boots hang to dry as a burial team collects Ebola victims from a Ministry of Health treatment center for cremation on Oct. 2 in Monrovia, Liberia.
(John Moore / Getty Images)
Medical personnel at the Ebola treatment center at Island hospital in Monrovia, Liberia, disinfect people who had brought patients suspected of having the Ebola virus on Oct. 2.
(Pascal Guyot / AFP/Getty Images)
A man transports a possible Ebola victim in a wheelbarrow on Oct. 2 at a treatment center at Island hospital in Monrovia, Liberia.
(Pascal Guyot / AFP/Getty Images)
A health worker attends to a girl at the Doctors Without Borders Ebola treatment unit in Monrovia, Liberia.
(Pascal Guyot / AFP/Getty Images)
Markers for the graves of Ebola victims await placement in Bong County, Liberia.
(Robyn Dixon / Los Angeles Times)
Nurses receive training from the World Health organization on how to use equipment to protect themselves from Ebola in the Sierra Leone capital, Freetown, on Sept. 18.
(Michael Duff / Associated Press)
A burial team, clad in protective gear, carries the body of a child at the International Medical Corps Ebola treatment unit in Bong County, Liberia. The girl, who watched her mother grow sick and die of the virus, died alone and terrified, workers said.
(Robyn Dixon / Los Angeles Times)
Medical staff members in protective suits work in the high-risk Ebola area of the ELWA Hospital in Monrovia, Liberia.
(Dominque Faget / AFP/Getty Images)
Traffic is stopped at a Guinean security force roadblock to screen people for symptoms of Ebola near the town of Forecariah, Guinea.
(Youssouf Bah / Associated Press)
A health worker looking for signs of Ebola checks a man's temperature at a roadblock run by Guinean security forces outside the town of Forecariah, Guinea.
(Youssouf Bah / Associated Press)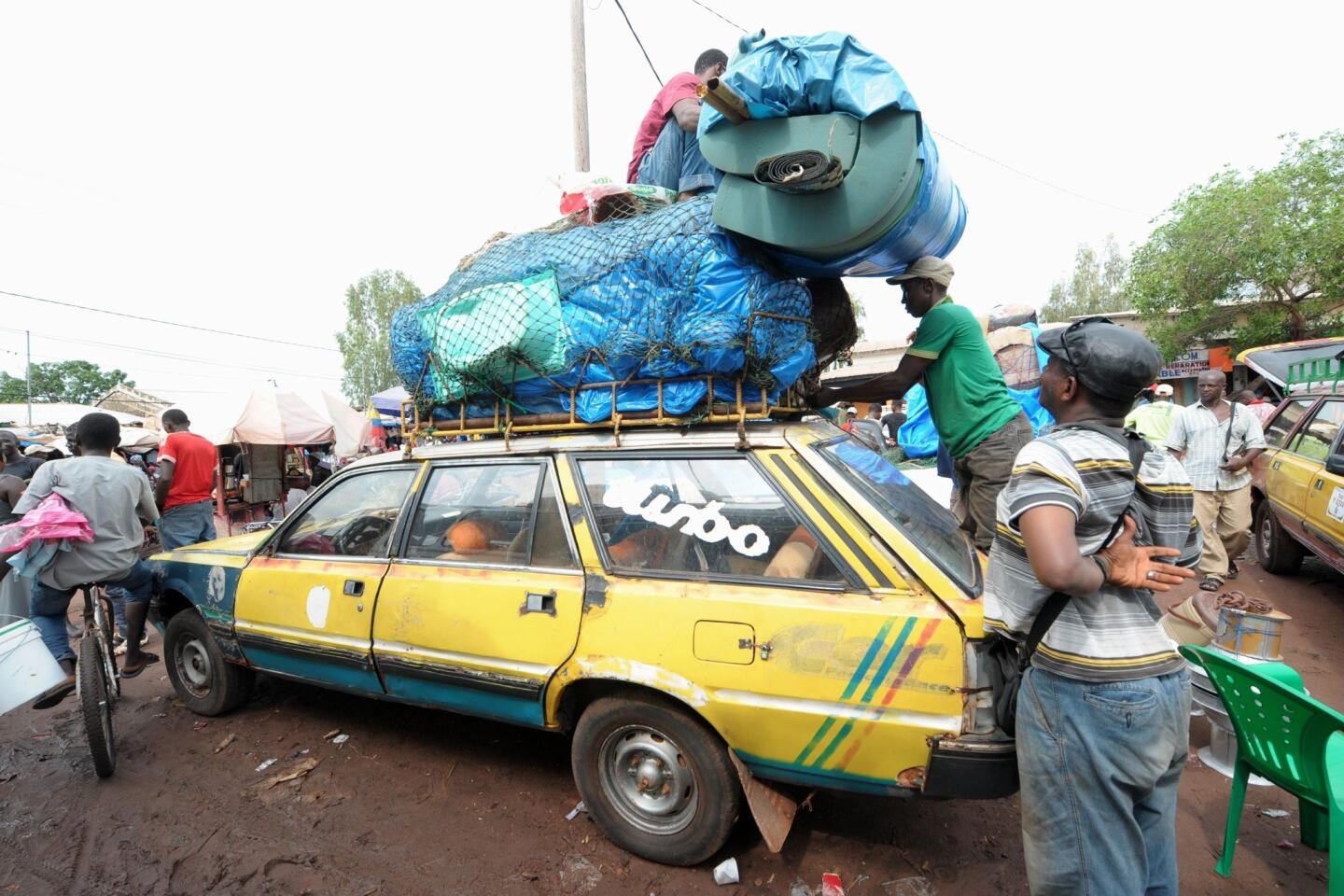 A vehicle loaded with household items pauses at the border town of Diaobe in Senegal's southern border region as people prepare to drive into Guinea. The Ebola epidemic is spreading in West Africa, spurring people to flee.
(Seyllou / AFP/Getty Images)
A worker in a protective suit empties possibly Ebola-contaminated waste in a high-risk quarantine zone of the John F. Kennedy Memorial Medical Center in Monrovia, Liberia.
(Dominque Faget / AFP/Getty Images)
A man who was showing symptoms of possible Ebola listens as UNICEF health workers speak about Ebola prevention in New Kru Town, Liberia.
(John Moore / Getty Images)
A resident checks on a very sick Saah Exco, 10, in a Monrovia alley. The Liberian boy was one of a number of patients pulled from a holding center for suspected Ebola patients when the facility was overrun by a mob. A local clinic refused to treat him, residents said.
(John Moore / Getty Images)
Workers from the Liberian Ministry of Health disinfect themselves before burning the bodies of Ebola victims at a crematorium in Marshall, Liberia.
(John Moore / Getty Images)
A quarantine officer checks the body temperature of a passenger as a precaution against the Ebola virus at the Incheon International Airport in South Korea. South Korea has stepped up monitoring of citizens returning from West Africa.
(Choe Jae-koo / Associated Press)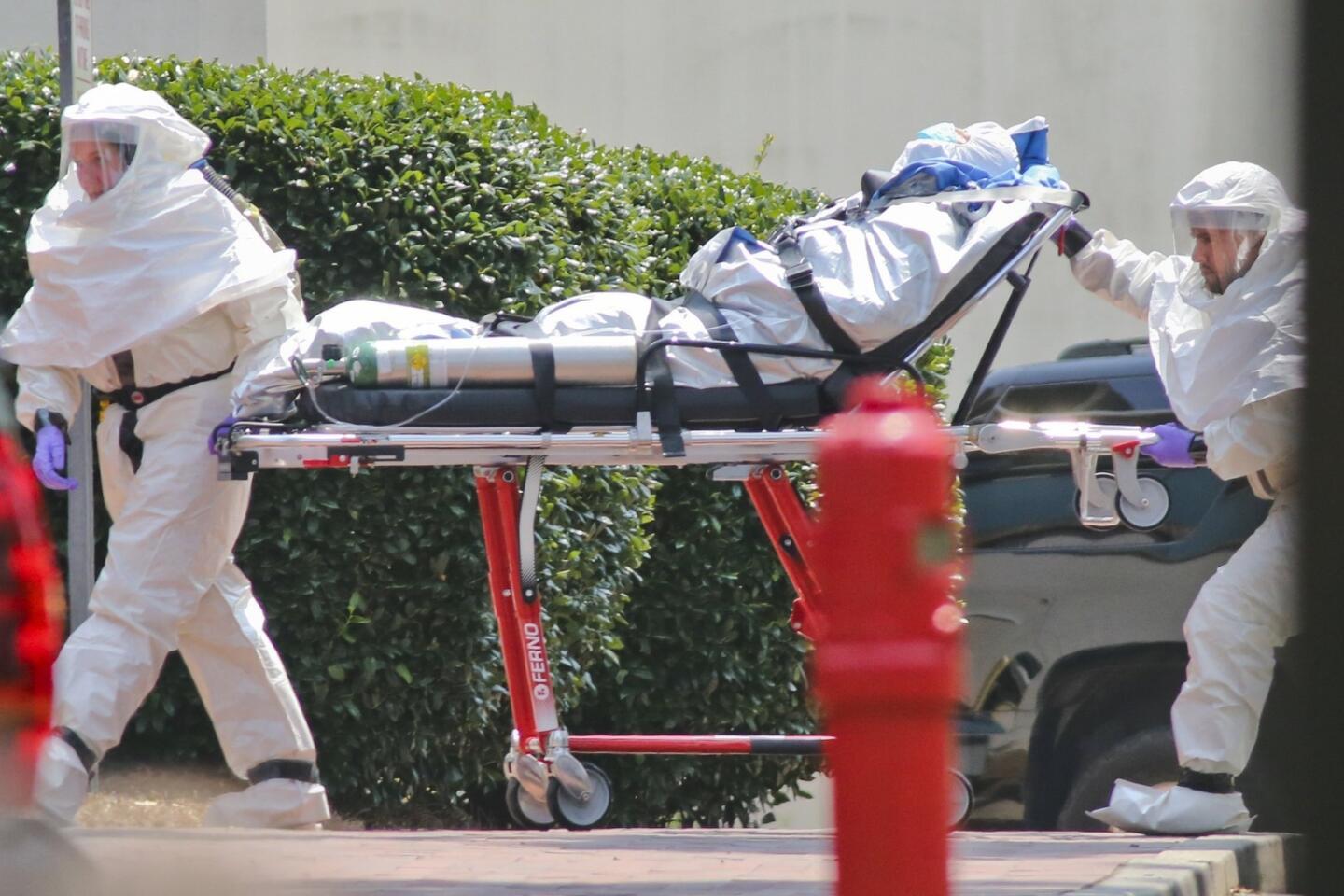 Ebola patient Nancy Writebol is wheeled into Emory University Hospital in Atlanta.
(John Spink /Atlanta Journal-Constitution / MCT)
A Nigerian crew waits to screen passengers for Ebola symptoms at the arrival hall of the international airport in Lagos.
(Sunday Alamba / Associated Press)
A 10-year-old boy is showered after being taken out of quarantine following his mother's death from the Ebola virus, at the Samaritan's Purse Ebola treatment center in Monrovia, Liberia.
(Zoom Dosso / AFP/Getty Images)
A nurse with Doctors Without Borders examines a patient at a center in Gueckedou, Guinea.
(Seyllou / AFP/Getty Images)
Social commentator Alfred Sirleaf, center rear, discusses the virus in Monrovia, Liberia.
(Jonathan Paye-Layleh / Associated Press)
A recent projection of the West Africa Ebola outbreak is that it now may take 12 to 18 months to control and will infect 100,000 people. President Obama announced the deployment of 3,000 military troops, more than a hundred Centers for Disease Control and Prevention personnel and millions of dollars to help stem the tide.
How did the outbreak get so out of control?
The answer is partly rooted in where Ebola struck. Health systems in the post-conflict states where it hit first and hardest were already in tatters. And the crisis has been exacerbated by a woeful shortage of healthcare workers worldwide: The World Health Organization estimates the shortage at 4 million workers, with the burden hitting Africa disproportionately. The continent has 25% of the global disease burden but only 3% of the world's health workers.
What this has meant is that, when crises strike, a patchwork of nongovernmental organizations and outside government agencies has tried to step in and fill the need. In this situation, for example, Doctors Without Borders, an NGO working in more than 60 countries, accounts for two-thirds of the treatment and care being provided in the regions affected by Ebola. The group's workers have shown incredible valor and stamina, but Doctors Without Borders alone cannot possibly control an epidemic of this size.
The epidemic is also beyond the ability of WHO to contain. In recent years, the agency's budget has been slashed and experienced personnel have left. WHO now operates on a budget that is less than the annual budget of many hospitals in the United States. In response to cutbacks, WHO has closed its pandemic and epidemic response team, which had proved enormously effective in outbreaks such as severe acute respiratory syndrome.
The world needs a new approach to solving massive international health crises and preventing future ones. Taking as our model the U.S. military reserve forces, we propose the formation of a Global Health Workforce Reserve, in which trained physicians and nurses with experience in low-resource settings enlist for a period of time. By joining the reserves, they would agree to be deployed when needed for epidemics and catastrophic events. Such a corps could be scaled up quickly and would be centrally managed by WHO or the United Nations.
Recruits would go through short-term boot camp training for disaster relief and outbreak management, then would attend occasional additional training during their enlistment. Given the interest in global health training programs in the last 10 years, as documented by the Consortium of Universities for Global Health, we think there would be no dearth of volunteers.
Indeed, healthcare workers swarmed to volunteer after the Haiti earthquake and Indonesian tsunami, but although the workers themselves were well-intentioned, efforts to use them were often disorganized and ineffective. Currently, the president of Doctors Without Borders is calling for emergency response teams from around the world to help in the battle against Ebola, and individuals, countries and NGOs are responding. But think how much more effective a centrally deployed Global Health Workforce Reserve would be in such a situation.
In the end, the Ebola crisis can't rely on scarce, untested drugs or vaccines, mass quarantines or even airdrops of personal protective gear. The reason the outbreak has turned into a tragedy is rooted in the region's fragile health systems and human resource shortages. The situation can't be addressed in the long run without addressing these fundamental structural deficiencies, which could be part of the job of a reserve corps.
In the same way that U.N. peacekeeping units help defuse tensions in unstable regions, these healthcare professionals could bolster scarce medical personnel and potentially offer a coordinated response to health catastrophes.
In the long term, it will be necessary to help poor countries build their own health systems, with trained domestic workforces able to prevent epidemics and provide humane care and treatment. That will take time and substantial resources. But in the interim, a Global Health Workforce Reserve would cost a tiny fraction of what is currently spent on international health assistance. The World Bank could take a leadership funding role, and WHO or the U.N. could house a central unit able to call up the reserve and deploy nurses and doctors.
The West African Ebola epidemic is a tragedy. But perhaps it can point the way, ultimately, to offering a sturdy medical lifeline to poor countries and preventing uncontrolled spread of epidemic diseases.
Michele Barry is senior associate dean for global health and director of the Center for Innovation in Global Health at Stanford University. Lawrence Gostin is a professor and director of the O'Neill Institute for National and Global Health Law at Georgetown University.
Follow the Opinion section on Twitter @latimesopinion
A cure for the common opinion
Get thought-provoking perspectives with our weekly newsletter.
You may occasionally receive promotional content from the Los Angeles Times.