Op-Ed: What we can finally tell our daughters after the Cosby conviction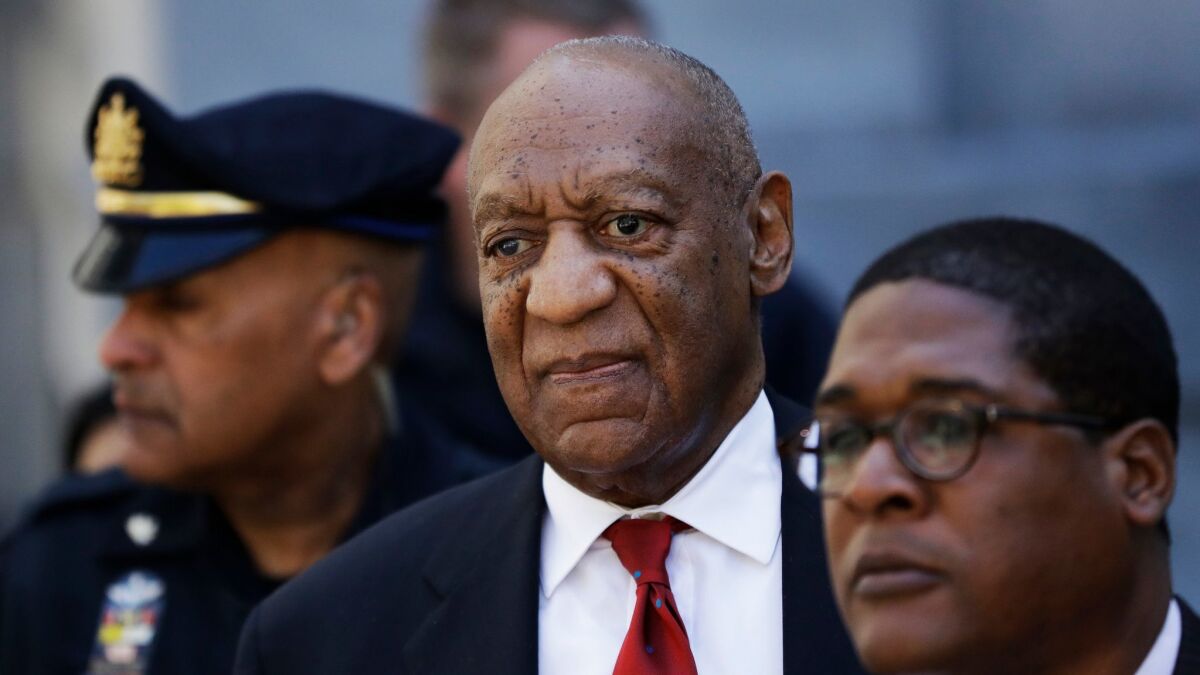 Last spring, when jury deliberations wore on and on during Bill Cosby's first trial on charges of sexual assault, reporters like me on the scene in Norristown, Pa., began to hear rumors of screaming fights in the jury room — and I believed them. Those 12 people had worked for more than 50 hours, and their faces bore the marks of their distress and frustration. But the hung jury and mistrial in June 2017 still came as a shock to me.
"Do you agree that there is a hopeless deadlock that cannot be resolved by further deliberation?" Yes, yes, yes… each juror replied.
It sounded like a death knell for even the hope of justice in cases of sexual assault. If this jury couldn't convict based on the evidence I'd seen presented — much of it in Cosby's own words from a prior deposition — then what could we expect of a future trial?
I despaired at the time, thinking that nothing will change; fearing that my daughters, even, might never see change.
I'd seen incontrovertible evidence collapse... The progress made by the #MeToo movement might not survive the hard realities of the courtroom.
Over the course of the trial and its outcome, I'd learned exactly why a woman who'd been badly harmed might choose to give up on the legal system, keep quiet and try to put it behind her. That's what 20-year-old actress Lachele Covington, who in 2000 became Cosby's very first public accuser, chose to do. Covington was treated abominably. The New York Post ran her story under the squawking headline: "Actress' Bombshell: 'Cos' Rubbed Me the Wrong Way."
Andrea Constand and her mother, Gianna, were called extortionists, liars and con artists during the first trial. Gianna Constand had to relive the experience of confronting Cosby on the phone in 2005, a bewildering two-and-a-half-hour conversation about the drugging and sexual assault of her daughter. "Mom, she even had an orgasm," Cosby told her. (Yes, he called her "Mom.") Andrea Constand had endured a roomful of strangers imagining every detail of her drugged and violated body, over and over again. And still they lost.
What if you were to "take arms against a sea of troubles, and by opposing" — nothing changes? Hamlet was young, and never entertained this possibility.
But I did, and I approached the news of Cosby's retrial, which began April 9, with a sense of dread.
By last fall, 62 of Cosby's alleged victims had come forward and five of them would be permitted to testify. Other new developments seemed to favor the prosecution, media reports suggested. But I'd already seen incontrovertible evidence collapse in a jury room, where anybody can claim a reasonable doubt. The progress made by the #MeToo movement might not survive the hard realities of the courtroom.
Thursday I was shocked for the second time, as this jury returned guilty verdicts against Cosby on all three counts of aggravated sexual assault. Dist. Atty. Kevin Steele, Andrea Constand, the jury — succeeded in demonstrating that wealth and position will no longer guarantee men the power to assault women with impunity.
It's been 14 years since Cosby drugged and sexually assaulted Andrea Constand. But in the 10 months between the first trial and the second, a revolution took place. Andrea Constand is the alpha and omega of that revolution. She gave hundreds of women the courage to tell their own stories, and she forced a nation to confront the reality of endemic sexual predation. Because she and her mother were so strong, the rest of us can tell our children: Look what happens when you tell the truth and are brave, you don't have to fail or be humiliated. You can seek justice, and you can win it.
Maria Bustillos is the editor-in-chief of the forthcoming popula.com.
Follow the Opinion section on Twitter @latimesopinionand Facebook
---
Life is stressful. Our weekly mental wellness newsletter can help.
You may occasionally receive promotional content from the Los Angeles Times.