Op-Ed: A 1963 Supreme Court decision transformed the U.S. justice system. Now it's threatened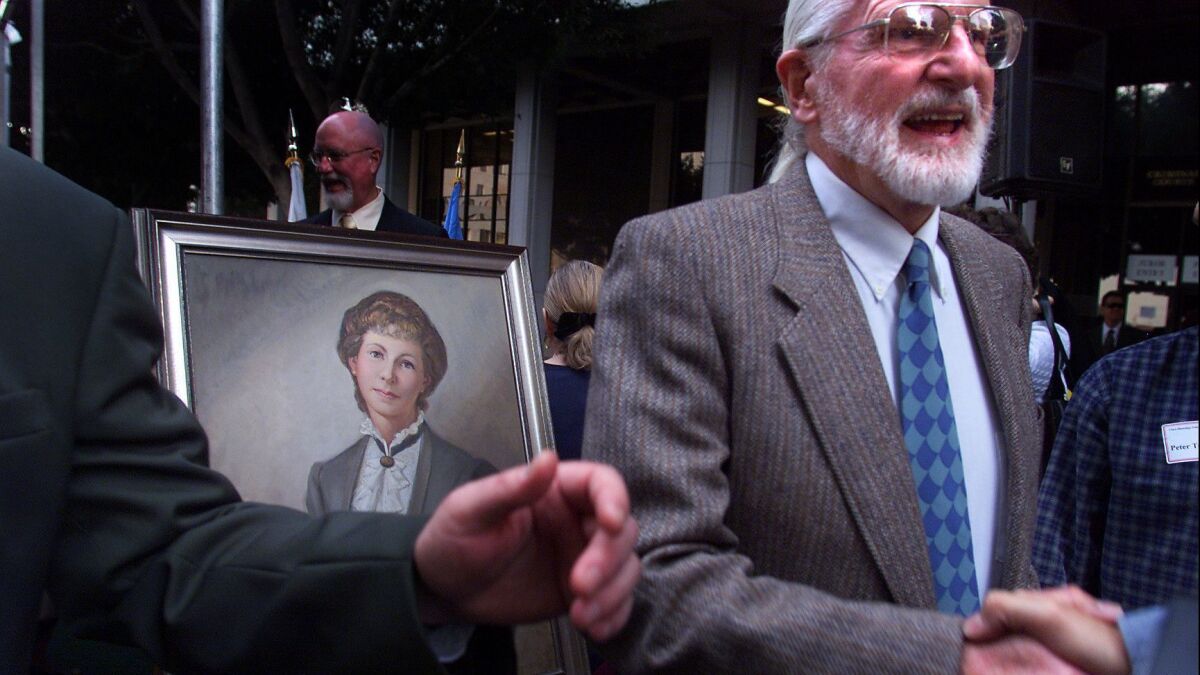 Each morning, I am reminded of a legacy as I walk past larger-than-life portraits of Clara Shortridge Foltz in the courthouse that bears her name in downtown Los Angeles.
Foltz broke down a lot of barriers during her lifetime. She was the first woman to practice law on the West Coast. On joining the Los Angeles County district attorney's office in 1910, she became the first female deputy district attorney in the nation. And her idea that all criminal defendants were entitled to legal representation, whether or not they could afford it, inspired the world's first public defender's office, which opened in Los Angeles in 1914.
The country as a whole didn't catch up to Los Angeles until decades later, when the Supreme Court ruled in the case of Gideon vs. Wainwright that "any person hauled into court, who is too poor to hire a lawyer, cannot be assured a fair trial unless counsel is provided for him."
The Gideon decision was handed down 56 years ago today, on March 18, 1963, and across the country, public defenders still commemorate the anniversary of that decision each year.
As a public defender, I see cases every day that would almost certainly result in injustice if defendants had to go into court alone.
Clarence Earl Gideon, the indigent Florida man who fought for the right to be represented by a lawyer, was arrested for allegedly breaking into a pool hall with the intention of committing petty larceny. He maintained his innocence from the start, and asked the court to appoint pro bono counsel. When the court refused, he represented himself at trial and was convicted and sentenced to five years in prison.
From prison, he wrote a letter to the U.S. Supreme Court declaring that his constitutional rights had been violated and asking the justices to take up the issue. They did, assigning future Supreme Court Justice Abe Fortas to represent him before the high court.
After his win in Washington, Gideon was returned to Florida and retried on the criminal charges. This time, with a lawyer to represent him, he was acquitted by a jury.
As a public defender, I see cases every day that would almost certainly result in injustice if defendants had to go into court alone.
One man I defended noticed hypodermic needles strewn over lawns where children played. He began collecting the needles and took them home to dispose of them. After a minor dispute, the vindictive manager in his apartment building called in police to search his room, where they found needles he had removed from neighborhood streets. He was arrested and charged with possession of drug paraphernalia.
In court, we presented his case, demonstrating the injustice of what had happened to a man trying to protect children in his community. He was acquitted.
I'll think about that this year on the anniversary of the Gideon decision, and about my many other clients who have demonstrated that they are so much more than the worst things they are accused of doing.
Enter the Fray: First takes on the news of the minute »
I'll also think about the potential threats to the precedent set in Gideon vs. Wainwright, including a dissenting opinion from a Supreme Court case last month, in which Justice Clarence Thomas questioned whether the court had been right in guaranteeing counsel to indigent people in the Gideon case.
Robert F. Kennedy was attorney general when the Wainwright case was decided in 1963, and he wrote this about it later that year:
"If an obscure Florida convict named Clarence Earl Gideon had not sat down in prison with a pencil and paper to write a letter to the Supreme Court, and if the court had not taken the trouble to look for merit in that one crude petition … the vast machinery of American law would have gone on functioning undisturbed. But Gideon did write that letter, the court did look into his case … and the whole course of legal history has been changed."
We can't let that change be undone.
Ricardo García is the Los Angeles County public defender.
---
Life is stressful. Our weekly mental wellness newsletter can help.
You may occasionally receive promotional content from the Los Angeles Times.