Op-Ed: Hello! It's 2018! We need televised debates between California's political candidates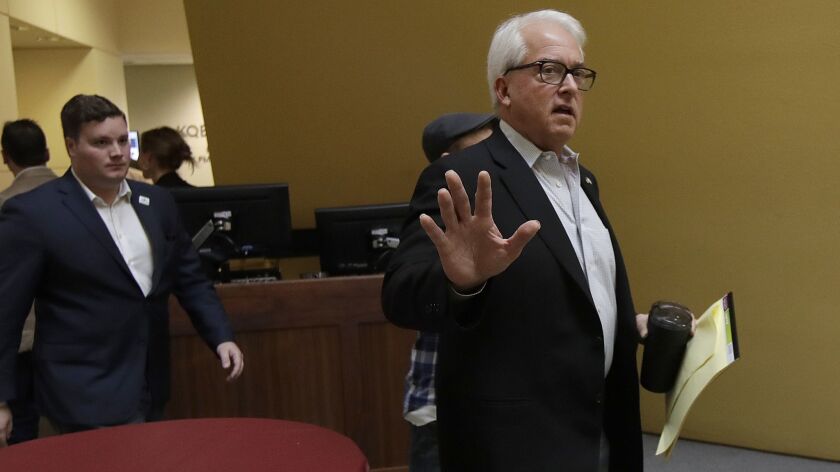 You may not have noticed, but there were no televised debates between the candidates running for the two most important elected offices in California this year.
Gavin Newsom, the Democratic lieutenant governor and current gubernatorial nominee, finally agreed to one debate with his Republican challenger, John Cox, which took place in early October on KQED, a public radio station in San Francisco.
Sen. Dianne Feinstein, who is seeking a fifth full term in the U.S. Senate, also agreed late in the game to a "conversation" with her challenger, state Sen. Kevin de León, that was moderated by the Public Policy Institute of California this month and made available by live stream.
But otherwise, the leading candidates in both races, Newsom and Feinstein, managed to avoid any major debates with their opponents, citing scheduling difficulties and previous commitments and offering just about every rationalization for minimizing their exposure to voters.
Most California voters did not get a chance to observe the candidates engage one another side by side.
As a result, most California voters did not get a chance to observe the candidates engage one another side by side. We didn't get a real opportunity to compare the nuances of their body language , their facial expressions and, most important, their less scripted views on a host of issues about which a television debate moderator would have asked.
This might fly in Rhode Island. But California is nearly 1,000 miles long, and home to some 40 million residents. Our state does not lend itself to retail campaigning, where candidates go door to door or meet with voters in small groups. Between continuous fundraising events and rallies, there's simply not enough time to conduct enough of these parochial activities for a significant portion of the state's voters to meet the candidates in person.
With no TV debates, voters are left to rely on press coverage. And though newspapers, radio news, local TV news and even social media cover some distance, they do not offer the same kind of exposure and opportunity to compare candidates that televised debates do.
There's a simple fix to this problem: When it reconvenes in December after the midterm election, the state Legislature should create a California Debate Commission.
The body could be composed of several members, perhaps five to seven, who have experience in politics. In election years when the governorship or U.S. Senate seats are on the ballot, the commission should plan and carry out three post-primary televised debates, to be held in different locations throughout the state. These debates ought to be broadcast live on TV across the state, but they should also be available for streaming any time thereafter.
Scheduling the debates should be done early in the year, which would allow the candidates sufficient time to clear their calendars. The commission should determine the debate lengths, formats, topics, moderators and any other elements related to the meetings. All these things should be done independent of candidate demands in order to protect the independence and integrity of the commission.
This idea is not new, by the way. Several states — including Utah, Washington and Ohio — already have their own versions of debate commissions.
To those who would argue that the state should not be in the debate business: Why not? California has seemingly endless rules for its political parties, for political campaigns and for financial reporting around such campaigns. These matters pertain mostly to the candidates for elected office in California and their election campaigns. Televised debates would benefit California's voters. It's only reasonable that the state meet this critical need.
Enter the Fray: First takes on the news of the minute from L.A. Times Opinion »
We can also expect resistance to creating a debate commission from candidates who happen to be incumbents or just comfortably ahead in the polls. Such candidates could retain the right to refrain from participating in televised debates — but they would do so at their political peril, especially if the commission places an empty chair bearing his or her name on stage.
California is not a typical state. It's the largest in the country, with the fifth-largest economy in the world. It's an incubator of new ideas that go on to transform the entire world, and which therefore warrant serious discussion.
Given California's role domestically and abroad, its elected officials have outsize power to shape policy and many lives. Californians deserve sufficient exposure to the individuals who seek those elected offices.
We should not have to ask. The candidates are asking for something far more precious, after all: our votes.
Larry N. Gerston is an emeritus professor of political science at San Jose State and the author of "Reviving Citizen Engagement."
Follow the Opinion section on Twitter @latimesopinion or Facebook
---
A cure for the common opinion
Get thought-provoking perspectives with our weekly newsletter.
You may occasionally receive promotional content from the Los Angeles Times.