Op-Ed: For Disneyland to regain goodwill in Anaheim, it needs to ensure the city benefits from its success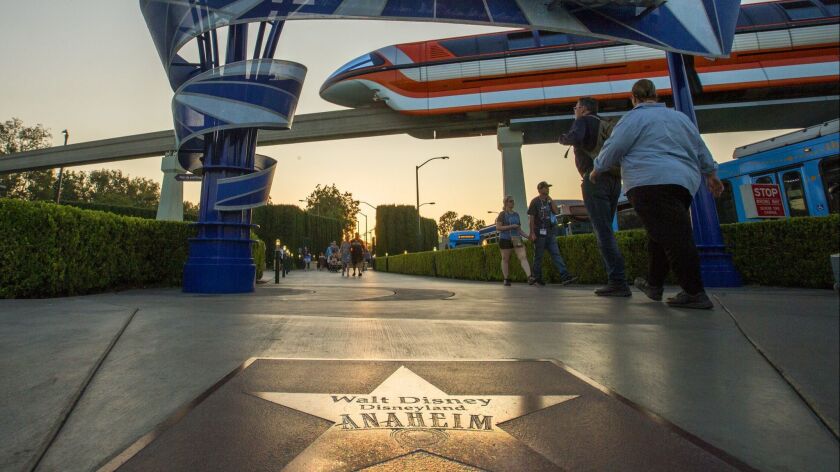 State and local governments spend about $45 billion each year on tax incentives to attract new businesses or encourage others to expand. The city of Anaheim was a big player in that game. In 1996, it agreed to spend $200 million for a parking garage and other infrastructure connected to an expansion of Disneyland. In 2015, it renewed a special exemption prohibiting a tax on Disneyland tickets. And in 2016, Anaheim offered Disney $267 million in incentives to build a new luxury hotel.
Then, last month Disneyland executives asked — and the city agreed — to undo those last two incentives, saying they'd become a "flash point." Indeed, come Nov. 6 Anaheim residents will vote on Measure L, a ballot initiative that would increase the minimum wage in the resort district.
In short order, Anaheim could flip from subsidizing Disneyland to increasing its costs. But it didn't have to work out like this, especially if Disney executives and Anaheim council members had both been smarter about how to structure incentives.
Anaheim should consider incentives that make Disneyland profit from improved life in Anaheim. A subsidy to build a luxury hotel does not do that.
It is questionable whether the Disney-Anaheim deals promoted additional economic growth or created new jobs. For instance, Disney built, and later expanded, its Grand Californian Hotel & Spa without an incentive. It made extensive renovations to the Disneyland Hotel in 2012, also without an incentive. Moreover, other firms built more than 1,000 hotel rooms in Anaheim in the last four years and none required a subsidy.
Research by economists into localized incentives also find they are minimally, if at all, effective. One study, for instance, compared counties that won large new plants with those that competed for them but lost out. The conclusion? Incentives induced small increases in new economic activity, but not enough to cover the expense to taxpayers. Another study found that employment growth was 3.7% slower at businesses that received incentives than those that hadn't.
If a firm chooses to build or expand in a city primarily because of incentives, it may not wind up where it would best thrive. I collected data on 82 firms that invested in new plants and factories between 1982 and 1993 and then looked at how well they fared over the next 17 years. In states that offered higher tax incentives, the plants were, if anything, slightly more likely to have closed down.
Even if tax incentives create jobs, those wages may go to workers who live elsewhere. A survey of unionized Disneyland Resort workers showed that only 10% of them live in Anaheim. If that's the case, it's Orange County that should provide the incentives, not the taxpayers of Anaheim, whose per capita income is about a third less than in the surrounding county. This also means that because so few Disneyland workers live in town, Anaheim won't see much upside if Measure L passes and wages go up.
What passing Measure L absolutely will do is increase Disneyland's costs. Furthermore, and perhaps more importantly, if Measure L passes, Disney has reason to fear that voters and civic leaders in Anaheim may adopt even more costly policies in the future. What can Disney do?
Enter the Fray: First takes on the news of the minute from L.A. Times Opinion »
If Disneyland wants to regain goodwill in Anaheim, it should focus on how the city can benefit from the theme park's success. A gate tax at Disneyland does precisely that. The more Anaheim helps Disneyland, the more tickets get sold, and the more revenue flows to the city. A $1 per ticket tax would bring in more than $18 million a year. With tax revenue like that at stake, local voters might even hesitate to pass Measure L because it might cause Disneyland to hike ticket prices, attract fewer visitors and reduce the city's take.
Likewise, Anaheim should consider incentives that would mean Disneyland profits from improved life in Anaheim. A subsidy to build a luxury hotel does not do that. But an incentive that grows with the number of jobs created — which is what Boston used to attract the General Electric headquarters — could accomplish that.
Amihai Glazer is a professor of economics at UC Irvine, where he directs the Program in Corporate Welfare.
Follow the Opinion section on Twitter @latimesopinionand Facebook
---
A cure for the common opinion
Get thought-provoking perspectives with our weekly newsletter.
You may occasionally receive promotional content from the Los Angeles Times.