Column: All the president's lying ladies — Hicks, Sanders and Conway — make news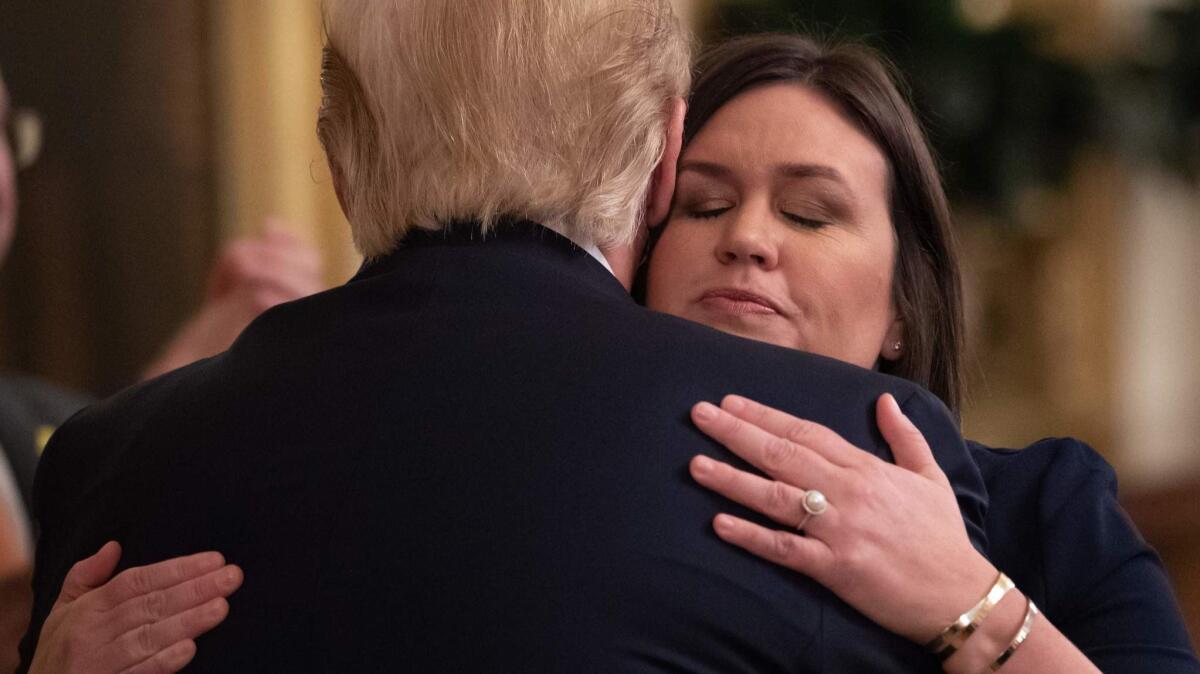 The Trump White House is a bit like Shakespeare summer camp: not enough substantial parts for the girls. The female roles at 1600 Pennsylvania Ave. are for craven ladies-in-waiting who are allotted very little moral agency, let alone opportunities for heroics. They subvert their ambitions to their overlord's; they lie, in short.
Yes, there's a Lady Macbeth, portrayed in Trumpworld as a waxen blond sleepwalker, a ghostly daughter-wife whose veins are certifiably free of the milk of human kindness. (Ivanka's understudy, the creepy Melania, has skipped so many rehearsals she's been written off.)
A shrewd, unholy trinity has settled for lesser roles: the liar-handmaidens Hope Hicks, Sarah Huckabee Sanders and Kellyanne Conway. The president, according to Michael Wolff's latest book, "Siege," likes to see these three in a "cat fight," in which each undermines the others as she competes to lie most robustly on his behalf.
Trump has often treated Sarah Huckabee Sanders as if she were the possession of her father, Mike Huckabee, on loan to him as a scullery maid.
The melancholic former White House Communications Director Hicks, choleric counselor Conway and splenetic Press Secretary Sanders aren't just complicit in the president's depravity. They have managed to advance it.
But the advantage this trio has over Lady Ivanka is that they can leave.
Indeed, Hicks swept out of the White House last year shortly after admitting to the Senate Intelligence Committee that she lied for Trump. Wolff writes that Hicks is still a regular anonymous source for reporters, to whom she slags off Conway and Sanders.
Hicks' departure also came not long after the president had reportedly blamed her for botching the cover-up of Rob Porter's gross ineligibility for his position as a presidential aide. Porter, you'll remember, had been kept on after his bosses saw photographic evidence that he was a domestic abuser. He was also Hicks' boyfriend.
In that case, Hicks didn't spin the truth well enough for Trump's taste. It was an uncharacteristic lapse. The Mueller report was plenty impressed by her knack for justice-obstruction, citing her attempt to bury grave misdeeds by Donald J. Trump Jr.
The lavishly tressed obstructress has now agreed to testify again, this time in a closed-door session before the House Judiciary Committee next week. Maddeningly, it's hard to imagine anything House Speaker Nancy Pelosi (D-San Francisco) might learn from Hicks' testimony that would convince her to begin a much-needed impeachment inquiry into the president.
On Thursday, Sanders announced she was following Hicks out the door. Sanders is known for her never-ending mendacity and her near-religious devotion to Trump, who, according to Wolff, calls her the "Huckabee Girl."
Indeed, Trump has often treated Sanders as if she were the possession of her father, Mike Huckabee, on loan to him as a scullery maid. Scullery for Trump includes, above all, mendacity. Sanders is featured in the Mueller report for her "slip of the tongue" — the claim that "countless" FBI agents disliked former FBI Director James B. Comey.
Not only was this fabrication part of Sanders' tireless effort to make it seem as though Trump is a normal law-and-order Republican (and not a carnie thug with well-documented contempt for the whole FBI), but it was also an effort to obfuscate Trump's reason for firing Comey. We all know it: to kill the Russia investigation.
Sanders seems to have seen two options in working for the president. She could affirmatively lie for him or flatly refuse to take questions, which would violate America's first principles. Lying, even when it's your job, carries risks. So nearly 100 days ago, Sanders shut down the White House's daily press briefings. Since then she's passed her time Instagramming it up in Japan and England, appearing on Fox News and jousting with reporters on her way in and out of the White House.
Conway, counselor to the president, hasn't left yet, but the Office of Special Counsel (not the Mueller group; a different special counsel) devoutly wishes she were gone. Her flagrant violations of the Hatch Act, which limits political activity by government workers, finally drew the watchdog agency's attention, which recommended Trump fire Conway as a repeat offender.
But just as Trump on Wednesday dismissed the FBI director as "wrong" to demand he report attempted foreign election interference, he is insisting the U.S. special counsel, his appointee, is wrong about Conway. She's staying put.
Enter the Fray: First takes on the news of the minute »
Maybe Trump can't bear to lose the last of the ladies who are willing to grind their legacies to dust lying for him. (There's a big roster of the no longer willing that includes deputy national security advisor K.T. McFarland, U.N. Ambassador Nikki Haley, professional wrestling impresario turned head of the Small Business Administration Linda McMahon, Homeland Security Secretary Kirstjen Nielsen and communications official Omarosa Manigault Newman.)
Why Conway doesn't make the leap on her own is something of a mystery. According to Wolff's book, she and her Trump-critic husband, George T. Conway III, "are of one mind about Trump … they hate him." George's open contempt for the president, according to Wolff, lets Kellyanne survive in their well-to-do anti-Trump neighborhood in Washington, where she is seen, despite her pronouncements on the White House lawn, as more an administration mole than a loyalist. An unconventionally cast Iago?
Certainly the female part that most needs a star turn in Washington also comes from "Othello" — Emilia, Desdemona's maid, because she has this line: "You told a lie, an odious, damned lie!/Upon my soul, a lie, a wicked lie!"
For heaven's sake, Nancy Pelosi, this is your cue.
Follow @page88 on Twitter
Follow the Opinion section on Twitter @latimesopinionand Facebook
A cure for the common opinion
Get thought-provoking perspectives with our weekly newsletter.
You may occasionally receive promotional content from the Los Angeles Times.