Op-Ed: ShakeAlertLA won't give you time to get prepared for a quake. So get yourself ready now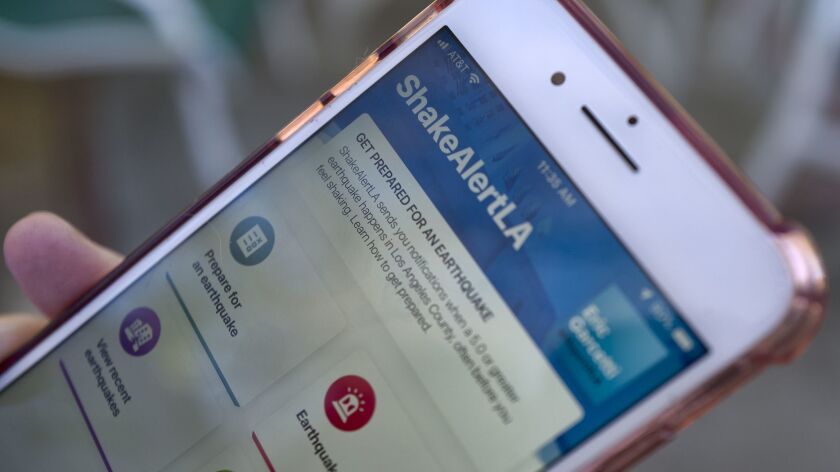 Angelenos got the nation's first earthquake early warning smartphone app on Jan. 3. ShakeAlertLA generated buzz and downloads, but we humans remain hardwired for earthquake denial. At some point, a devastating event will happen but who knows when or how bad it will be? Merely to raise the possibility makes us want to think of something else.
It might have helped had the rollout coincided with something that reminded us of what's at stake. Instead of unveiling the app in the slow wake of the holidays, Mayor Eric Garcetti could have waited for Jan. 17, the 25th anniversary of the Northridge quake. Northridge was the last major urban temblor to strike California. Magnitude 6.7, it was responsible for 57 deaths and nearly 9,000 injuries. Property damage has been estimated in the tens of billions of dollars. If you were anywhere near Los Angeles, you remember the shaking — and its aftermath.
Since then, however, California has gone relatively quiet, seismically speaking, leading to a false sense of security — and more denial. The most significant California tremors in recent years — including the 7.1 Hector Mine quake, which rolled through the Mojave in October 1999, and the 6.6 San Simeon earthquake, which struck Paso Robles in 2003 — have occurred away from densely populated areas; fewer than 10 Californians have died.
No warning app can ever be sufficient, no matter how many sensors there are or how quickly it responds.
Nonetheless, complacency of any caliber is a mistake, and ShakeAlertLA is a long overdue countermeasure. Or at least I hope it will be.
Similar systems have already been deployed effectively in Mexico and Japan; during the 2011 Tōhoku earthquake, early warnings allowed high-speed trains to slow, avoiding derailment, and students to take cover under desks.
That may not seem like much; the Tohoku quake, along with the tsunami that it triggered, killed nearly 16,000 people. But one thing to remember about earthquakes is that their outcomes could always be worse. An early warning system is just one in an arsenal of preparation tools, and we need them all.
That said, it is also necessary to understand the app's limitations. ShakeAlertLA's warnings will be measured out in seconds — enough to allow you to pull off to the side of the road, or to get under a table, but not to do a whole lot else. The alert, after all, cannot go out until an earthquake begins; it's triggered by a matrix of sensors.The more sensors, the quicker, or more accurate, the warning.
At the moment, the grid of sensors in California remains less than 70% complete. And because earthquakes know no borders, we need a built-out sensor network not only in our state but also up and down the seismically volatile West Coast. (ShakeAlertLA fits into a larger USGS effort to create that matrix.)
There are other limitations: You might say ShakeAlertLA's success will rely as much on mitigating our expectations as on mitigating risk.
That's because of how the app works. In the first place, you have to have a smartphone and keep it on and charged. The app only maps quakes whose shaking will be felt in Los Angeles County. And the alert doesn't sound for a tremor smaller than a 5.0.
That leaves out a lot of earthquakes. They happen all day, every day across California. There were more than 200 during the first nine days of 2019 alone. Most are so small they occur outside conscious perception. The largest of those early 2019 tremors, for instance, was a 3.2 on Jan. 9 near Ferndale, and only three others measured as high as 3.0.)
It makes sense that the app designers have built restrictions into the program, otherwise, there would be alerts constantly, inducing either panic or ennui. At the same time, seismologists will tell you that magnitude is a function of many things, including how long a quake goes on. Small earthquakes can turn into big ones, and an alarm set to go off at 5.0 might give you less warning time than you'd want for substantial shaking.
Enter the Fray: First takes on the news of the minute from L.A. Times Opinion »
This is the essential challenge facing any early warning system; it's not a prediction, it's an alert. ShakeAlertLA will miss temblors. There will be false alarms. But no warning app can ever be sufficient, no matter how many sensors there are or how quickly it responds.
You won't have time to get prepared for the big one, you have to be prepared.
I downloaded ShakeAlertLA as soon as I heard it had been released. As I write this, there have been no alerts. I'm not sorry to report that, but once again, when it comes to earthquakes, out of sight means out of mind.
How do we reckon with a threat that is both ever-present and unpredictable? How do we integrate awareness into our daily lives?
ShakeAlertLA is just one piece of a larger preparedness puzzle — a small part, but helpful nonetheless — which is why I wish it had been launched with a bigger bang.
David L. Ulin is a contributing writer to Opinion.
Follow the Opinion section on Twitter @latimesopinionand Facebook
---
Life is stressful. Our weekly mental wellness newsletter can help.
You may occasionally receive promotional content from the Los Angeles Times.