Opinion: Sitting at a children's playground doesn't make an adult creepy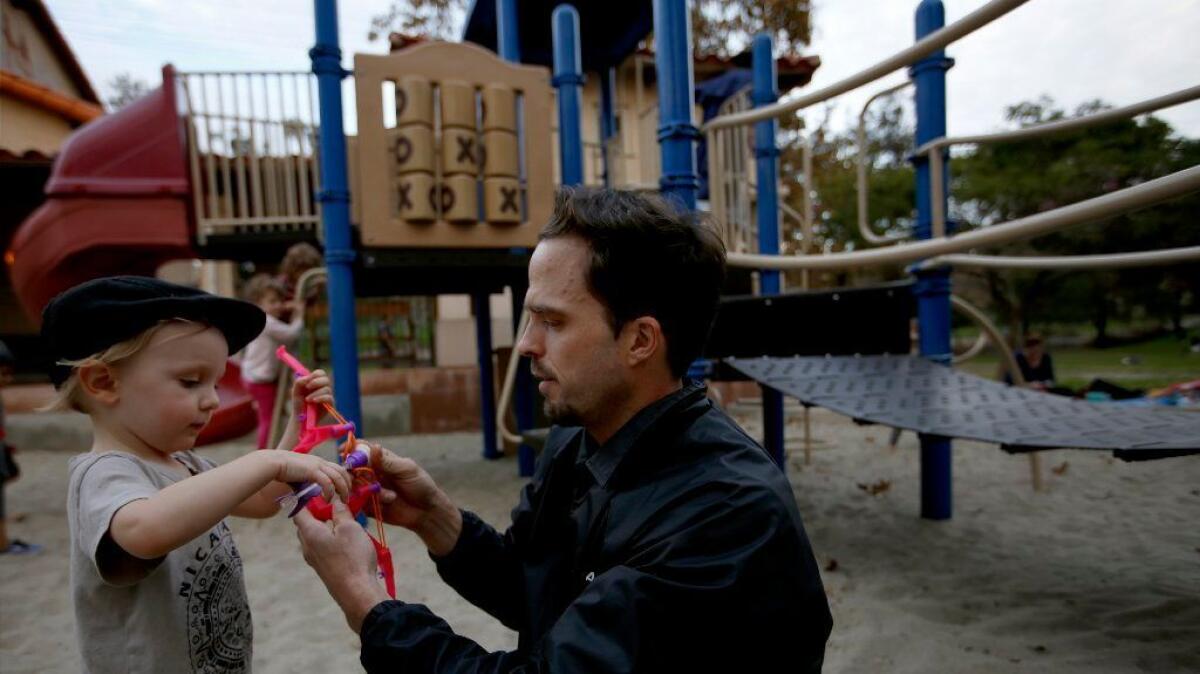 To the editor: I must confess that as a single woman, I have on occasion sat on a bench in a children's playground while my car was being serviced nearby. Why do I choose that particular bench? Because as a single woman in the park, it's where I feel safest. ("L.A. councilman proposes banning adults unaccompanied by a child from playgrounds," Dec. 31)
I know that with the mothers, nannies and children all around, I won't be harassed. I used to be a nanny who brought two girls to that playground, so I also go to that bench to remember happy days as I watch the new generation play. Not all single people in playgrounds are criminals; some of us may even be there to help protect a child when needed.
I hope Los Angeles City Councilman Mitch O'Farrell, whose proposal would ban adults unaccompanied by children from entering playgrounds at city parks, will consider all views before criminalizing innocent behavior.
Caitlin Prennace, Culver City
..
To the editor: Constituents have contacted O'Farrell regarding the downward spiral of the only pocket park and playground in the heart of Hollywood. Families who live in our densely populated neighborhood used to enjoy the space. Now this tiny park has become a permanent encampment during the hours it is open.
Going there one day last week, I counted more than 20 people lying around the park. The grassy area was covered with sleeping bags and all the benches were taken. The adjacent playground was empty, despite being separated by a fence. This tiny park can no longer be used by families and organizations that could benefit from open space.
I applaud O'Farrell's efforts to meet the needs of the neighborhood. This is what leaders do.
Kerry Morrison, Hollywood
..
To the editor: The greatest physical danger to children are their parents and nannies, not senior citizens such as myself. Ever watch parents at Little League games?
I've raised my children, part of which involved enjoying seeing them and others revel going down slides and soaring on swings.
I might not be able to enjoy the glee of young children any longer or sit or ride on a swing anymore? Am I now a pariah?
Bruce N. Miller, Playa del Rey
Follow the Opinion section on Twitter @latimesopinion and Facebook
A cure for the common opinion
Get thought-provoking perspectives with our weekly newsletter.
You may occasionally receive promotional content from the Los Angeles Times.