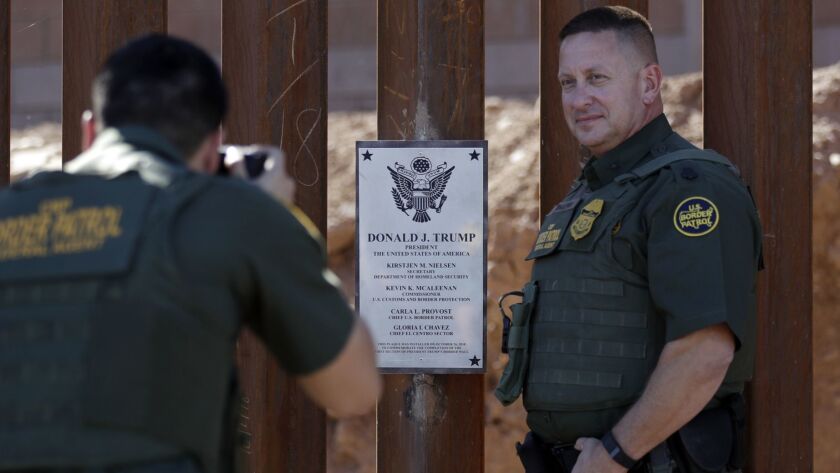 To the editor: Reading about President Trump's visit to the section of border wall in Calexico, Calif., I was surprised and disturbed to learn there is a plaque mounted on the barrier proclaiming the structure "the first section of President Trump's border wall."
This plaque implies ownership by Trump of a U.S. government asset. Is this even legal?
The recently constructed wall is, in fact, an upgrade to an existing section of fencing. The upgrade was planned under his predecessor's administration and paid for by taxpayers. Did taxpayers cover the cost of Trump's vanity plaque as well?
It is an astounding act of narcissism and egotism that Trump would stamp his brand on this section of fence as if it were one of his hotels.
Catherine Watson, La Cañada Flintridge
..
To the editor: The L.A. Times notes the existence of a plaque that proclaims its location as "the first section of President Trump's border wall."
His wall?
Please note that a truly remarkable achievement by a great president is called the Dwight D. Eisenhower National System of Interstate and Defense Highways. Notice the lack of possessive?
We will probably never see anyone like Eisenhower again, but the U.S. needs another Ike.
Joe Leggett Jr., Anza, Calif.
Follow the Opinion section on Twitter @latimesopinion and Facebook
---