Readers React: In 2002, the Salt Lake Games sounded the alarm on climate change. Are we listening yet?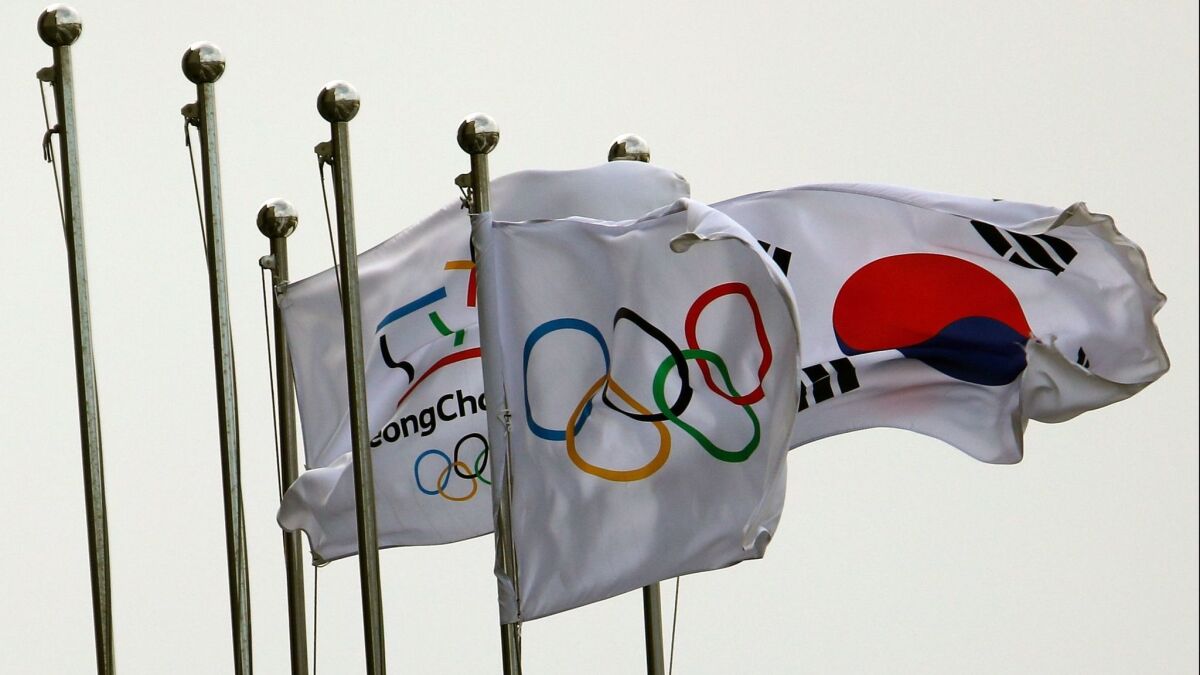 To the editor: Auden Schendler's poignant Feb. 11 op-ed article, "Every Olympic athlete in Pyeongchang should be vocal about climate change," had me feeling "solastalgic" for the 2002 Salt Lake Winter Olympics, when we who worked on that event thought we were making progress by using the Games to raise global consciousness about climate change threats.
The Games in Salt Lake City were the first that were zero-emission and zero-waste, and when I brought in Jean-Michel Cousteau to carry the Olympic flag on behalf of the environment for the first time, we thought world leaders were beginning to wake up and take the serious actions required to "save our snow" and to save the world as we know it.
Sadly today, it seems like we have as far to go as ever to win the gold for the climate change action we need. At least I can take solace in being a Californian, where our leaders have all agreed on a common purpose to embrace smart policies on climate change. Hopefully, by the time the 2028 Games arrive in Los Angeles, the rest of our country and world will have followed California's lead.
Ruben Aronin, Culver City
..
To the editor: Thank you for reminding us that a lack of snow already threatens skiing and other winter sports. Olympic athletes warn us about progressive climate change. We can make snow, but rain often comes and washes sports away.
My hometown of Galveston, Texas, which is on a barrier island near Houston, has also felt the effects of climate change. When I was a child, we enjoyed driving to Louisiana along Highway 87, on the beach of Port Arthur. That segment of beach is now underwater.
Galveston, once the largest city in Texas, has a long history of faded glory and recurring hurricanes. Hurricane Ike destroyed my parents' home in 2008 — the lot stands empty today. However, Galveston home prices are higher than ever, even after Hurricane Harvey in 2017. The market deceives many.
Increasing flooding threatens Galveston, New Orleans, Key West, Fla., and Miami. Time is running out — climate change is hurting glaciers, ski resorts and the Gulf Coast now.
Bob Snodgrass, Pasadena
..
To the editor: Olympic athletes drawing attention to climate change shows how personal the issue can be. But Schendler also illustrates that the consequences go beyond personal to financial as well.
Perhaps the financial effects will convince some of those on the sidelines to take what's happening seriously. Citizens who do notice can take action, small steps within their own lives, and beyond that, by joining advocacy groups that offer concrete protocols to slow climate change.
Sandra Krist, Studio City
Follow the Opinion section on Twitter @latimesopinion and Facebook
---
Life is stressful. Our weekly mental wellness newsletter can help.
You may occasionally receive promotional content from the Los Angeles Times.