Readers React: A cold reality for Southern California: While much of the country freezes, we face fires and earthquakes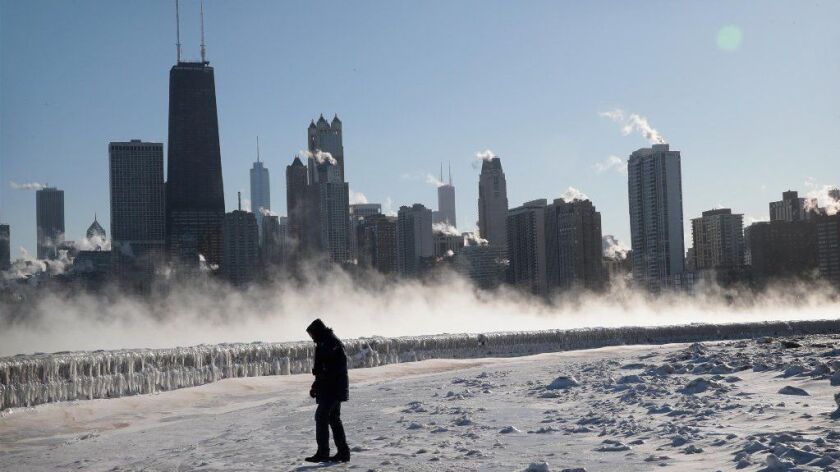 To the editor: It's not that we're smug outside the cold zone (OK, maybe a little). It's that for many of us, we were astounded at the good fortune of being in sunny, relatively warm weather while some of our fellow Americans were unfortunately freezing to death.
Here in Southern California, it seems like we're living on a different planet than the people in Minnesota, where power outages hit in parts during a terrible cold snap, or in Chicago, where they had to set the railroad tracks on fire so they wouldn't break in the sub-zero cold. We sympathize, but we don't relate to the cold.
There were a few small earthquakes in the area recently, reminding us of where we are and what our future holds. We face months of deadly and destructive fires, and more immediately, days of rain with the certainty of mudslides. Most of us, though, would take it all for the promise of never having to don a heavy jacket.
Nancy Lloyd, Riverside
..
To the editor: As I went one recent morning to feed my horses, I was so thankful that rain is the only "severe" weather that I have to deal with. I make sure they have shelter, that runoff will not go into their stalls, and that hay is protected from any rain damage.
How I would cope with this chore amid the polar weather elsewhere in the country, I have no idea. What about the farmers who must feed, milk, care for and protect their livestock constantly? They cannot call in sick and tell the cows to milk themselves.
I know the L.A. Times is a big-city paper, and maybe your readers aren't interested in agriculture, but we should be. Most of us eat meat and eggs and dairy products. This severe weather must be having devastating impacts on the lives of millions of animals and their caretakers.
I, for one, would like to know what the situation is in rural America. Might some other readers?
Judy Reinsma, Santa Clarita
Follow the Opinion section on Twitter @latimesopinion and Facebook
---
A cure for the common opinion
Get thought-provoking perspectives with our weekly newsletter.
You may occasionally receive promotional content from the Los Angeles Times.