Readers React: Newsom's job is to fulfill voters' will on the death penalty, not follow his own morals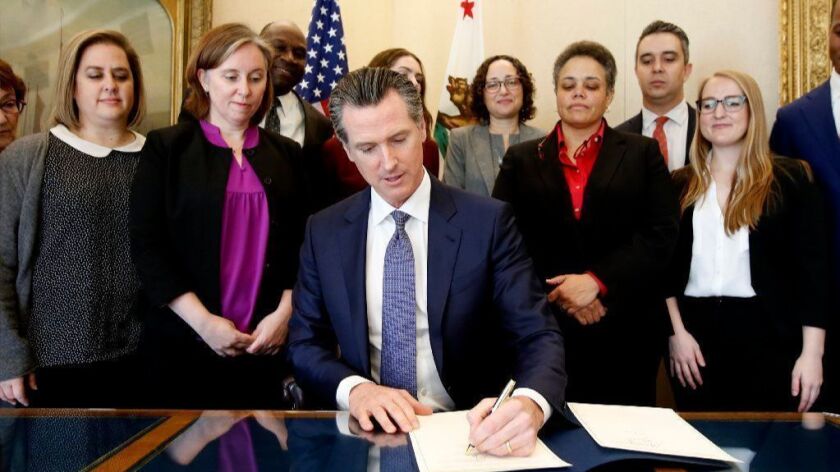 To the editor: It's nice to know that Gov. Gavin Newsom has moral objections. However, his job is to follow and defend the state Constitution regarding the death penalty.
If he is morally or religiously unable to defend the Constitution and the will of the people, he must resign from office. The people want the death penalty carried out.
Then-Gov. Jerry Brown and then-Atty. Gen. Kamala Harris failed to defend the state Constitution when the people's vote on Proposition 8 was challenged in federal courts. Whether you agree or disagree with Proposition 8, Brown and Harris were sworn to represent the people and should have left office if unable.
Our system of government doesn't stand on individual or religious beliefs but upon the rule of law. Governors, legislators and attorneys general must follow the law as decided by the people.
Alan L. Strzemieczny, Riverside
..
To the editor: Bravo for Newsom. It is past high time for the death penalty to be abolished.
What gives the state permission to decree what amounts to an act of murder? It has been shown that this severe punishment has not decreased the crimes it is supposed to deter.
That we have joined the states of Oregon, Colorado and Pennsylvania in imposing a moratorium on executions is not only commendable, but hopefully will inspire other states to do likewise.
Peggy Aylsworth, Santa Monica
..
To the editor: Newsom has placed a moratorium on the death penalty in California because it is, among other things, "inconsistent with our bedrock values." It may be inconsistent with Newsom's own bedrock values, but not with those of the majority of Californians.
And it is obvious that, from a practical standpoint, Newsom's executive order will make no real difference. California has not had an execution since 2006 and is not likely to ever have one again, regardless of any action taken by the governor.
Marc Russell, Los Angeles
..
To the editor: Can I have my vote back? I don't know where I was, but I had no idea that Newsom would pull the plug on California's death penalty.
As in the case of whoever it was who killed a young girl and stuffed her body into a duffel bag, there are certain humans who do not deserve our supporting their existence. The idea that tax dollars will provide such deviants with "three hots and a cot" for years appalls me.
The main thing wrong with the death penalty is that it is not used more efficiently.
Chuck Heinz, West Hills
Follow the Opinion section on Twitter @latimesopinion and Facebook
---
A cure for the common opinion
Get thought-provoking perspectives with our weekly newsletter.
You may occasionally receive promotional content from the Los Angeles Times.