Readers React: An L.A. Times column fails one simple standard: Don't go after the first lady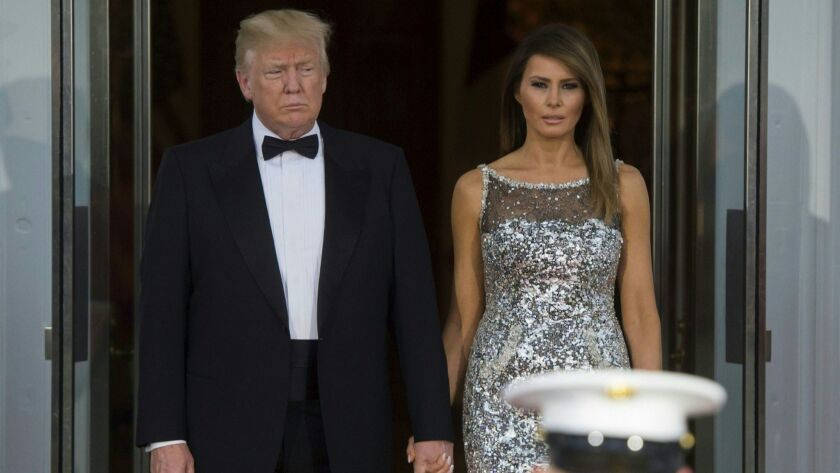 To the editor: It is one thing for the Los Angeles Times and other left-leaning newspapers to trash, investigate and question President Trump and other people in his administration constantly. It is quite another dastardly deed when one takes on the first lady. ("Melania, the steely, dead-eyed trouper," Opinion, April 27)
Never have I ever seen a columnist publish an article about a sitting first lady that is both contemptible and outrageous. Viciously attacking Melania Trump's wardrobe, shoes, facial expression and attitude is nefarious journalism at its worst.
Shame on Virginia Heffernan and The Times.
Penny Wood, Vista, Calif.
..
To the editor: Heffernan believes Melania Trump deserves the public's sympathy, as she is "yoked" to a husband who lies and cheats and is "physically repellent."
Heffernan's heart is in the right place, but let's not go too far. Melania, the "dead-eyed trouper," seems to be heading, someday, to a humongous divorce settlement from the Donald plus a fortune selling the publishing rights to her memoir.
Hillary got a book advance of millions of dollars for her recent election memoir, "What Happened," which does not include anything about her husband and his affair with Monica Lewinsky. A steamy memoir by Melania about herself, Donald and adult film actress Stormy Daniels should fetch the first lady much more than Clinton's latest tome. And then there are the movie rights.
Al Rarmus, Pacific Palisades
Follow the Opinion section on Twitter @latimesopinion and Facebook
---
A cure for the common opinion
Get thought-provoking perspectives with our weekly newsletter.
You may occasionally receive promotional content from the Los Angeles Times.