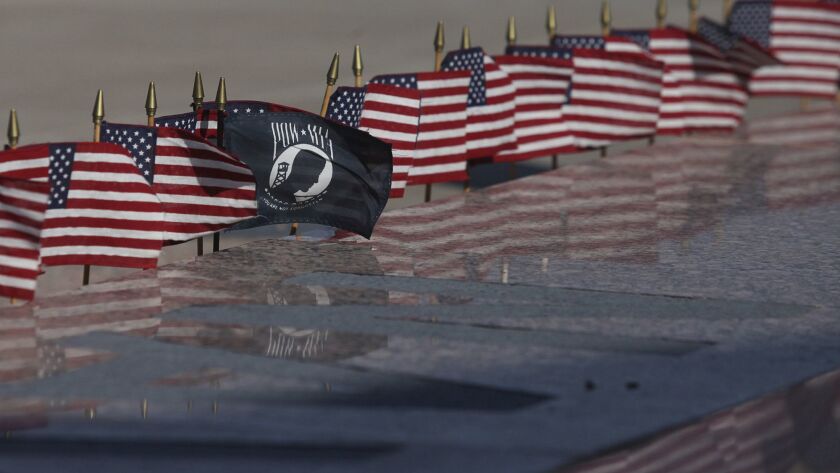 To the editor: Thank you for your Memorial Day editorial emphasizing the terrible consequences of war. Even though I completely share the sentiment of "thank you for your service," it now sounds like an empty platitude, much like "thoughts and prayers" offered to the victims of school shootings and their relatives.
Let's respect and honor our military service members by using them with more discretion and only as a last resort in defense of our country. We should refuse to commit them to wars of choice. Since World War II, it's difficult to justify our participation in any conflict as truly necessary to our nation's security.
The cost in lost lives and permanent disability has been an enormous price to pay. I can only hope that we will be more respectful of such sacrifice in the future.
Ann Rushton, Sherman Oaks
..
To the editor: My father fought in World War II as a pilot in the Pacific theater, was awarded the Distinguished Flying Cross and was fortunate to return home to raise a family. Memorial Day is a day to remember that he served and thankfully did not die.
My dad hardly ever talked about his role in the war. It wasn't "who he was." He was proud to have served, but he left it behind him as he became a coach, teacher and businessman.
My father was one of hundreds of thousands of decent men who volunteered to do the indecent things required of soldiers in the name of war. Revere the men and women who serve, but not the wars that demand their service.
Sam Knight, Poway
..
To the editor: The Times Editorial Board's message is an important reminder of the devastation that war can bring. It's the type of message that needs to be printed often, if not daily, in some form or another.
It's a sad state of affairs when war is celebrated more than peace. In the United States, more often than not, peace is an afterthought. At times of war in this country (which seems never ending right now), many consider peace to be a dirty word.
When we have the reverse, and peace is the ongoing prevailing sentiment and "war" is the dirty word, then we've arrived as loving, compassionate individuals in a nation known for the same.
Dan Poppers, Rancho Mirage
Follow the Opinion section on Twitter @latimesopinion and Facebook
---