Readers React: Humans will recover from this fire devastation — but will L.A.'s increasingly scarce wildlands?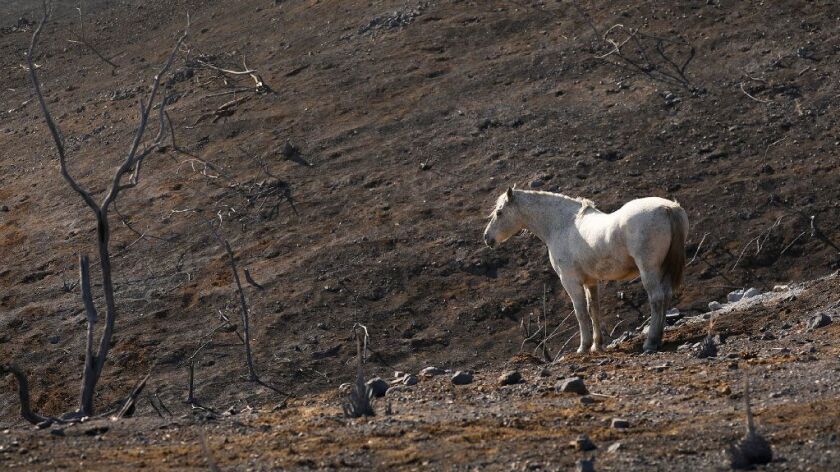 To the editor: I grew up climbing Castle Peak above West Hills and roaming the wild oak woodlands. Across the street from me, there was a herd of sheep, and though I was barely 5 years old, I still remember catching a glimpse of the old shepherd with his flock. Homes grew up all around us when we were kids, yet miraculously, the hills remained.
I now live in a small rural town in northwest Montana, where the heartbeat of nature is still very strong. Still, those grassy footpaths and cool, shady glades under giant oaks, heavy with the scent of horehound and white sage, will always be etched in the wildest places of my heart. So, it is with profound sadness that I learn of the charring devastation.
While firefighters fought and mostly succeeded in protecting the millions of humans in harm's way, and my own family's home just one block south of Valley Circle Boulevard was mercifully saved, the creatures who called these wildlands home are still suffering terribly. With precious little habitat to flee to, surely thousands of our fellow earthlings have suffered and died.
The coming of healing rain to Los Angeles will restore much of these lands, but wild animals are still being pushed into closer contact with the urban interface. Let's hope they survive it — and please, pray for rain.
Moira Blazi, Libby, Mt.
..
To the editor: Gov. Jerry Brown is right when he points out the climate change is creating a "new abnormal." The article in The Times highlighting the "sharpening of the axes" between our two political opposites still misses the overall point on climate change.
Calls to stop building homes in certain fire-prone places and for better management of our forests are correct. But, as my mother once told me, when the bathtub is overflowing the first thing you do is turn off the water. The first thing we need to do is stop altering our atmosphere with climate-changing pollution.
We need to work right now on moving our economy (and using California as the leading example) to clean energy. This means moving to wind and solar energy. We need to be able to plug in our vehicles, and we need to build (or rebuild) our homes and buildings so they actually save water and produce energy.
Sadly, these fires are reminding us that our inaction to date has deadly consequences. Let's get to work.
Dan Jacobson, Sacramento
The writer is state director of Environment California.
..
To the editor: With wildfires becoming more frequent and more devastating, and thus more expensive and more deadly, we as a state must ramp up solar installation and reduce the number of power lines and substations.
If we give homeowners and businesses more incentives to install solar power systems, we might save money in the long run. We would certainly save lives.
With increasing use of electricity generated on site, power lines through fire-prone areas will become unnecessary.
Wes Kobernick, Los Angeles
..
To the editor: The article on Gov. Brown's and President Trump's contrasting statements on California's wildfires opens with a false equivalency.
While Trump blamed bad forest management, Brown countered that climate change is contributing to these disasters. Trump's claim is blatantly false, while Brown's is clearly true.
The article concludes with a false choice between being prepared for wildfire emergencies and acting to slow climate change. We must do both. We must reduce human-related ignitions and end development in dangerous locations.
We must also reduce the greenhouse gas emissions that are driving climate change.
John D. Kelley, Santa Barbara
Follow the Opinion section on Twitter @latimesopinion and Facebook
---
A cure for the common opinion
Get thought-provoking perspectives with our weekly newsletter.
You may occasionally receive promotional content from the Los Angeles Times.