Opinion: Small states rule in the Senate, giving the NRA a bright future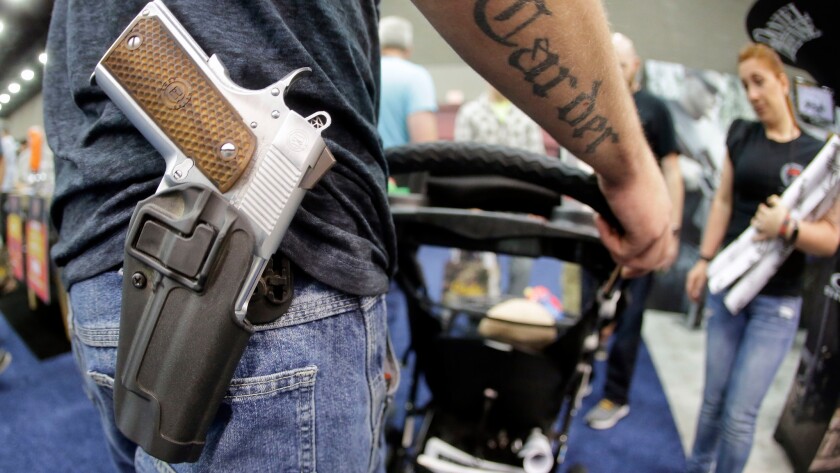 To the editor: Contrary to Firmin DeBrabander's assertion, demographics actually favor the National Rifle Assn. While 90% of the U.S. population may want gun-control, they reside in 20 densely populated, heavily urban states. At two senators per state, this yields only forty percent of the vote in the Senate. ("Half the firearms in the U.S. are owned by 3% of adults, and that means trouble for the NRA," Opinion, Dec. 1)
Furthermore, the NRA doesn't "threaten." Rather, it informs voters and facilitates their communication with legislators.
Demographics allow a small minority of voters to control the Senate. For example, anti-gun California, Illinois and New York collectively hold about one-quarter of our nation's population, yet they have a mere six senators between them. Pro-gun Idaho, Wyoming and Montana hold only 1% of the U.S. population, but they too have a total of six senators.
Those unhappy with these demographics are free to move to a pro-gun state.
Lloyd Forrester, Simi Valley
..
To the editor: DeBrabander makes much of changing demographics as a threat to the NRA. But he also states that the gun lobby did well in the election.
My first thought was this: It's hard to believe that gun rights voters, who base much of their argument for gun ownership on fear of government tyranny, actually helped to elect a guy who seems to represent a clear potential for tyrannical behavior.
My second thought: Perhaps this is because of the NRA's self-fulfilling prophecy, "We told you we'd need our guns one of these days."
James Peterson, Beaumont
Follow the Opinion section on Twitter @latimesopinion and Facebook
---
A cure for the common opinion
Get thought-provoking perspectives with our weekly newsletter.
You may occasionally receive promotional content from the Los Angeles Times.